168 Hours: The C + T Crew Reviews the Watches they Wore at Monterey Car Week
Monterey Car Week is more than just a great opportunity to see (or bid on, for a lucky few of us) historic cars that most of us have only seen in photos in-the-metal. It's a chance to witness the brutality and grace some of them can exhibit on-track, a chance to meet and interact with some of the racing heroes that piloted many of them to their great wins, it's a chance to be front-and-center for the unveiling of some of the most impressive modern machines being produced today, but above all, it's an event!
So when the C + T crew left LA to cover the week up north, we made a point of selecting a few special watches from the vault with important racing pedigrees to enjoy throughout the week's festivities. These watches were all chronos, they were all produced between the mid-'60s and early '70s, and they all felt right at home behind the wheel of a vintage sports car or trackside – which is where we're happy to say we spent the majority of the week! These are our reviews from 7 days on-the-wrist at Monterey Car Week. 
Cameron Barr, CEO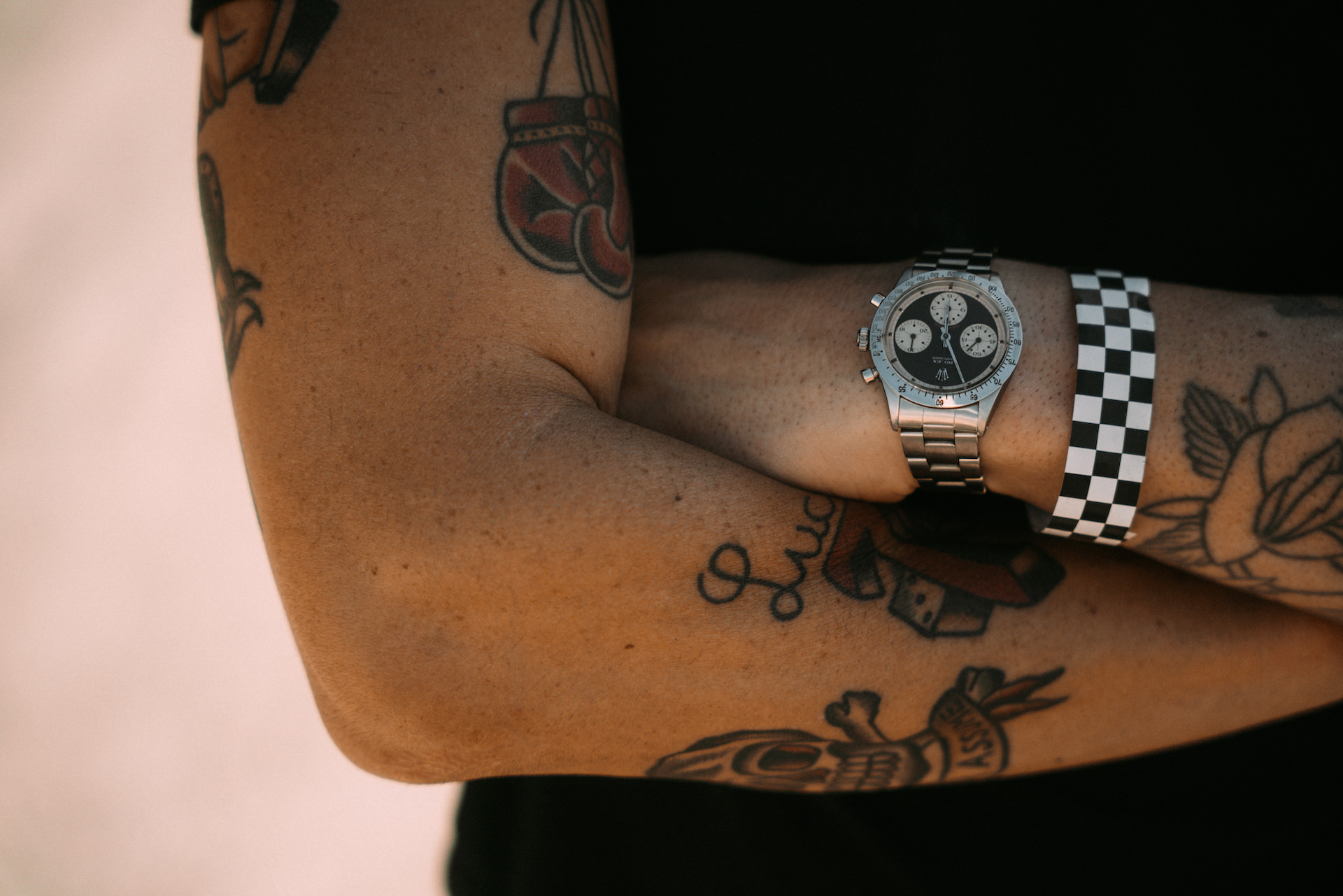 1971 Rolex Daytona "Paul Newman" dial (ref. 6262)
For me, wearing a chronograph, being in the cockpit of cars, and using those watches for their intended purpose gives me a true connection to these pieces. When I put a watch on my wrist in the morning, it sets my mood for the day and I wear watches based on what I'm doing in my life that day. I really loved wearing my black dial ref. 6262 during Car Week because while it's not as eye-catching as the white dial variant, it's very legible while driving and during track events, and being able to record lap times on a watch that made specifically for that – even just for my own entertainment – was really satisfying. Beyond its function and connecting directly to the auto enthusiasts in me, an exotic dial Daytona is a watch that's significant to the group of people that I was around, not so much as a flex or floss, but as a thing racing enthusiasts and pros recognize as a part of Rolex's motorsports heritage. It was cool to connect with people who appreciated what I was wearing beyond just its rarity, and it was a great conversation starter. And while it wasn't the exact reference Paul Newman wore, it was surreal wearing a Newman-esque Daytona while watching his Hawaiian Tropic Porsche 935 race car run in anger against other historic race cars at Laguna Seca. Wearing that watch brought me closer to what I was seeing on track and the mythos of Newman himself. What a character.
1968 Heuer Autavia Mk.1 (ref. 2446c)
The thing that really changed this Heuer Autavia for me was putting it on the original Heuer-branded Gay Freres "beads of rice" bracelet. The watch has been in our inventory for a while and it's a beautiful example of a Mark. 1 Autavia, but we've had it on a leather strap for a long time and putting it on the original bracelet gave it a whole new look and feel. It's what really made me want to put it on my wrist. The reason why I chose that watch for the drive is it's oversized and it's an inverse "panda" dial, so it's extremely legible, and it has deep racing heritage. At one point, we were in the paddock of Laguna Seca amongst this incredible group of historic Le Mans cars and I found myself looking at the 1964 Ferrari 250 LM that Jochen Rindt helped pilot to Le Mans victory in 1965. He famously wore a very similar Autavia, though his was a Mk. 3 with a different bezel insert, but it was a heavy experience just like the Daytona.  And the cool thing about the Heuer is, while they're valuable and cool, it's a manual movement watch and it isn't so precious. I don't really baby my watches to begin with, but I was able to get in and out of tight little race cars without worrying about banging it, I had to change a belt on a Porsche 911 on the side of the road with it on and it felt fine. It's similar to the ref. 6262 in that it's a watch with serious racing history and heritage, but it's one you can wear everyday without fear and I love that about it.
David Von Bader, Editor-in-Chief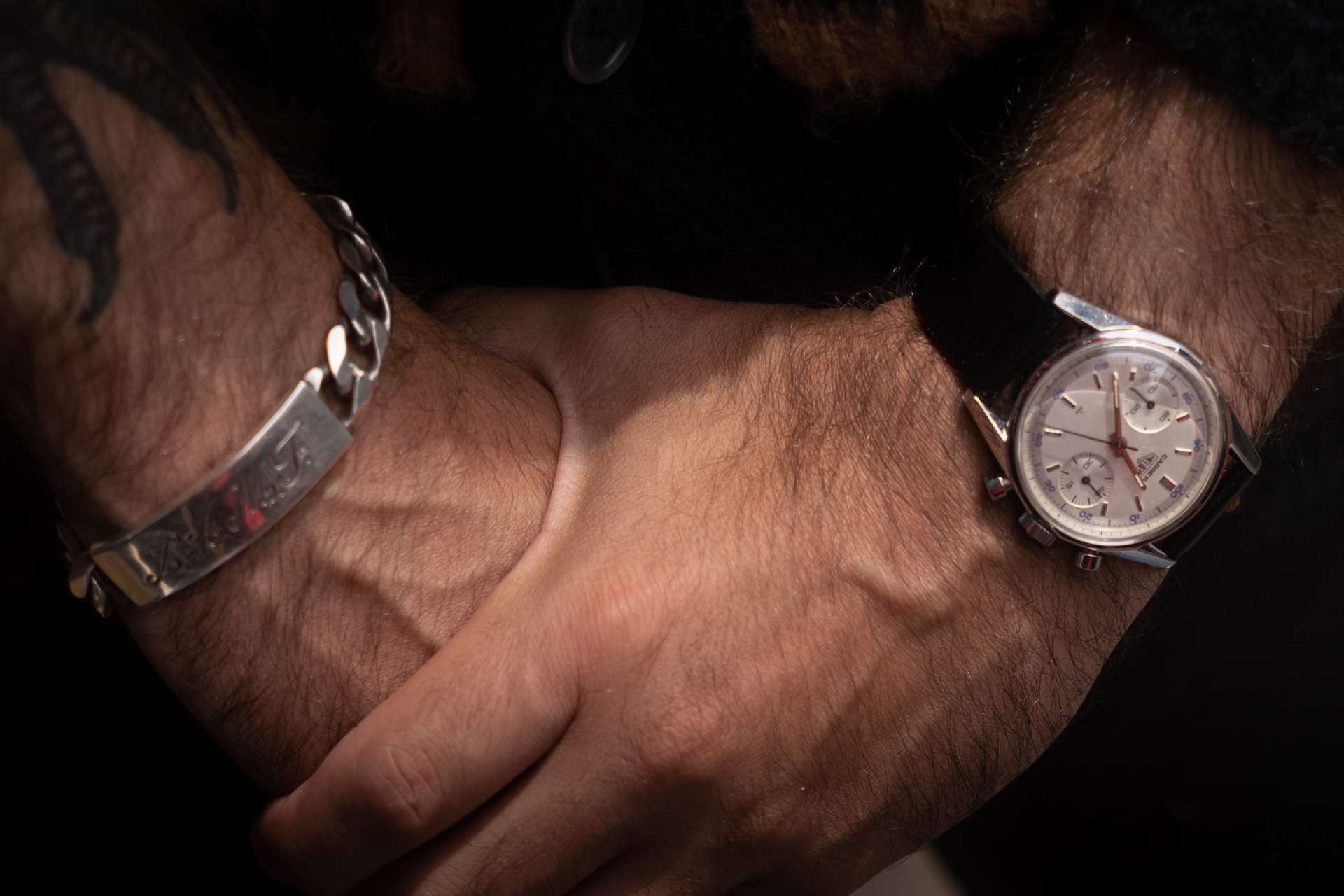 1960s Heuer Carrera 45 (Ref. 3647D) "Blue Decimeter"
I've always thought of Heuer as the ultimate watch marque for motorsports enthusiasts and the truth is, no other brand has as direct and tangible connection to racing heroes of yesteryear than Heuer. I also happen to think the brand's design language has always been simply unmatched, and the vintage Heuers I own are some of my absolute favorite watches. For the week in Monterey, I pulled this lovely Carrera 45 from the vault. I have a lot of experience wearing Heuer chronos with larger cases, but haven't had much wrist time with the slighter Carreras and this example, with its stunning "blue decimeter" dial, really took me by surprise. The smaller case size and understated shape makes it the perfect watch to go from track to garden party, and I found it really just worked with everything I wore all week. Considering the gathering of important Le Mans challengers from the '60s and '70s racing at Laguna Seca throughout the week, it just felt right to have a Heuer from the same era on-wrist. I fell in love a little and I'd be lying if I said it didn't almost follow me home.
Cooper Naitove, Photographer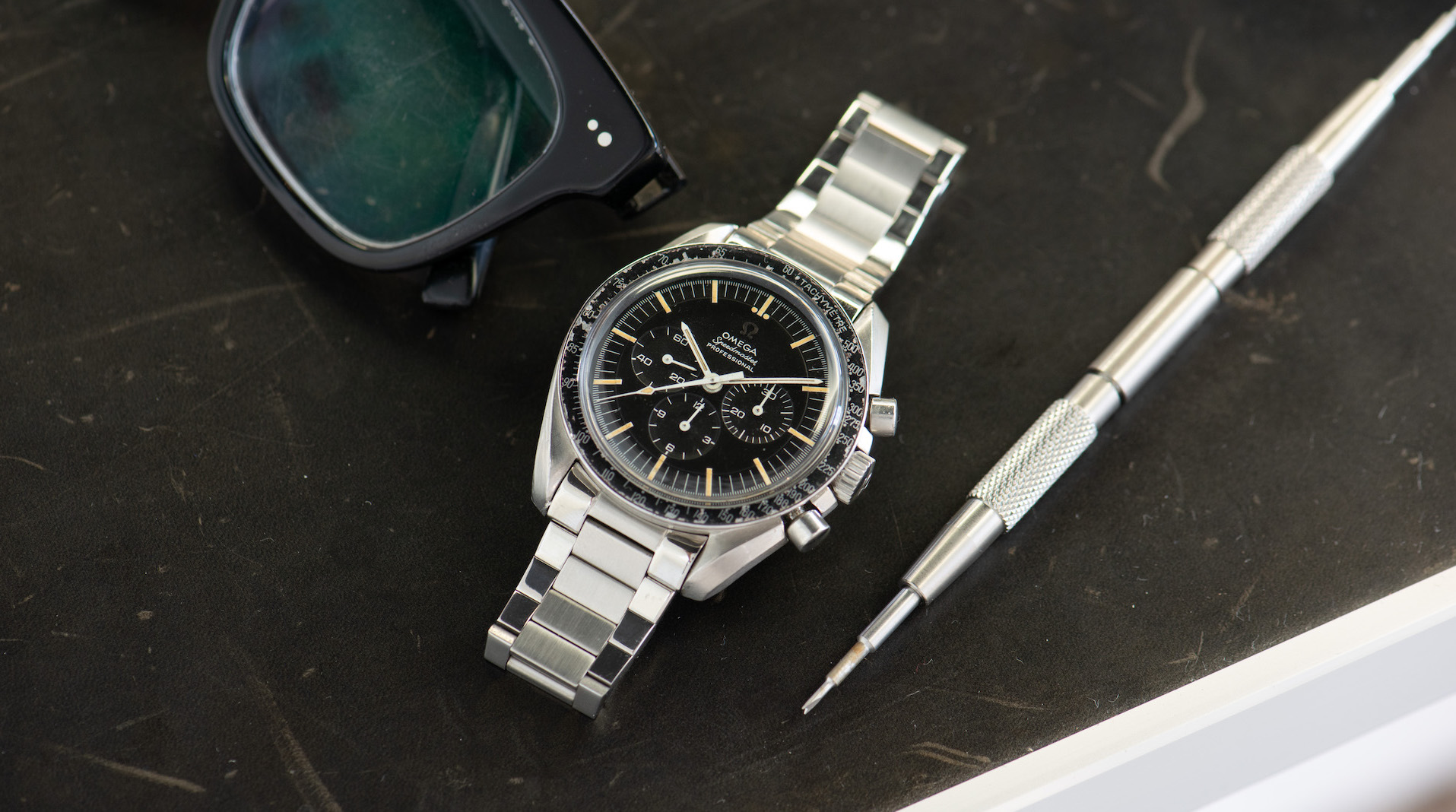 Transitional 1968 OMEGA Speedmaster Professional (ref. 145.022) cal. 861 "Pre-Moon"
Cars and racing have always been a major part of my life. To me, the Omega Speedmaster has always been the quintessential racing watch, and it's a watch I've been itching to buy for a long time – but I haven't pulled the trigger because it's a watch I've promised myself as a personal reward for some kind of milestone. I haven't decided what that is yet, but it's got to be a special moment in my life or career. When the C + T guys heard about my affinity for Speedmasters and aspirations to own a vintage one someday, they let me test drive a '68 "pre-moon" example for our week in Monterey covering Car Week and the Historics. As I watched Ferrari and Porsche LeMans winners from the same incredible era lap Laguna Seca, the Speedmaster made me feel even more connected to what is my favorite period in racing history. As far as the daily wear experience goes, it's a watch with just enough presence to draw in the right eyes, but not make a scene, and strapping it on became a fun part of my daily ritual. I'm looking forward to the day when I don't have to give it back at the end of the job.
Photography by Cooper Naitove.
Never miss a beat
Sign up for our newsletter to receive updates and exclusive offers