6 Perfect Summer Watches from the Current Collection
You feel that? The days are getting warmer, the sun is staying out later, and summer is creeping in. For those of us stationed in consistently warm places like C + T's HQ is on the West Coast, the perceived shift in the seasons isn't really all that drastic.
However, from a sartorial perspective, we here at C + T firmly believe in punctuating the seasons with a change in dress, and even a small watch collection can benefit immensely from the inclusion of a fun "summer watch" or a weekender. And we think you owe it to yourself to do better than a G-Shock or some gimmicky "BioCeramic" Swatch! 
When it comes to the ideal vintage weekender or "summer watch," we really like pieces that are a bit less precious from a financial perspective, but still collectible, and we personally really love anything with a colorful dial, funky case, or any fun design accent that sets it apart from more traditional vintage watch collection staples. Essentially, the perfect "summer watch" is something that speaks loudly as a statement piece when paired with casual looks, has a substantial wrist presence as it'll most often be worn with short sleeves, and has a different attitude to it than the staple classics we all fawn over. We also dig a solid, budget-friendly diver for this category as they can take a beating, are always waterproof (or at least resistant, in their old age) and still work well with many looks. The other factor one should consider when picking a vintage watch for summer is the band its worn on and whether or not the watch will look good on something other than a leather strap as any longterm collector will tell you that summer is nylon nato and bracelet season as a hot day's sweat can destroy a good leather band in a hurry.
In the spirit of the changing seasons, these are our top 6 perfect "summer watch" selects from our current collection. These pieces represent a wide range of price points (though they're all under $3500 or less), styles, and functionalities, but they're all unified by the fact that they're just plain fun, carefree watches to wear and own.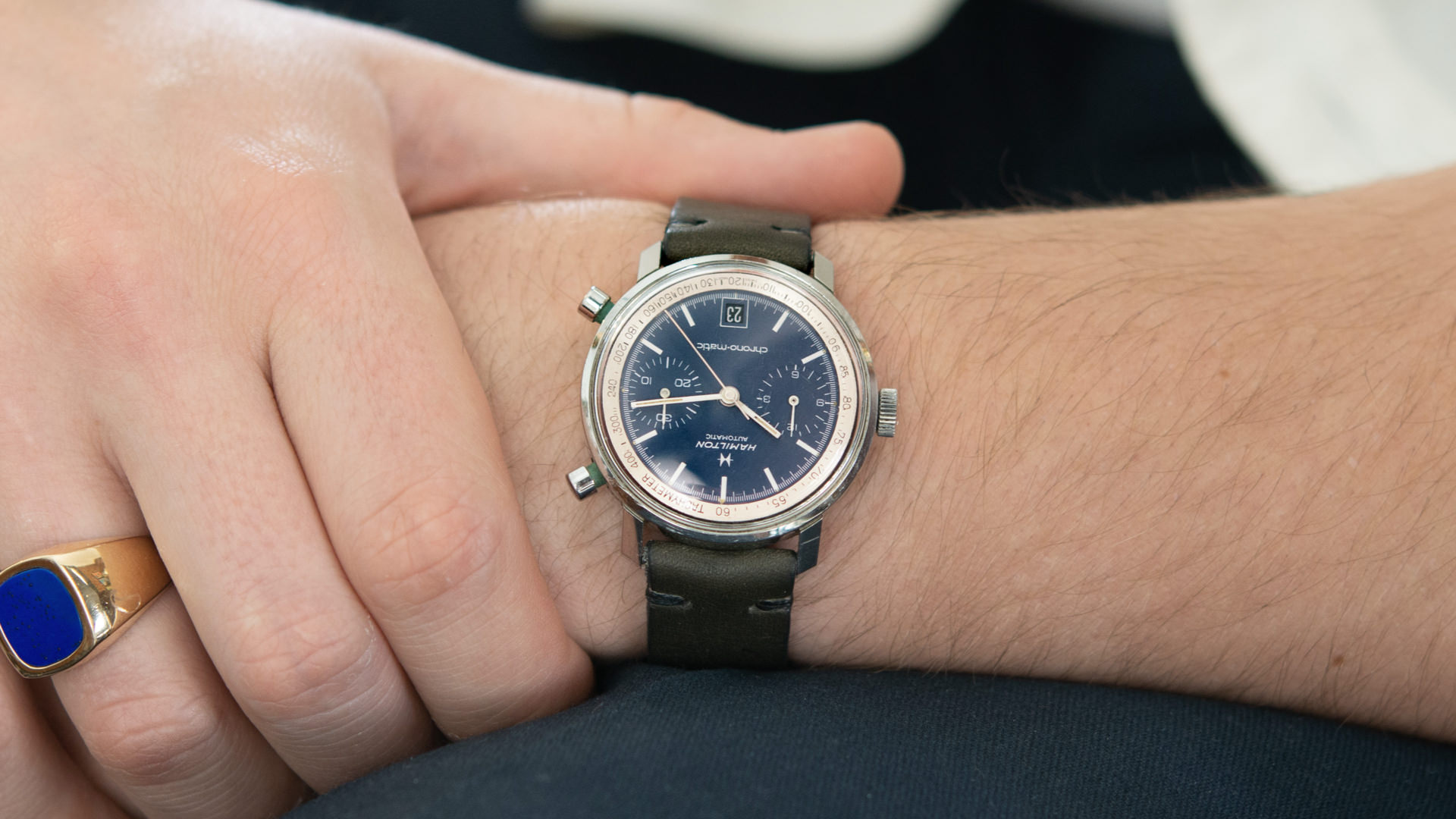 1969 Hamilton Chrono-Matic Blue Dial
We love the fun, yet understated pop of blue this Hamilton's stunning matte dial provides, and this watch is more than just a pretty face! The Chrono-Matic features a Caliber 11 movement, which was one of the first automatic chronograph movements ever brought to market – meaning this pretty Hamilton is powered by a historically relevant bit of tech. At 37mm, this Hamilton's case is substantial without being overbearing and will undoubtedly make for a great conversation piece. 
Tissot-Omega Navigator Chronograph
This Tissot-Omega Navigator is a '60s watch, but one that carries itself with the bold style of the '70s in all the best ways. We love the statement made by its large cushion case, the way its brown vignette dial contrasts with the watch's orange sweep seconds hand, and how it manages to be both flashy and utilitarian at the same time. While we currently have this watch on a handmade leather strap, we think it would look wonderful on a brown or orange nylon nato. It also represents an interesting union between two important brands; the respective histories of Tissot and Omega are often intertwined and there are a number of instances where Tissot watches have used the same movements and components as their more expensive Omega siblings – including this one.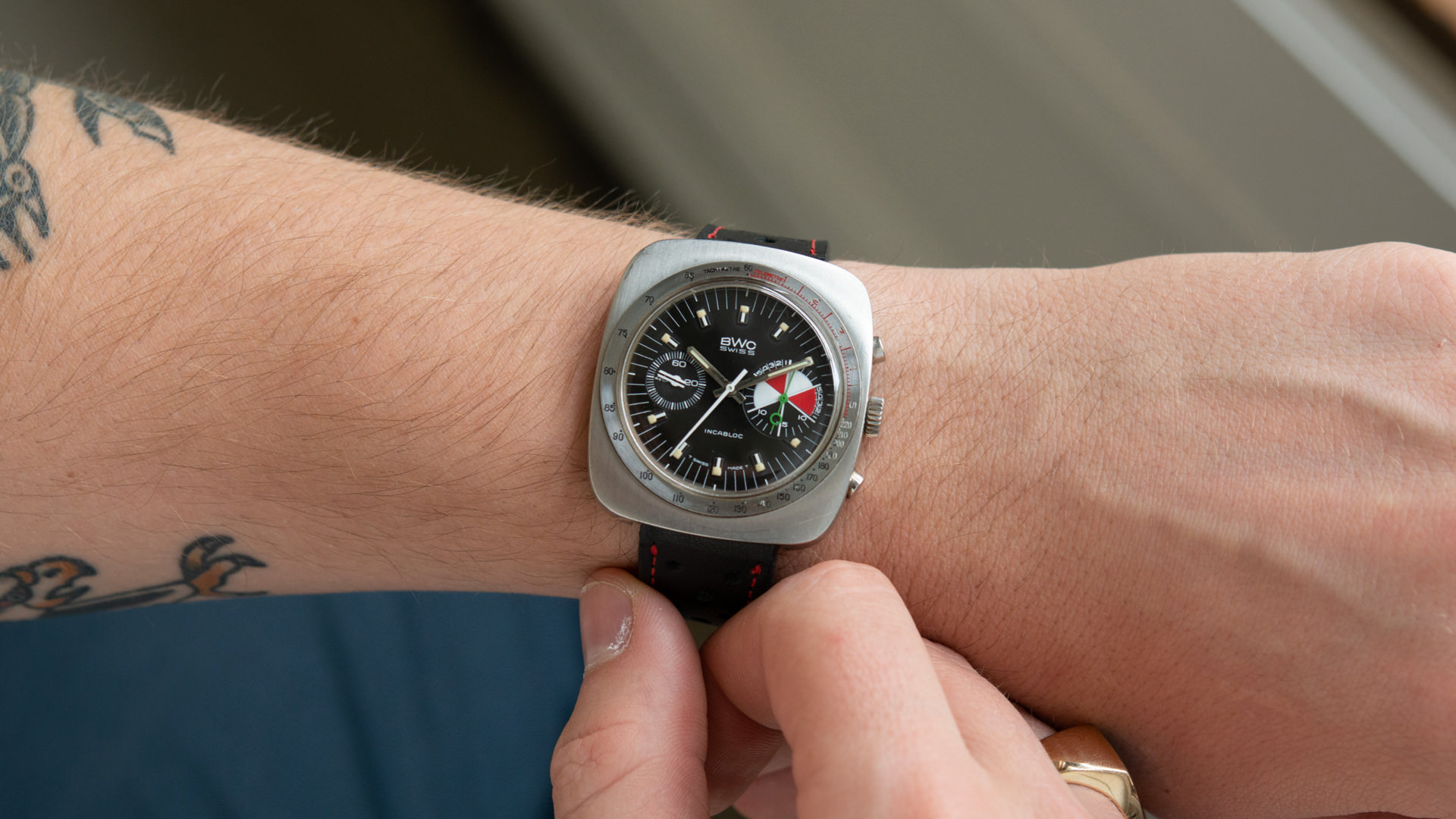 1970s BWC Chronograph (ref. 953013)
We said the ideal "summer watch" has a funky case, a pop of color, and a bit of utility, and this BWC from the '70s hits all of those marks! Between its large square case, stealthy hidden lugs (which provide a flush strap appearance), and absolutely wild red and white minute counter sub-dial, this watch has it all. We also love that it's powered by a reliable and robust manual Valjoux cal. 7733 movement, meaning it won't be a difficult watch to service or own. And it certainly won't look like any other chrono in your collection!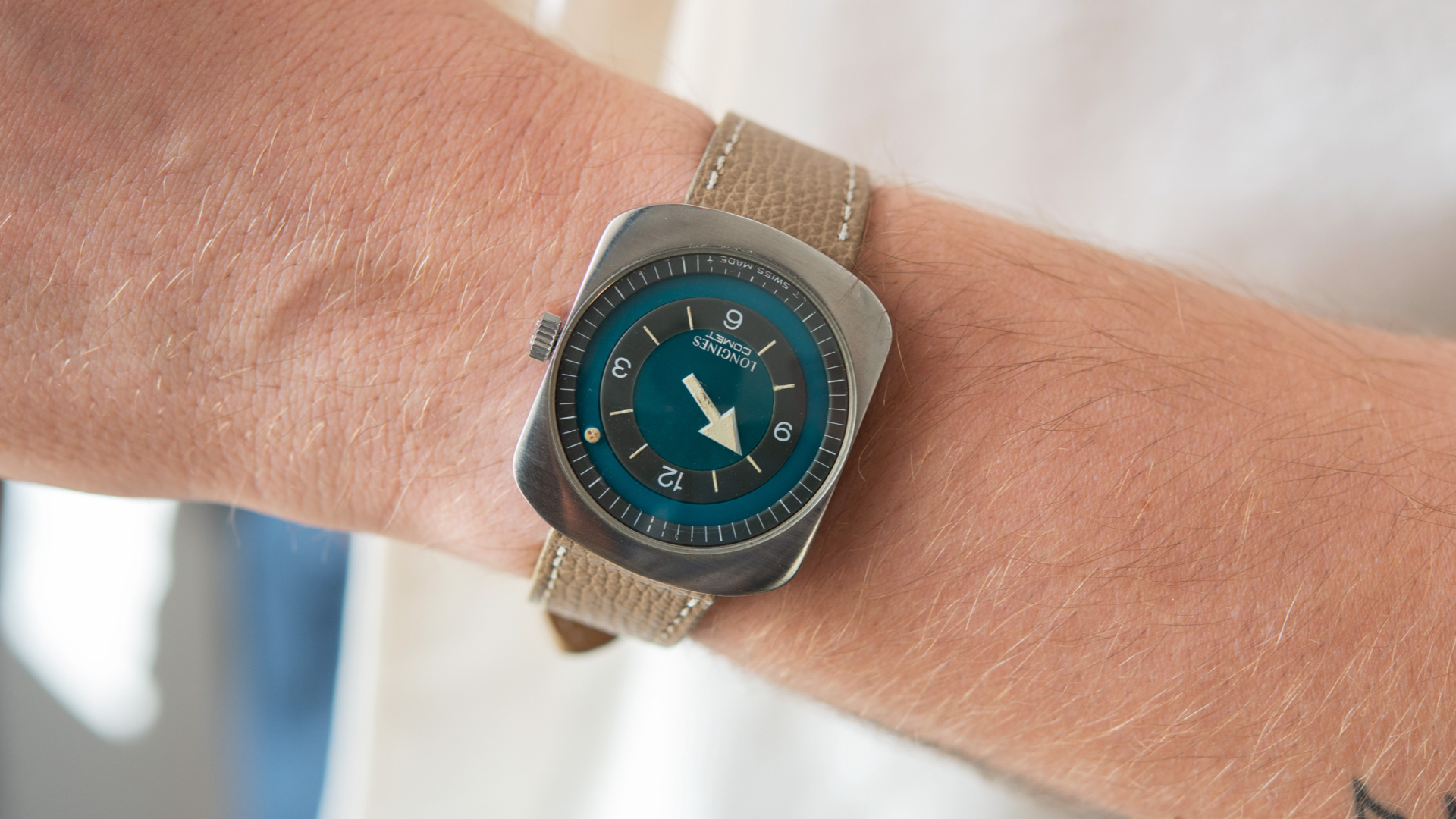 1969 Longines Comet Cal. 702
Longines has made no small sum of classic, innovative, and genuinely legendary watches. Longines is a storied marque that true horology insiders fawn over, but this charming Comet model from 1969 is an offering that's delightfully outside-the-box. Its unique case shape is somehow simultaneously soft and sharp, its hypnotic dial has a cartoonish quality to its alternating blue and gunmetal gray portions, and that giant, lone hour hand design is unlike anything else we've ever seen! It's got an innovative style that's undeniably vintage and we absolutely love it for how different and fun it is! 
1979 Seiko Diver (ref. 6309-7049)
Every collection needs an example of the venerable Seiko "Turtle" diver. These watches are built like tanks, incredibly reliable, and pair well with any casual look. From the beach to the bar, this ref. 6309-7049 is at home in nearly any situation and you won't have to baby it like certain other high dollar vintage divers from Swiss brands. These watches are synonymous with Seiko's incredible brand heritage; this reference was worn by Ed Harris in the film The Abyss, and even Mick Jagger has been photographed wearing his personal example! More often than not, these watches were purchased and used for their intended purpose as a diver, which is reflected in the wear and tear most examples display, but this example is in excellent original condition.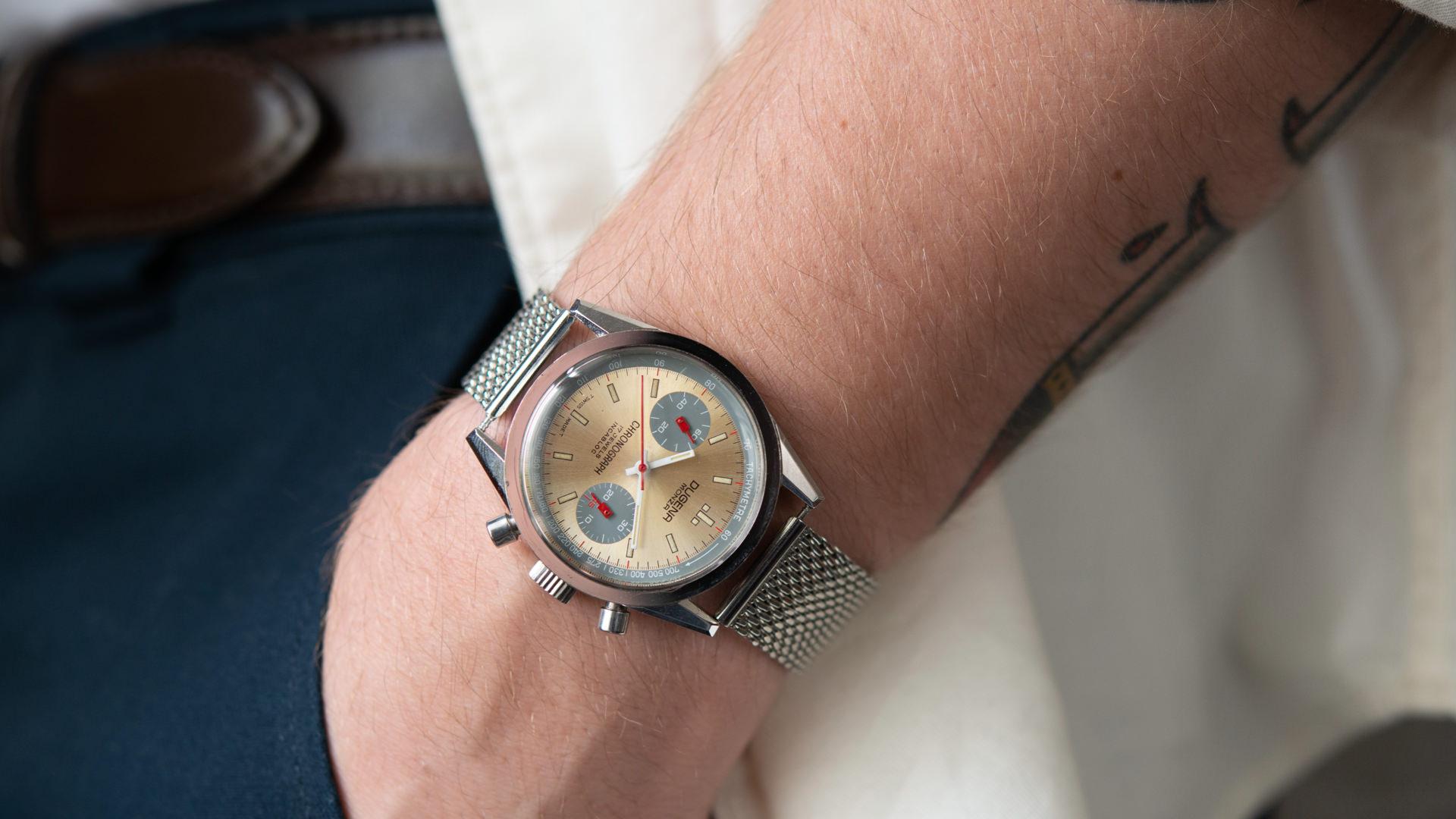 1970s Dugena Monza Chronograph Valjoux
 This '70s chronograph is a feast of details and we particularly love the contrast of its bluish-gray sub-dials and outer tachymeter track against the bright red accents of its handset and its dial's iridescent champagne color. At 37mm, it mirrors the aforementioned Hamilton in being a perfect middle-ground case size that fits most wrists nicely and has a great wrist presence but isn't overbearing. Like the BWC, this watch is also powered by the ever-reliable and easily serviced Valjoux Cal. 7733 movement, and we think it looks incredibly sharp (and will be extremely comfortable on hot days) worn on its steel mesh bracelet. 
Never miss a beat
Sign up for our newsletter to receive updates and exclusive offers