Space Bound Bands: The Official Watch Bands of NASA
Few tool watch applications have captured the eternal fascination of horology fans with the kind of gravitational pull that space exploration and the NASA-issued Omega Speedmasters have. Yet the straps and bracelets that astronauts actually wore their watches on in the nascent days of space exploration are often left out of the conversation.
Given that Omega was the manufacturer of the official flight-certified timepiece of NASA, it is often incorrectly assumed that the Swiss brand was also responsible for producing the straps and bracelets used for spaceflight, but the reality is that couldn't be further from the truth!
While it's common for watch collectors to swap out bracelets and straps for purely aesthetic reasons these days, it's easy to forget that these are a major point of functionality that has a direct impact on a watch's overall utility. So while Omega's own bracelets did manage to reach outer space in the earliest days of manned spaceflight, it was quickly made clear to NASA that other wrist-mounting designs proved far superior for the incredibly unique and specific requirements of space exploration. 
So, what kind of watch straps were NASA's brave astronauts actually sporting their Speedys on?
The First Watch Bands in Space
Given that NASA was launching humans into outer space for the very first time in the early 1960s, it's reasonable to assume that some degree of consideration had been put into every single piece of equipment that they'd rely on. However, just like the timepieces themselves, the very first watch bands in space were simply the personal ones owned and favored by the astronauts who wore them.
It was during this era that the first privately-purchased Omega Speedmaster watches made it into space. While some astronauts simply kept the standard Omega bracelet on their watches, others opted for aftermarket designs that provided them with additional adjustability. In fact, the first Omega watch to ever reach outer space was worn by American astronaut Wally Shirra, who relied on his privately-purchased Speedmaster during the Mercury-Atlas 8 mission in 1962. Attaching the watch to his wrist was an aftermarket metal bracelet that would ultimately become the go-to watch band for astronauts during the earliest days of space exploration.
Enter the Forstner Komfit and JB Champion Bracelets
The metal bracelet originally chosen by Wally Shirra for his Omega Speedmaster was an expansion-style band known as the Komfit that was produced by an American company called Forstner – who specialized in chains and ornamental jewelry. Originally created in 1939, the Forstner Komfit bracelet featured a flexible metal band with a free-floating clasp that allowed the wearer to significantly expand or contract its length without the use of any tools.
Forstner was acquired in 1963 by the American bracelet company Jacoby Bender. However, the highly practical Komfit design remained available and was simply rebranded as the JB Champion bracelet and remained in production. Regardless of the change in name, Omega Speedmaster watches paired with this style of flexible and expandable bracelet became the go-to option for astronauts during the pioneering days of space travel.
Shop Forstner Bracelets
Explore our collection of NASA bracelets in the C+T shop
Shop Now
Forstner Komfit and JB Champion bracelets were so prevalent among astronauts during these early years that in 1964, NASA's director of Flight Crew Operations, Donald Slayton placed an order for 12 JB Champion watch bands as part of the official process of finding a timepiece that could be certified for space flight. We all know the story of how and why NASA selected the Omega Speedmaster the following year, but the tale of why this specific style of bracelet was chosen by the astronauts themselves for use in outer space is often left out of the conversation.
According to both the Omega Museum and James H. Ragan, the former NASA engineer who was responsible for testing the equipment used for the Gemini and Apollo programs, the unique design of the Forstner Komfit/JB Champion bracelets allowed them to quickly be adjusted to fit a wide range of wrist sizes. This made them perfect for accommodating everything from a bare wrist to the incredibly thick sleeves of a space suit. In addition to offering superior adjustability, quick-release clasps, and a mesh structure meant that these bands were easily removed in the event that they accidentally got caught on something – minimizing the risk of injury to the arm of the astronaut who was wearing it.
Forstner Komfit and JB Champion bracelets were popular among other astronauts of the era, including Gordon Cooper, Frank Borman, James Lovell, and Neil Armstrong (among many others). Additionally, one of these bracelets even made it to the moon during the Apollo 17 mission! And this style of bracelet continued to be sporadically worn on shuttle missions long after NASA had already created its own watch strap. All things considered, much like the Omega Speedmaster itself, while this style of bracelet may not have originally been purpose-built for space travel, it proved to be perfectly suited to the task.
NASA Velcro Straps
Around the same time that NASA decided that it needed to find an official flight-qualified timepiece, it also started to design its own in-house straps. Although the Forstner Komfit and JB Champion bracelets had proven themselves effective for use in space, they were only capable of functioning as watch bands, and NASA needed a multi-purpose strap that could be used for a variety of different wrist-mounted pieces of equipment.
The task of creating these bands was assigned to NASA's Flight Crew Integration Division, and the end result was a single-piece, pass-through fabric strap that featured Velcro in place of a traditional clasp or buckle fastening system. While the classic example is the extra-long band that you frequently see wrapped around the arm of a space suit, a shorter version was also created for astronauts to wear while inside space craft.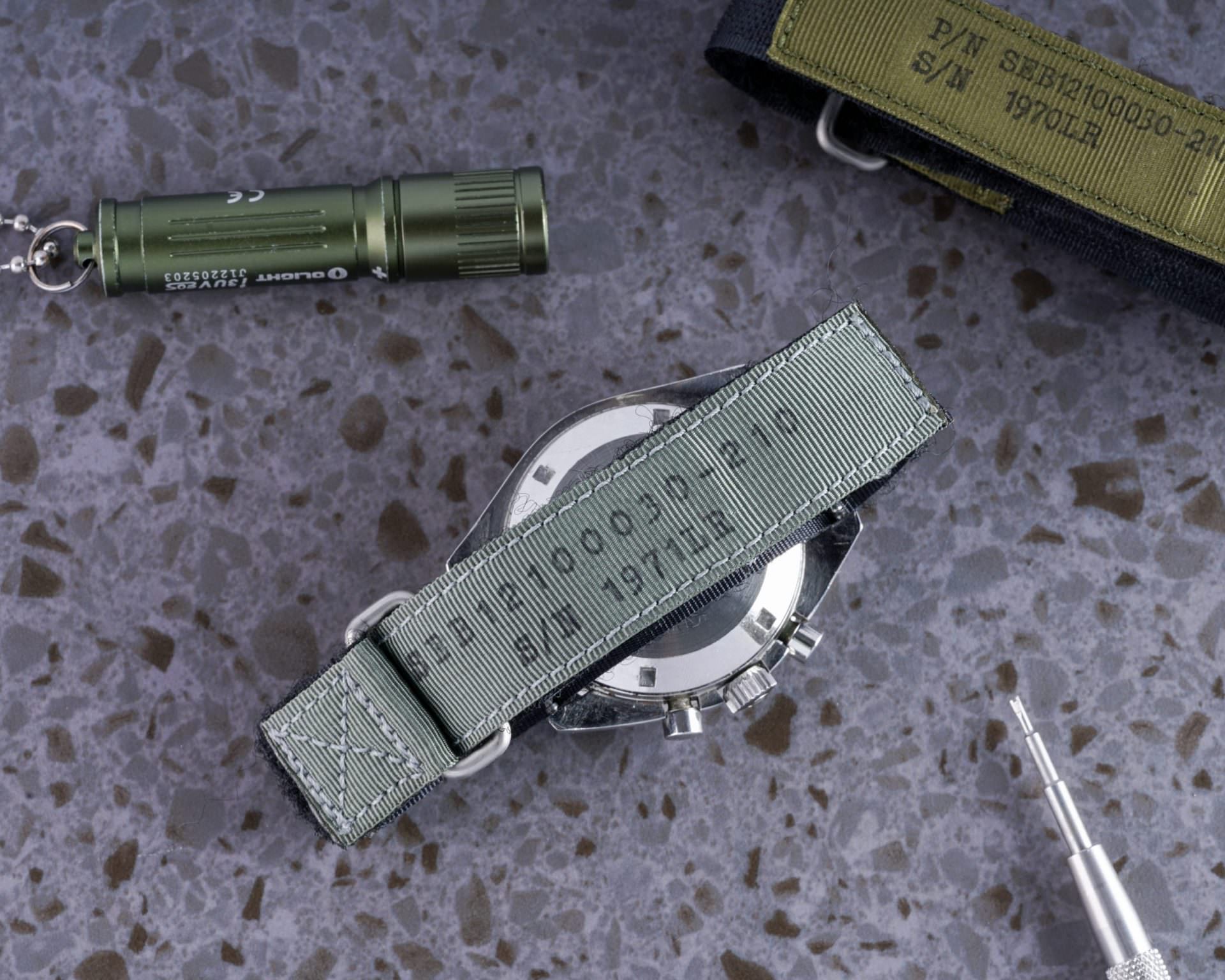 Although these Velcro straps were originally produced in-house in NASA's own workshops, non-core support activities were later outsourced to Boeing Aerospace Operations in 1986. From that point forward, NASA's Velcro straps were manufactured by Boeing and this style of strap continued to be used by astronauts well into the 1990s.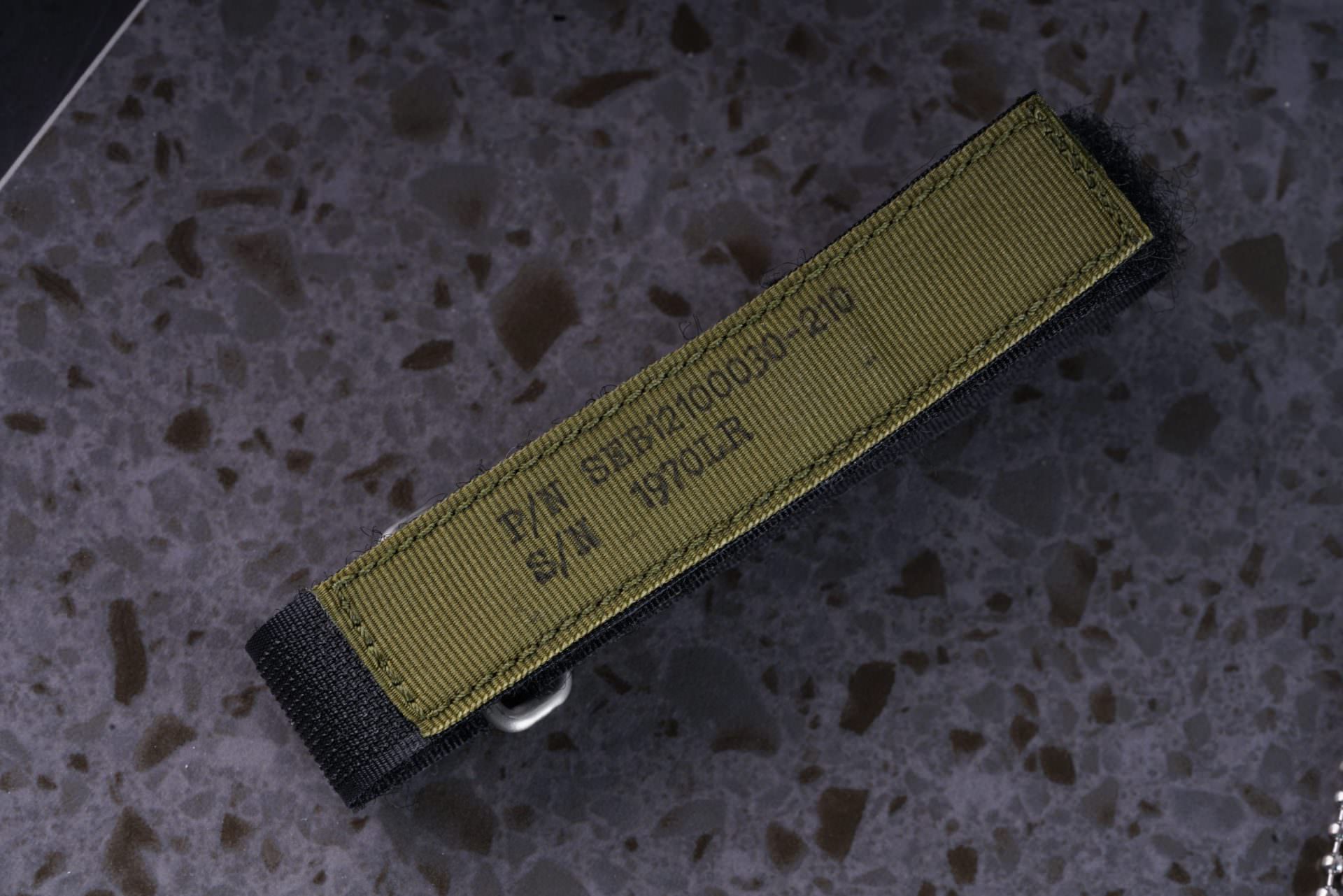 Enduring Designs for the Future
While these NASA-issued straps and bracelets now symbolize the golden era of space exploration and represent the enduring obsession we have with space flight, they also serve as the foundation for many contemporary watch band designs. Velcro straps have been embraced by a number of modern watch companies, and it could easily be argued that the Forstner Komfit is the precursor to the Apple Watch's infinitely adjustable Milanese mesh loop bracelet.
Additionally, present-day interest in these NASA-approved watch bands has revived their designs and put them back on the wrists of today's collectors – particularly those looking to accurately nod in tribute to the watches worn by astronauts. Numerous companies now exist that make modern recreations of NASA's original Velcro watch straps, with some of them even crafted from vintage materials and finished with period-correct markings. In fact, the Forstner brand has been revived in recent years and presently sells a variety of different watch bands, including a modern iteration of the original astronaut-preferred Komfit bracelet!
A major facet of people's fascination with the equipment used by NASA is that it represents the epitome of real world (and beyond) functionality. In an environment of extremes like outer space where even the slightest error can mean the difference between life and death, having the right equipment is paramount to survival. There is no margin for failure in space. Regardless of whether it is a rocket, a space suit, or simply a humble watch band, the equipment used by NASA astronauts is proven, functional, and if you ask us, damn cool looking!
Never miss a beat
Sign up for our newsletter to receive updates and exclusive offers