Staff Selects for March 2023
Surely if you've found yourself reading the C + T Journal, we don't need to point out the reality that the vintage watch world is one primarily fueled by passion. The truth is that everyone involved in the vintage watch space on both sides of the glass is a nerd on some level about these little mechanical marvels – and that includes every member of the C + T crew!
Everyone on staff here is a horology nerd and/or a vintage watch aficionado of some sort, and we get the same thrill handling the rare pieces, unique finds, and unexpected examples that hit our shop as you do! It's a big part of what makes the gig such fun. So we've decided to start sharing monthly staff picks from our current inventory. After all, you can't keep 'em all, and you can only wear two at a time (just ask Keith Richards) – so this is our way of taking ownership of the pieces we fall in love with without actually owning them. Sometimes, we hate to see them leave, but we love to watch them go.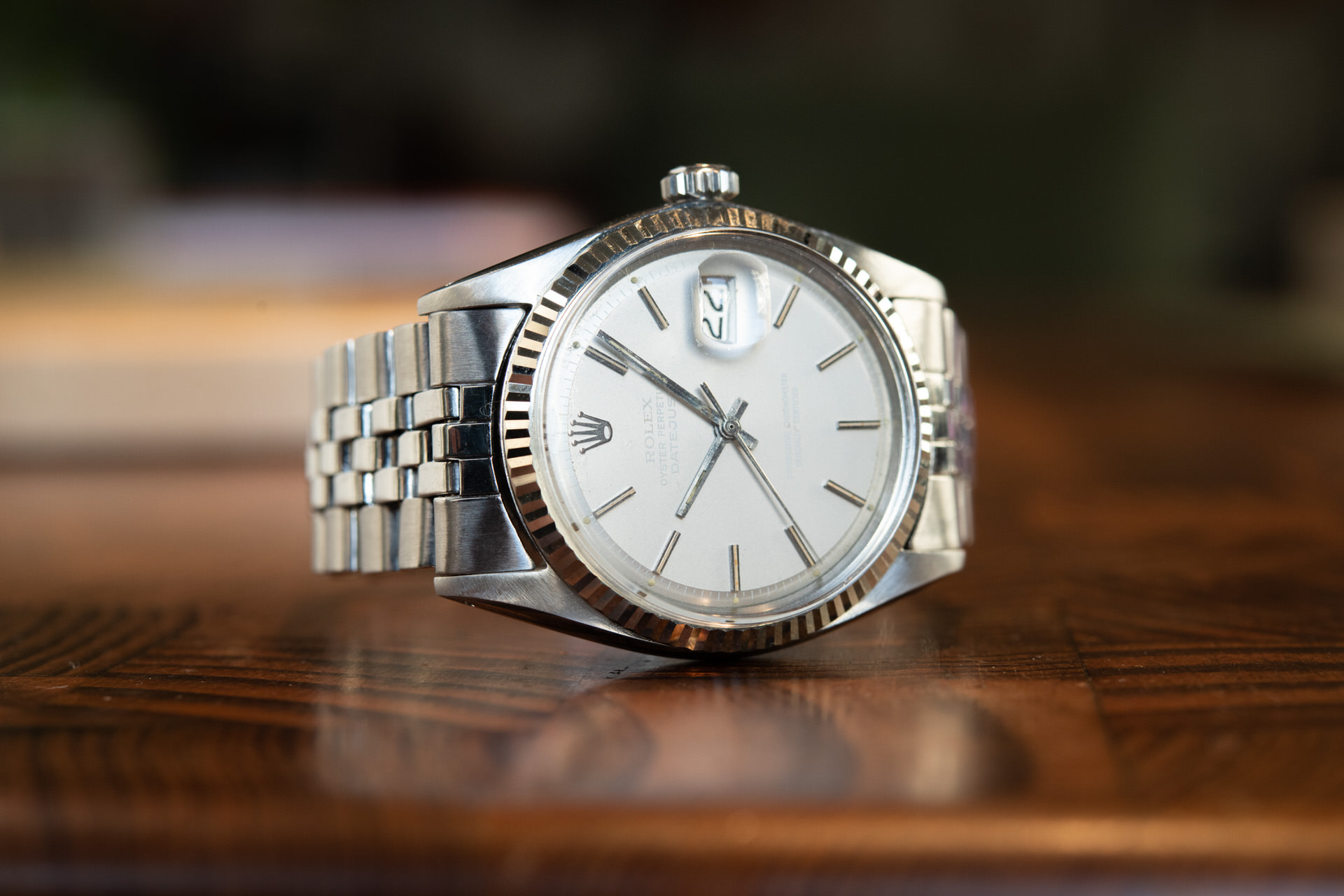 Cameron Barr
CEO/ Lead Barista
1970 Rolex Datejust (ref. 1601) Grey "Ghost" Dial:
Are you tired of hearing me say that the Rolex Datejust is the perfect wristwatch? It's just a fact, however, there is a lot to be said for the variance found within the vintage Datejust range and things like "ghost" dial ref. 1601s like this one have found their own special place in the hearts of collectors. I love that this watch has the 1601 form factor with the extra sauce the rare "ghost" dial provides, and I happen to really like the look of these satin gray "pie pan" dials with the text that seems to disappear at certain angles. It's a killer daily driver, but also a great conversation piece when you drop it on the table at the collectors hang.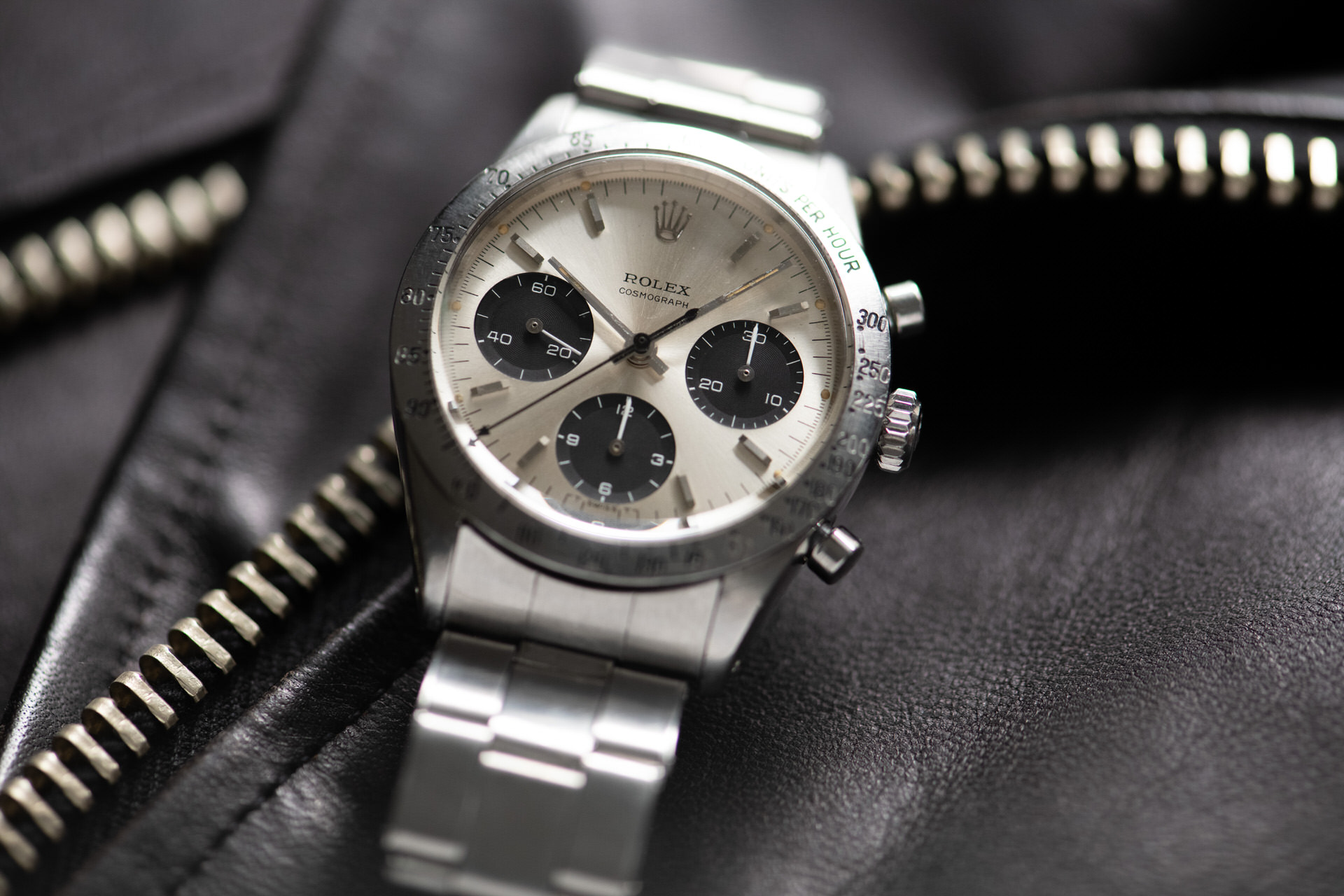 Tyler Vanes
Chief of Operations/Vintage BMW Lover/Hater
1964 Rolex Cosmograph Daytona (ref. 6239) Silver Dial w/ Box & Papers:
Sometimes it isn't a "tropical" dial or a super rare variation that really sets a watch apart from the pack. Sometimes, it is the most simple execution of a model presented in the best possible condition – essentially the purest representation of the reference. This early Rolex Cosmograph Daytona reference 6239 – which actually pre-dates the word "Daytona" being featured on the dial – is unquestionably the best representation of the reference that I have ever seen. If you're like me and the type of "frills" you're interested in are actually no frills at all – just a super pure example – then this is the Daytona for you. This one also comes with its original box and papers, which I normally don't care about much, but I think in this case elevates the watch from exceptional to important and worthy of serious collectors.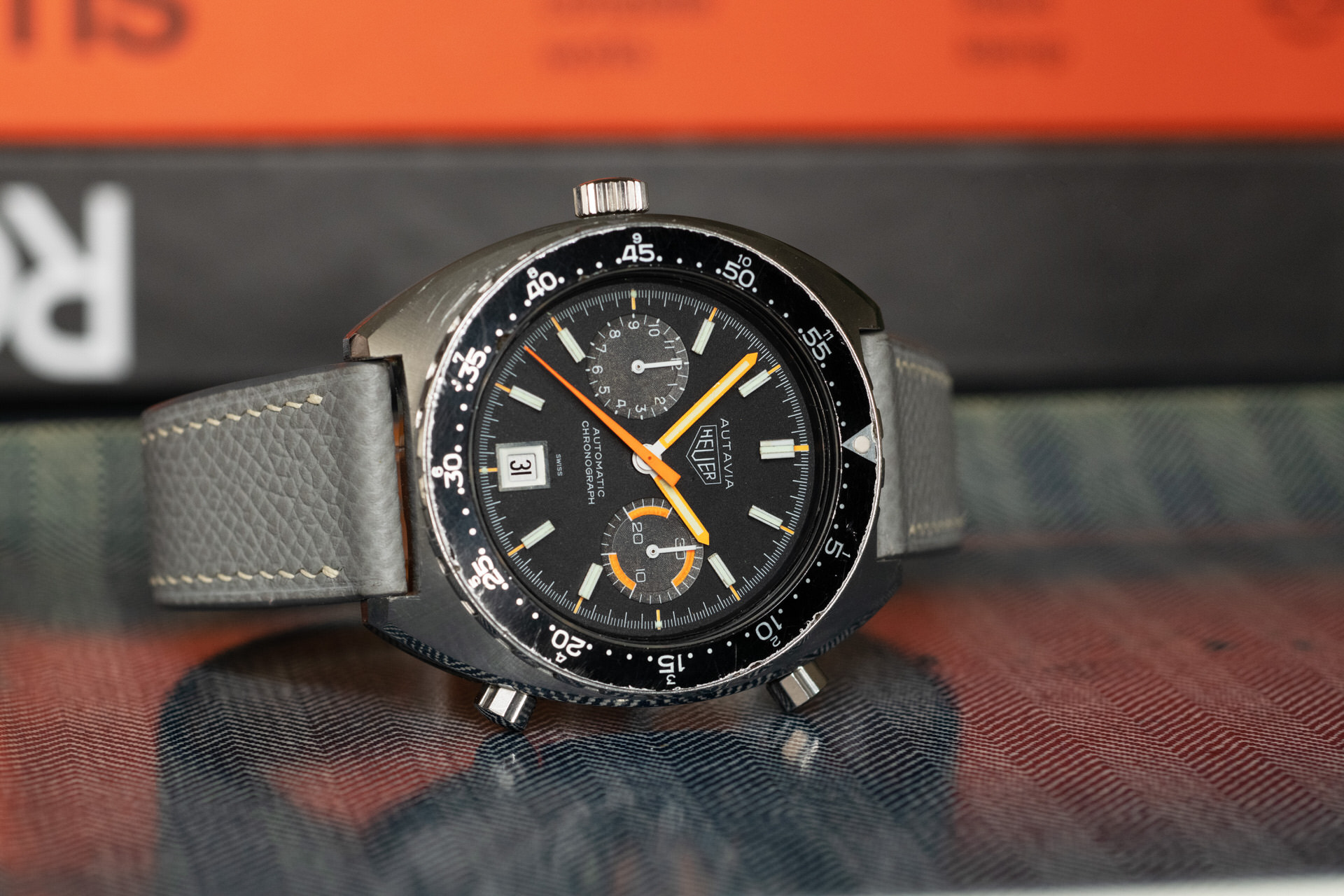 Chris Elkjar
Creative Director/Conceptual Punk Rock Icon
1970s Heuer Autavia Automatic (ref. 11630MH) "Orange Boy":
Heuer has been a brand that I've been somewhat aware of and interested in for a while, but working with our Senior Editor David over the last year and a half and getting a taste for his enthusiasm for the brand has really moved Heuer up my list of watch brands to dive into deeper. I picked up a couple of Heuer rally timers this year for my Volvo 1800ES project car and the obvious next step is something wrist-mounted, right? This "Orange Boy" ticks all the boxes as far as race-inspired design and brand heritage goes – plus David already owns a really nice unpolished "Orange Boy" – so we could be twinsies and synchronize our chronos on team meetings.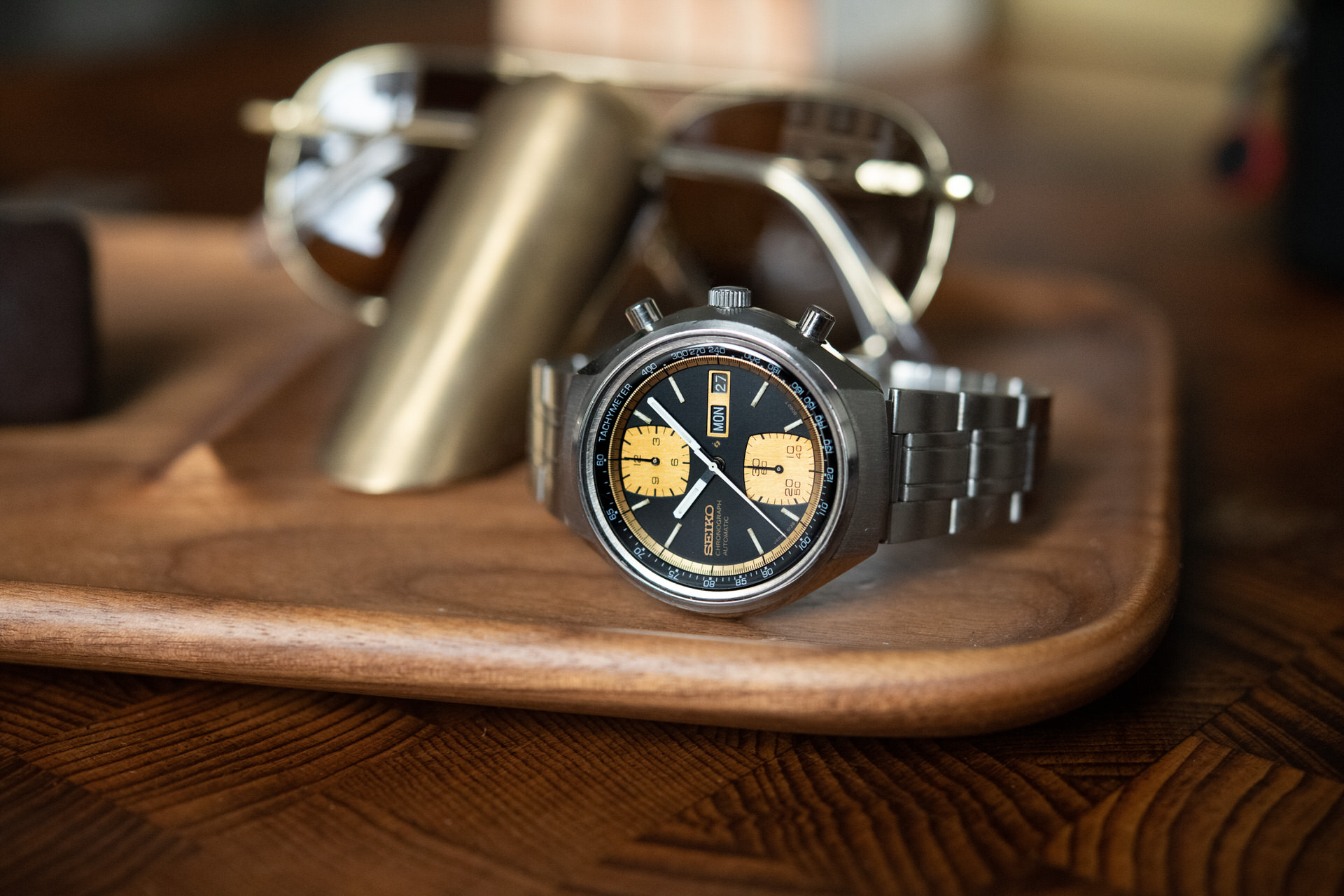 David Von Bader
Senior Editor/Best Guitarist on Staff
1976 Seiko Automatic Chronograph (ref. 6138-8039) " John Player Special":
I've never smoked cigarettes and I've never been a racing driver, but they're both activities I aspire to participate in in the future. I was raised by a Formula 1 fanatic father and watched racing during the days when a race car just wasn't a race car without a brand of smokes' logo emblazoned on the side. Marlboro McLaren (and then Ferrari during the Schumacher days), the bright yellow Jordan Benson and Hedges cars, and even the Team Kool Green livery of Paul Tracy's CART challenger were the visions of racing that sunk the hook in for me as a kid. It's pretty hard to get pumped up about crypto brands and the Google logo making up modern F1 liveries – but that's another article. One of the most iconic cigarette liveries of all was the black and gold of the John Player Special Lotuses; a little before my time, but undeniably iconic. Andretti, Senna, etc. This watch has that direct connection to those worlds for me, but also vintage Seiko reliability, and a beefy '70s tool watch wrist-presence that I just love. I'd wear it on a rally band myself, but it's a relatively cheap thrill at this price and something with a real story to it.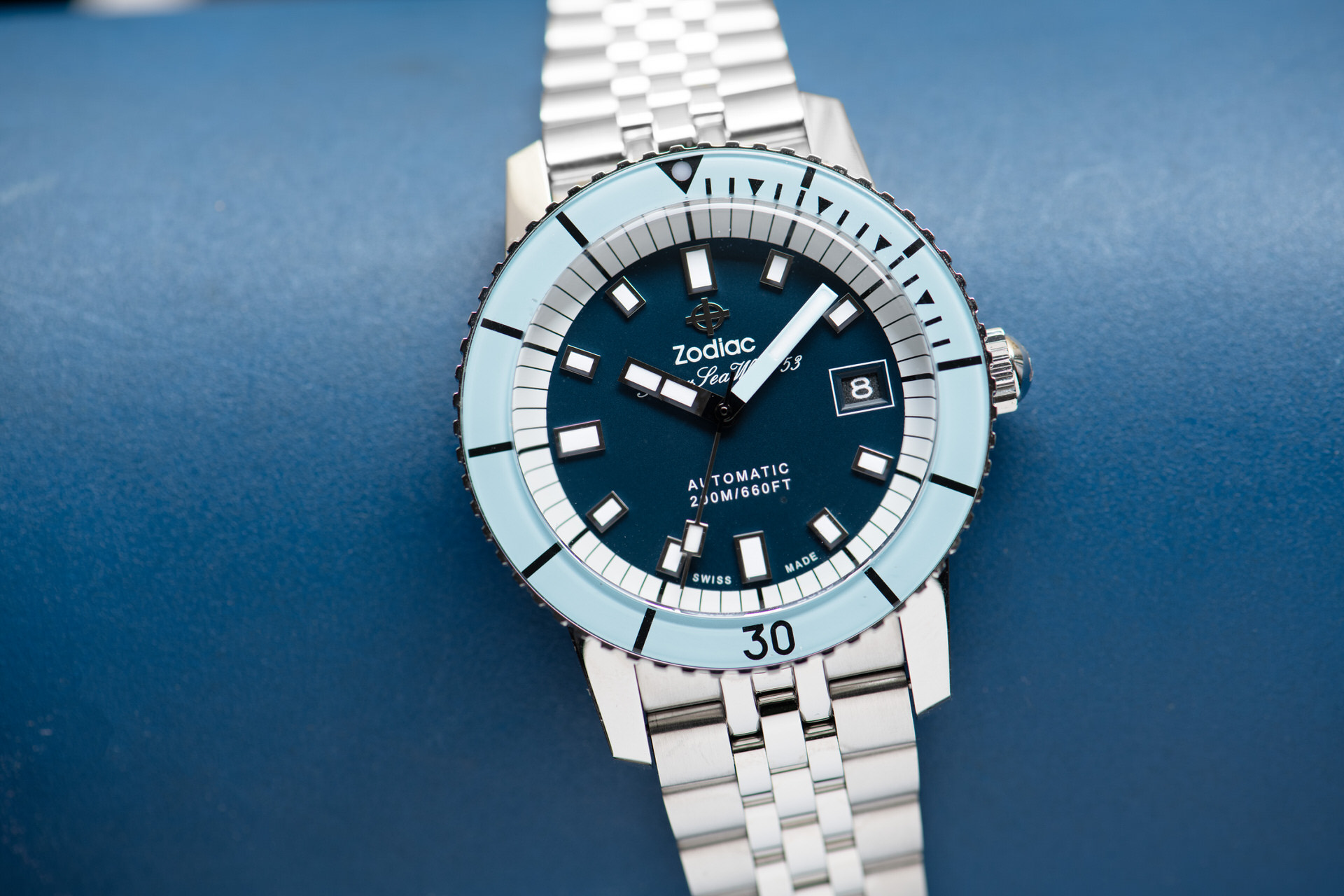 Brian Kim
Legal Department/Chief of Fashion Police
Super Sea Wolf 53 Compression (ref. ZO9287) Light Blue:
My pick for March is the Zodiac Super Sea Wolf 53 with the light blue bezel and matte navy blue dial. This watch is comfortable and durable and has all the things I love about modern watch reliability, but visually, is a pretty perfect reincarnation of the vintage Sea Wolf. The vintage models that featured the light blue bezel were always my favorites and this watch nails that vibe, and at a very attainable price.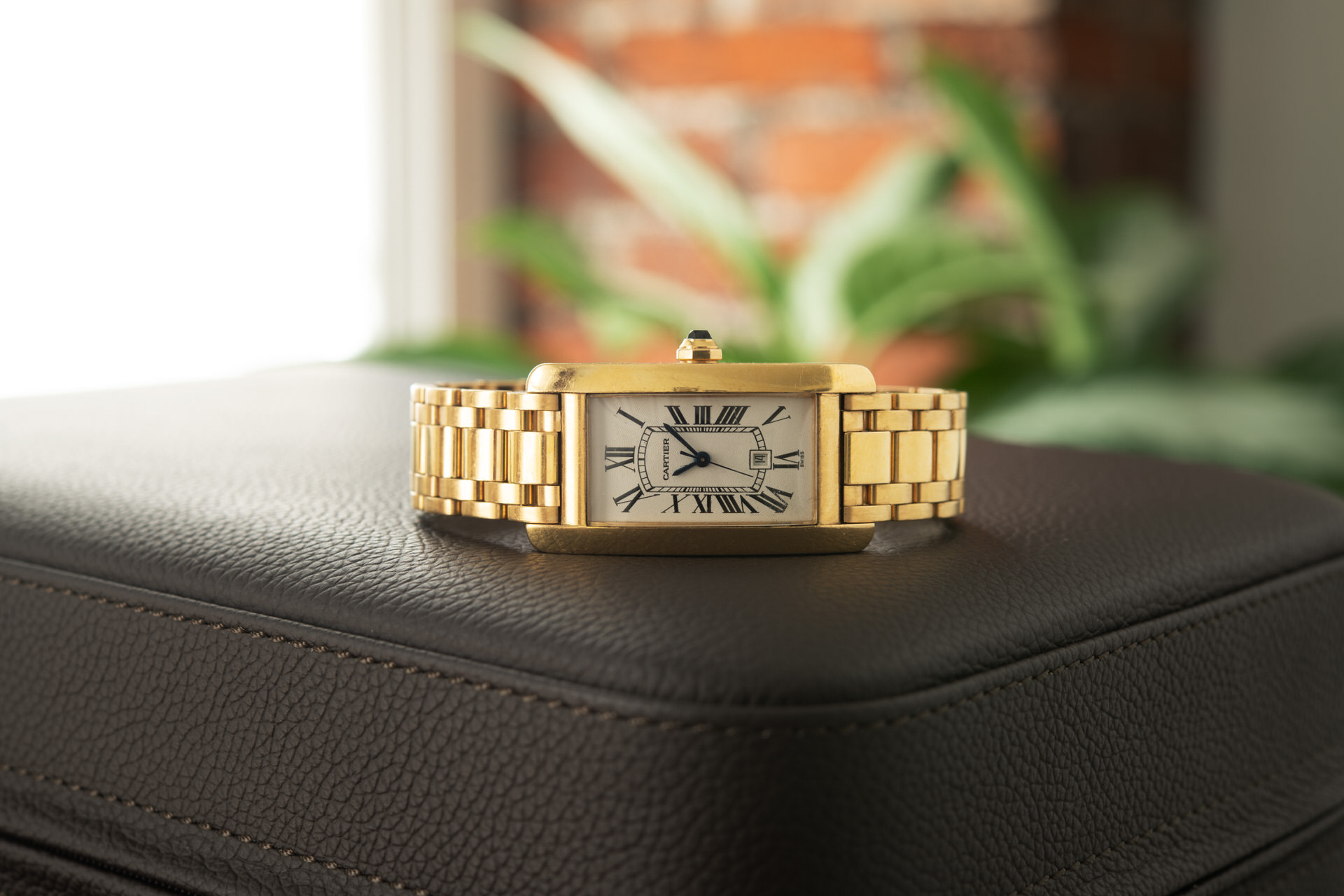 Dylan Hall
Operational Associate/Sales
1990s Cartier Tank Americaine Automatic (ref. 2483) 18K YG:
I believe a watch collection isn't complete without having some sort of gold dress watch in it. I've seen different examples of Cartier dress watches come through the C + T shop, but this Tank Americaine has spoken to me the loudest. Cartier's rich history and the respect the brand has started to command within the watch world is one reason I love it, but visually, this watch – when paired with its original solid gold bracelet – is over-the-top in just the right way. It's one of those watches that simply feels luxurious and like you are truly getting the most out of a dress watch when wearing it. You carry yourself a little differently with it on.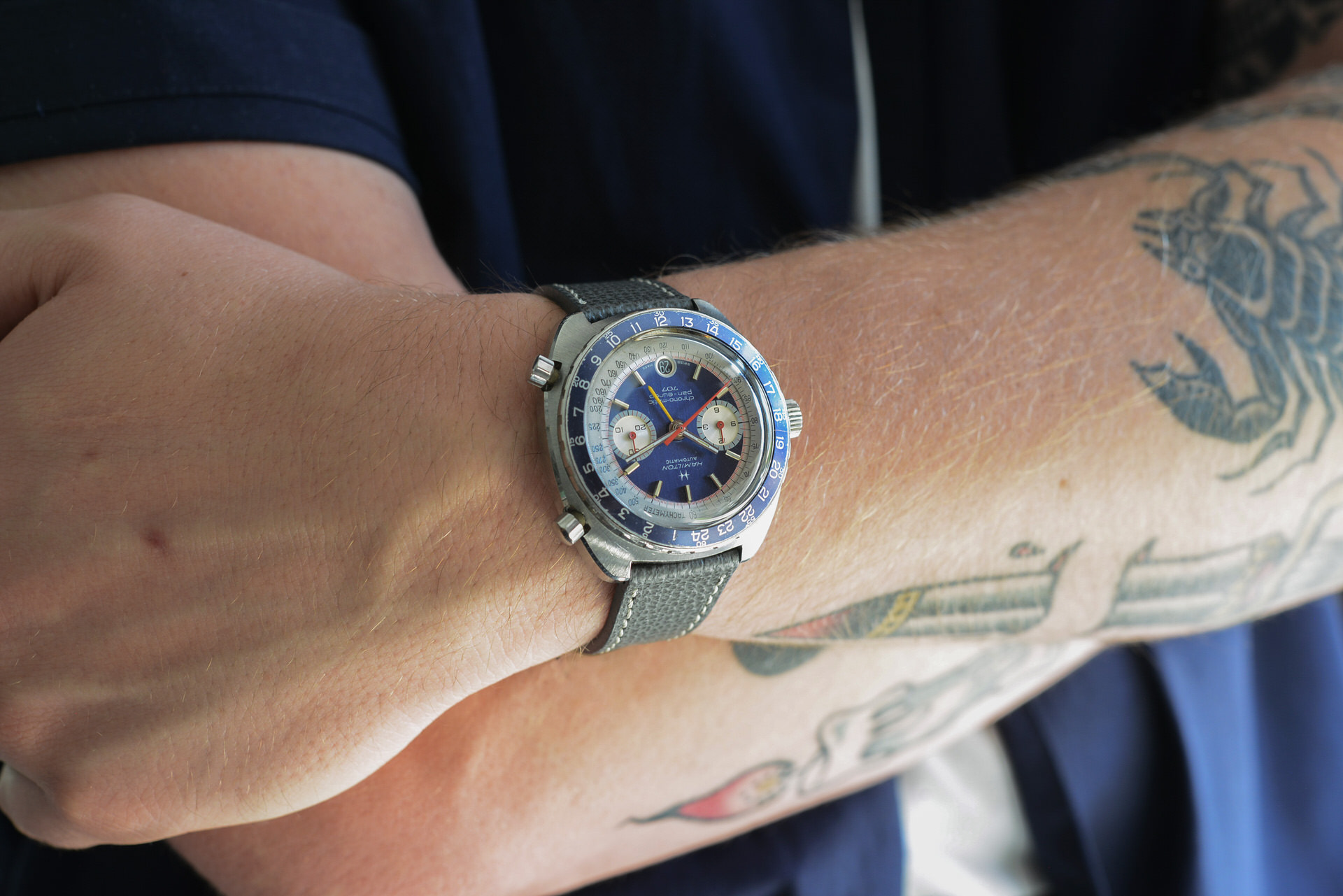 Alex Dash
Staff Photographer
1969 Hamilton Chrono-Matic Pan-Europ 707 (ref. 111003-3) Cal. 11:
When it comes to watches, I tend to like them big and busy, and this wonderful Hamilton Chrono fits the bill. GMT? Check. Date, Stopwatch and Tachymeter? Got 'em! All housed in a very stout-looking brushed stainless Tonneau-shaped case. The late 60's were a colorful time, and that is reflected in the hues of the hands and subdials, too. Did I mention it has a brilliant engraving of a Pegasus on the caseback? And if that wasn't enough, it incorporates the ever-handy Automatic Calibre 11 movement for the guy on the go. 
Never miss a beat
Sign up for our newsletter to receive updates and exclusive offers