Staff Selects for September 2022
The vintage watch world is one primarily fueled by passion and obsession and the truth is that everyone involved in the vintage watch space on both sides of the glass is a nerd on some level about these little mechanical marvels. That includes every member of the C + T crew and it's something we take a great deal of pride in.
Everyone on staff here is a horology nerd and we all get the same thrill handling the rare pieces, unique finds, and unexpected examples that hit our shop as you do! It's a big part of what makes this business fun! In that spirit, each member of the C + T team has picked their favorite piece from the current inventory and written a little bit about why they love that particular watch. After all, you can't keep 'em all, and you can only wear two at a time (just ask Keith Richards). This is our way of taking ownership of the pieces we fall in love with without actually owning them, and celebrating what makes them great with you. We hate to see them leave, but we love to watch them go.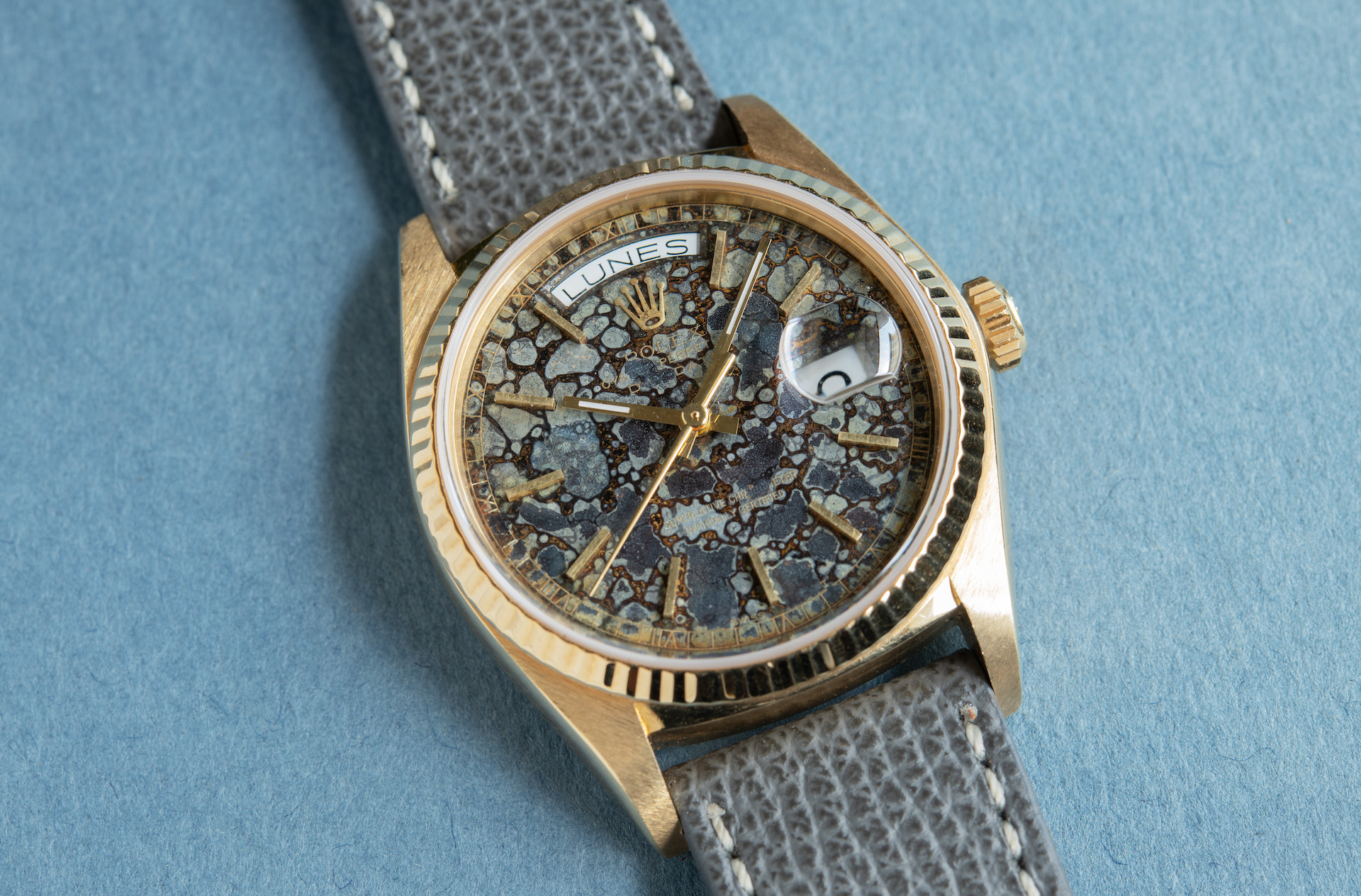 Cameron Barr
CEO/ Lead Barista
Tropical 1978 Rolex Day-Date (ref. 18038) 18K YG "Lizard King":
People throw around the terms "one-of-a-kind" and "rare" really recklessly in the vintage watch world. In most cases, it's not actually the truth. This eye-popping and extremely "tropical" 1978 Rolex Day-Date (ref. 18038) in 18K YG was affectionately named the "Lizard King" by the C + T clientele through a vote and giveaway contest we had on our Instagram, and this watch's wild dial drew an unbelievable amount of attention! The dial has taken on a striking patina that looks like the skin of a lizard; I believe this heavy patina was a product of moisture exposure and an unexpected reaction that really took on a life of its own over time. I have seen patina similar to this before, but never anything this vivid or striking. The dial is blue, gray, gold, and brown, and it's truly one of a kind.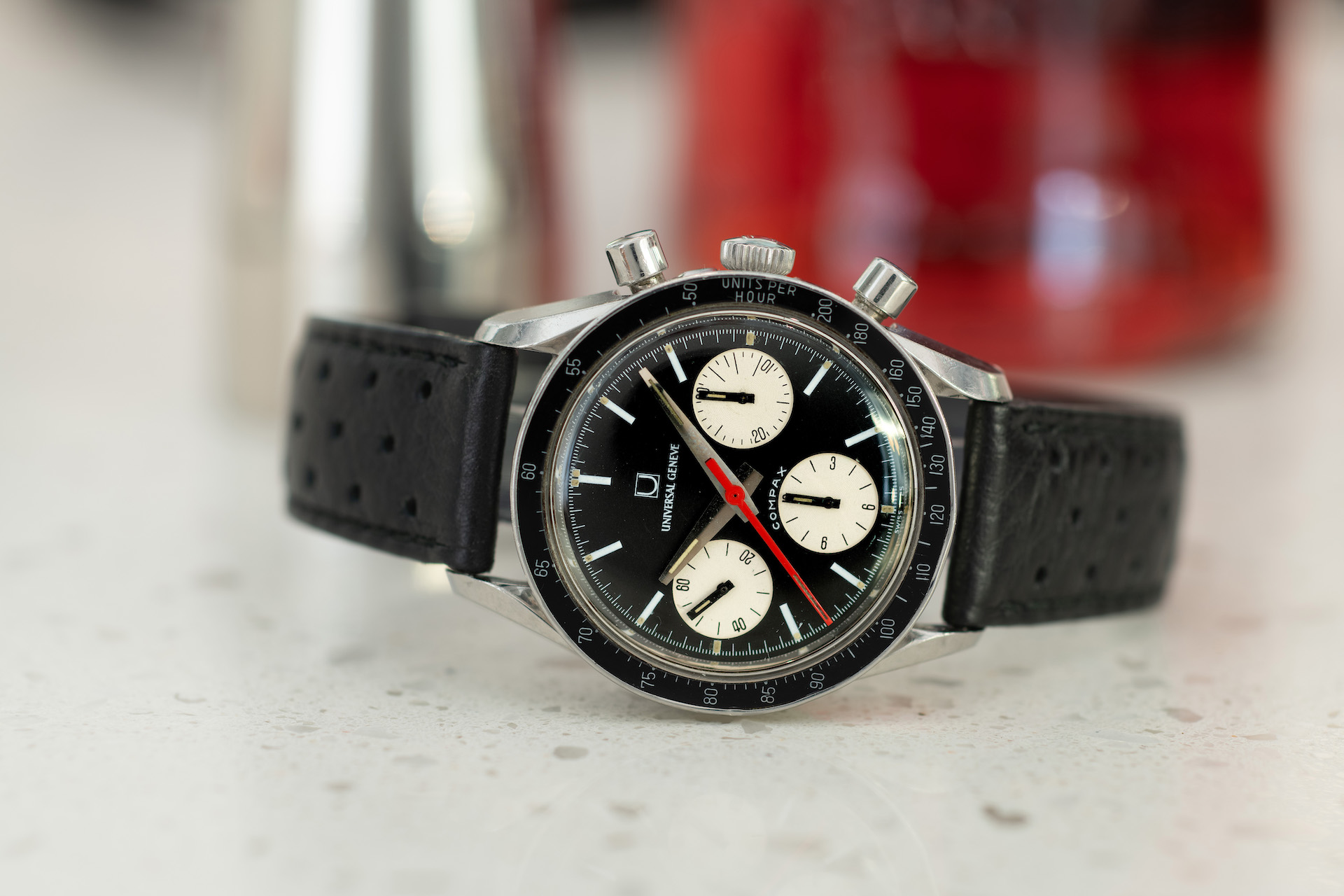 Tyler Vanes
Chief of Operations/Vintage BMW Lover/Hater
1960s Universal Geneve Compax (ref. 885103/01) "Evil Nina" w/ Base 200 UPH Bezel
For me, the Universal Geneve "Evil Nina" is the perfect mash-up of a black dial Rolex Daytona and an Omega Speedmaster. It shares aesthetic elements of both watches, but in the most Universal Geneve way possible. Their brand identity is totally expressed in this watch, but it lives in that super specific '60s chrono space. I also love the fact that every hand – including the sub-dial hands are lumed – an awesome detail not often seen in other chronographs from this era, and a detail that makes perfect sense for a chrono like this.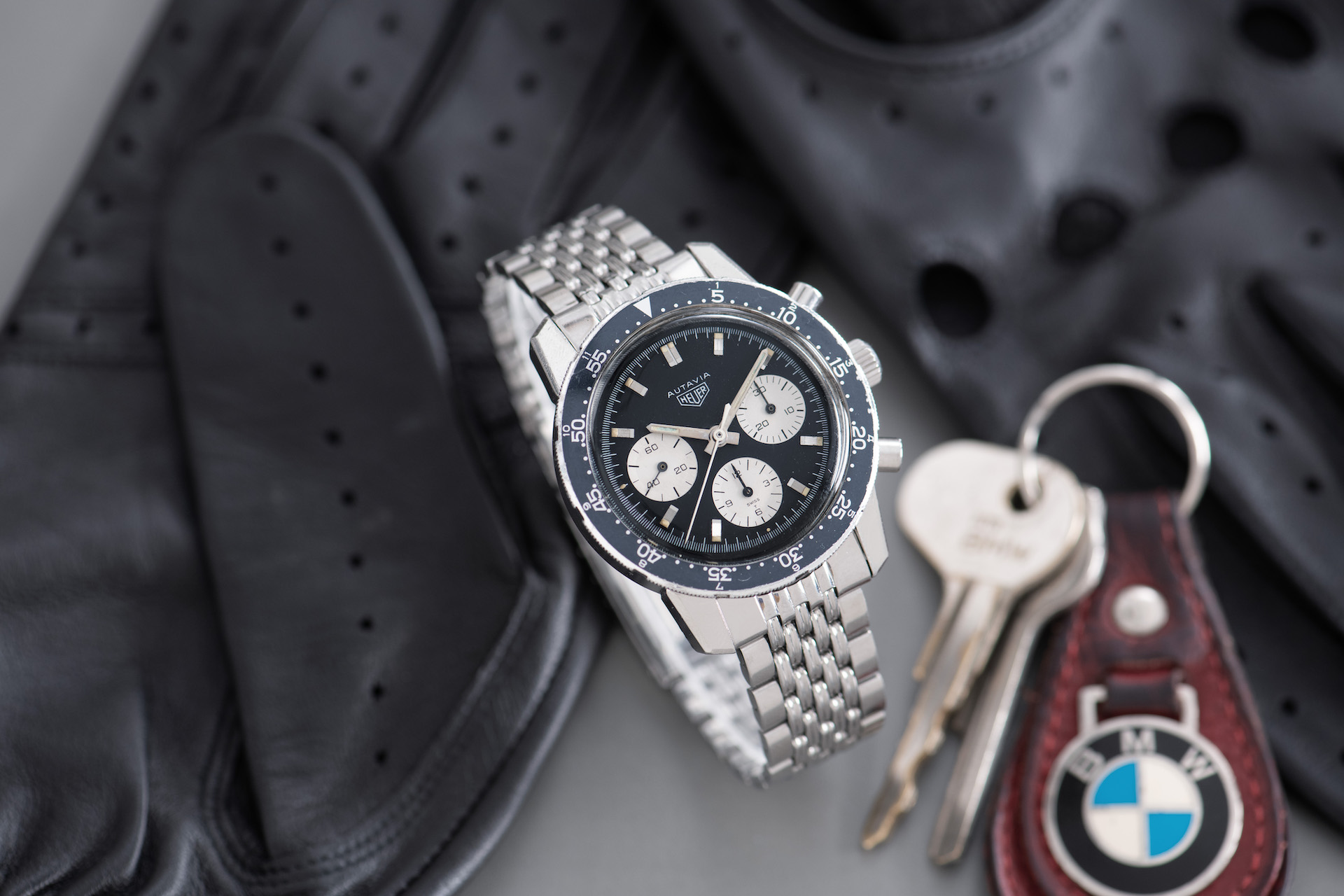 Chris Elkjar
Creative Director/Conceptual Punk Rock Icon
1968 Heuer Autavia (ref. 2446C) Mk.1:
Why did I pick this stunningly beautiful Heuer Autavia Mk.1? Obviously it's a beautiful wristwatch, but the real reason is because we don't have any vintage dash timers listed on the site! My obsession with the Heuer brand has moved a bit further back in their history from the iconic racing-focused wristwatches they produced to their dash-mounted instrument offerings. I'm absolutely obsessed with them right now and since we foolishly don't stock any rally timers, I've been forced to choose this looker of a chrono instead. I love that these early Autavias took their name from the line of dash timers that Jack Heuer revamped right before this watch's inception, and that wonderfully intertwined history with that side of the brand makes these watches extra interesting to me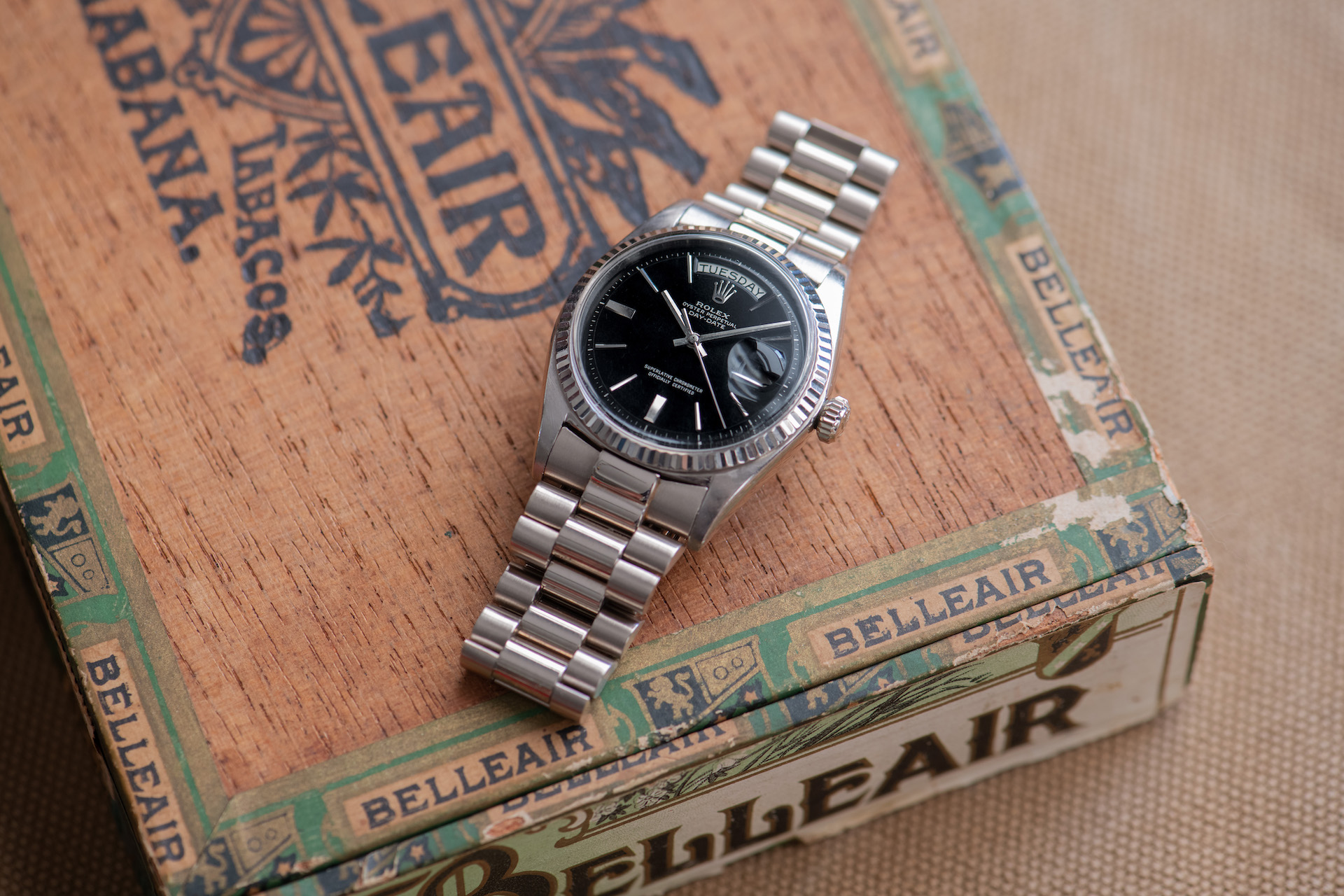 David Von Bader
Senior Editor/Best Guitarist on Staff
1963 Rolex Day-Date 18k WG (ref. 1803) Gilt Non-Luminous Dial:
When I first started working for Craft + Tailored, I wasn't a huge fan of 1803s. To me, they always felt a little too high-brow/white collar and I really preferred tool watches and function-forward pieces that looked like they'd be on a guy's wrist in an '80s action flick. That said, I started wearing Day-Dates at the office and fell very much in love with the weirder variants of the reference we'd get in. This example, in white gold with it's absolutely gorgeous gilt black dial, is my ideal Day-Date; it's still upscale, it's still high-brow, but it a little understated and a little more versatile in my eyes than a yellow gold example. I also love this period of Rolex and how examples from the early '60s age.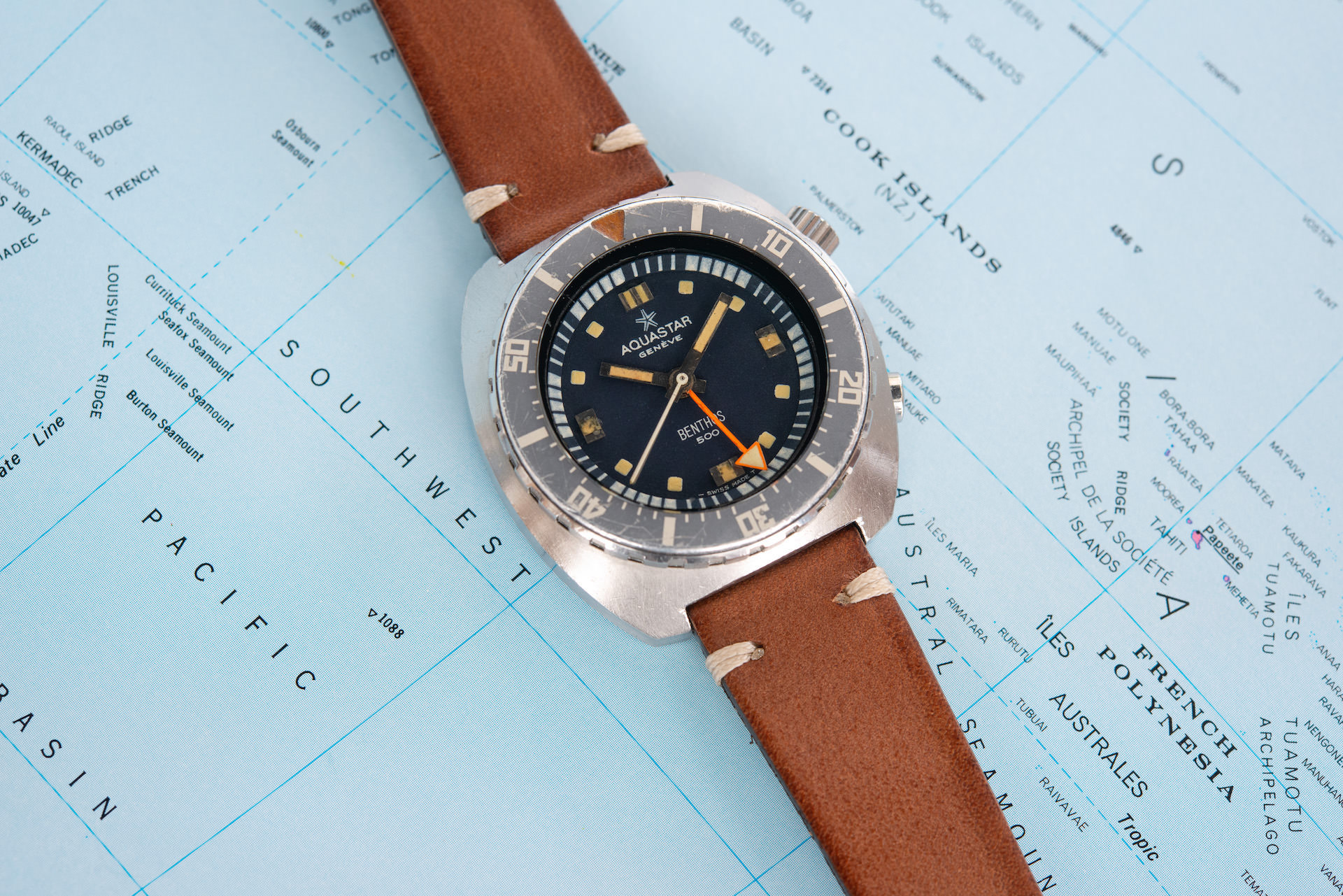 Brian Kim
Legal Department/Chief of Fashion Police
1970s Aquastar Benthos 500 Chronograph (ref. 1002) "Minute Creeper":
I love this 1970s Aquastar Benthos 500 chronograph because it's a big, bulky, purpose-built dive watch and it was the world's first watch rated to 500 meters. I love anything that backs up its looks with function, and I also love how the bright orange minute creeper chronograph hand and the creamy aged lume pop against the matte blue dial. This is such a unique find for the collector looking for an interesting, quirky, and historically significant addition!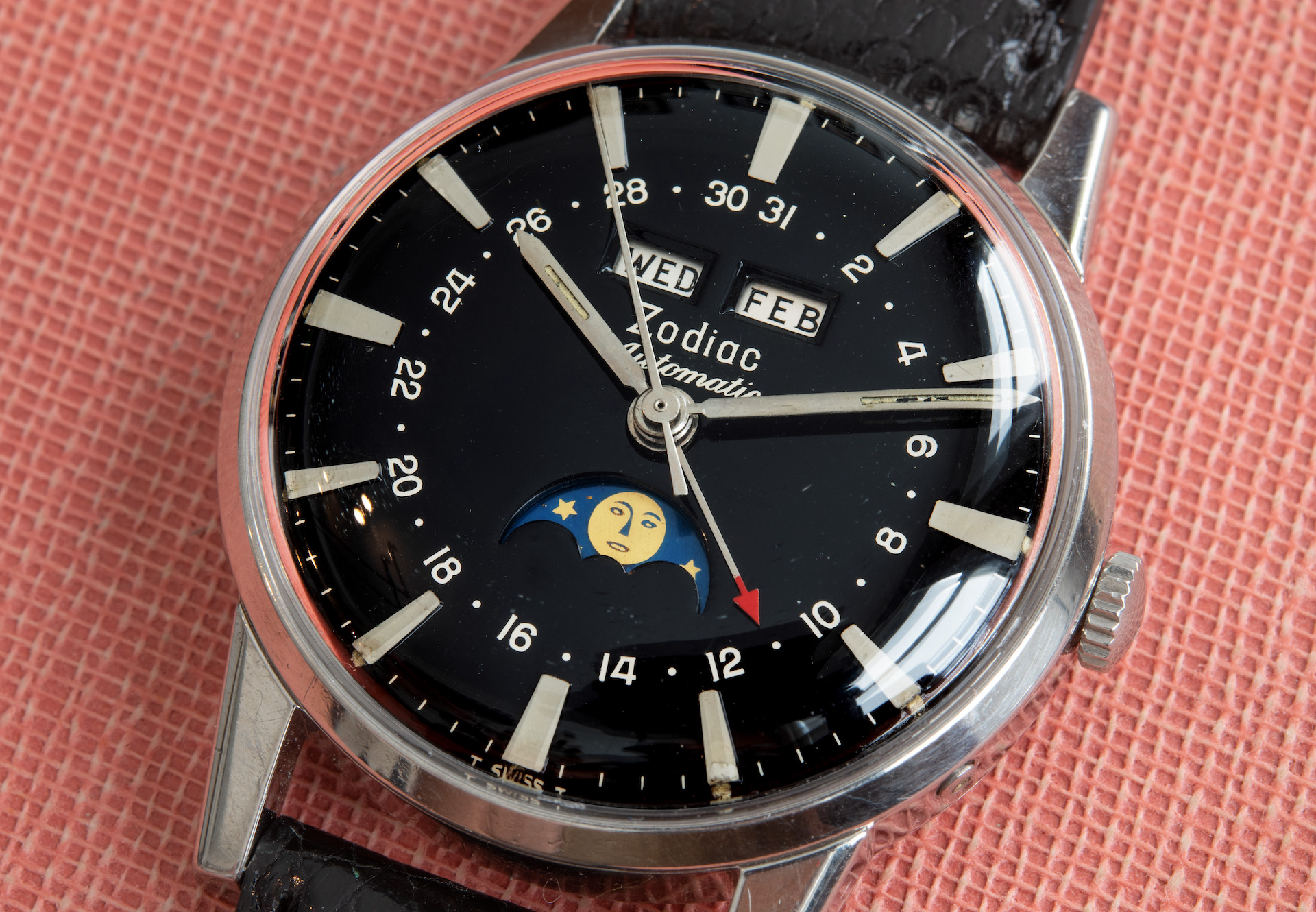 Mike Nouveau
Watch Hunter/Emerging TikTok Celebrity
1970s Zodiac Automatic Triple Calendar Moon Phase (ref. 742-908):
This has got to be the most bang-for-your-buck triple calendar moonphase that exists in the watch world. The aesthetic touches and the complications, and the materials used all make it an incredibly cool watch and everything about this piece screams "vintage." And Zodiac has its own important heritage and history. I truly believe if the dial said Rolex on it, this watch would be literally 100x the asking price!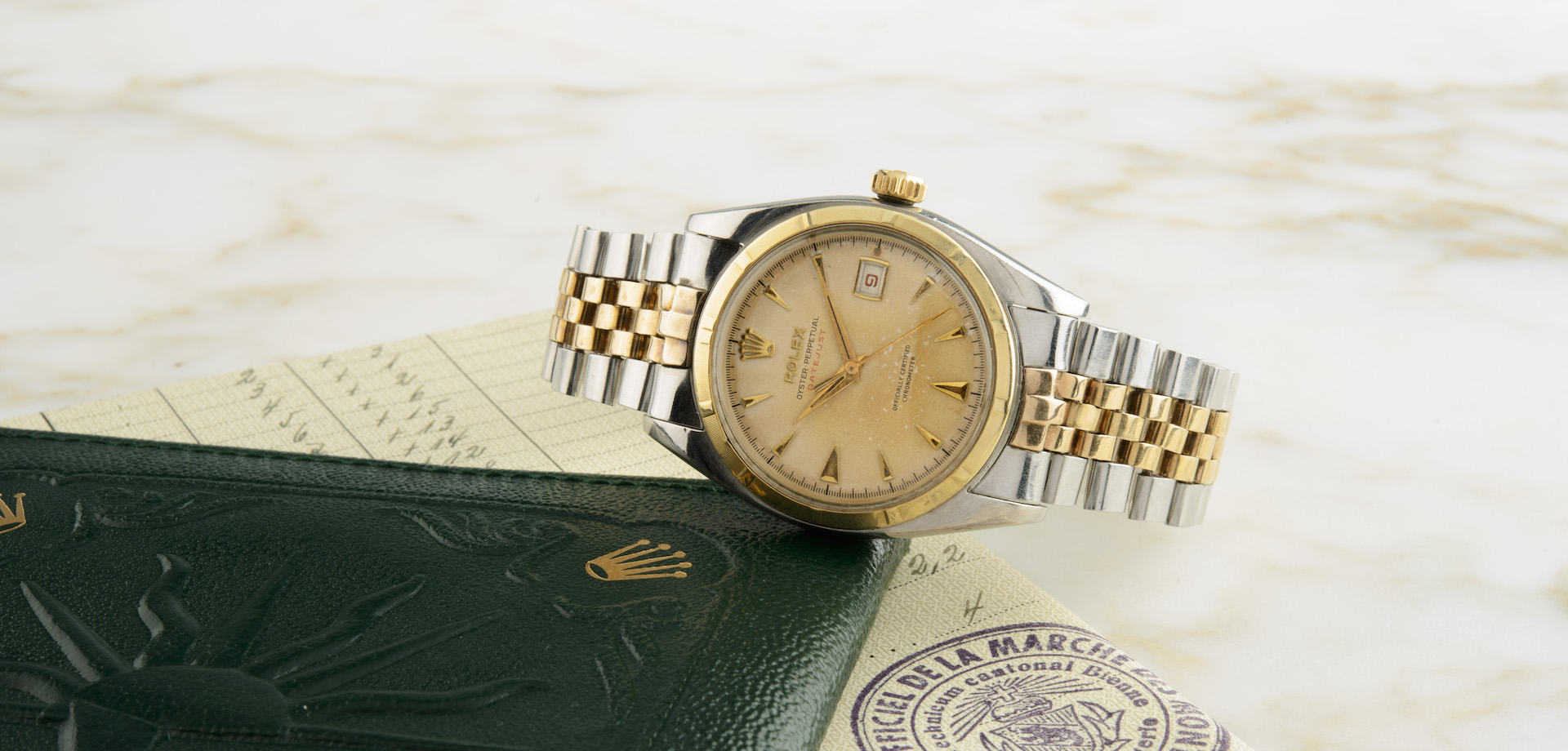 Claire Randolph
Social Media Manager/Deputy of Fashion Police
1953 Rolex Two-Tone Red Datejust (ref. 6104) "Ovettone" w/ Papers & Early RSC Documents:
I love all Rolex Datejusts for many obvious reasons and a two-tone Datejust is the piece that I wear every day, so I'm a little biased towards these. This example takes the cake as the coolest one I've ever seen, and it has so much character to it. The red text is so unique and such a cool  "insiders" detail, and I love how gracefully the watch has aged; it looks truly fabulous for something that's nearly 70 years old. I also love how versatile a two-tone piece can be; they're chic with any outfit.
Never miss a beat
Sign up for our newsletter to receive updates and exclusive offers