The Reference SBGW25X Grand Seiko
At the moment, reissues exist as a dominating force of the watch collecting world. In theory, bringing a smash hit to market is as simple as can be.
Flip through the back catalogue, pick a celebrated classic of your choosing, and then reproduce it for today's market using the latest and greatest of available modern materials. In practice, it's a far trickier proposition and one which demands the harmonious melding of new and old to earn one's hard-earned dollars. With countless options for those in search of such watches, navigating the landscape can prove difficult. If you've ever found yourself in this position, consider Grand Seiko.
Before jumping straight in, let's dissect the concept of reissue watches as a whole, and determine what makes one great. The goal is to stay true to the original, without nearing too close in execution or price, so as to not bring about underwhelming emotions. In other words, something new must be brought to the table by way of either form or function, and on a subtle level, so as to not rock the boat of purism. Picking the correct watch to reissue is crucial as well, in that a reissue is something to get excited about, and if the model in question is not, then you're fighting an uphill battle of watchmaking.
While the Japanese watchmaker isn't best known for their reissues, collectors would agree that they routinely hit the nail right on the head when it comes to updating a tried and true design. Case in point — the reference SBGW253, in hard-wearing stainless steel. Grand Seiko introduced the reference in 2017 alongside the SBGW251 and SBGW252 in platinum and gold and modeled it after the very first watch to bear the Grand Seiko name. This modern novelty carries over nearly every last significant trait of the original design, making the manufacture's intentions unmistakable. While doing so, they've also fitted it with durable material upgrades like a sapphire crystal.
Offering a familiar face in a larger albeit more durable package strikes a happy medium of sorts, satisfying those that wish to honor the past while keeping up with the tastes of today. Having said that, it should be noted that powerful designs are much more conducive to reissuing, which the original Grand Seiko is nothing if not. Aesthetically linked to no specific era, but instead reflecting a timeless attention to detail, this design always has and always will be regarded as an all-time great of horological history.
The more contentious matter at hand in assessing this piece is considering Grand Seiko's decision to increase the case size from 36 mm to 38 mm. Despite being a regular occurrence in the reissue world, it's a decision that's usually met with hesitation on the part of purists, and understandably so. However, one must understand an artisan's desire to progress and attract the attention of a younger watch collector. Through the ever so slight, two millimeter increase, the Japanese watchmaker is able to ensure that their revered designs and watchmaking techniques will continue to be appreciated for generations of watch buyers to come.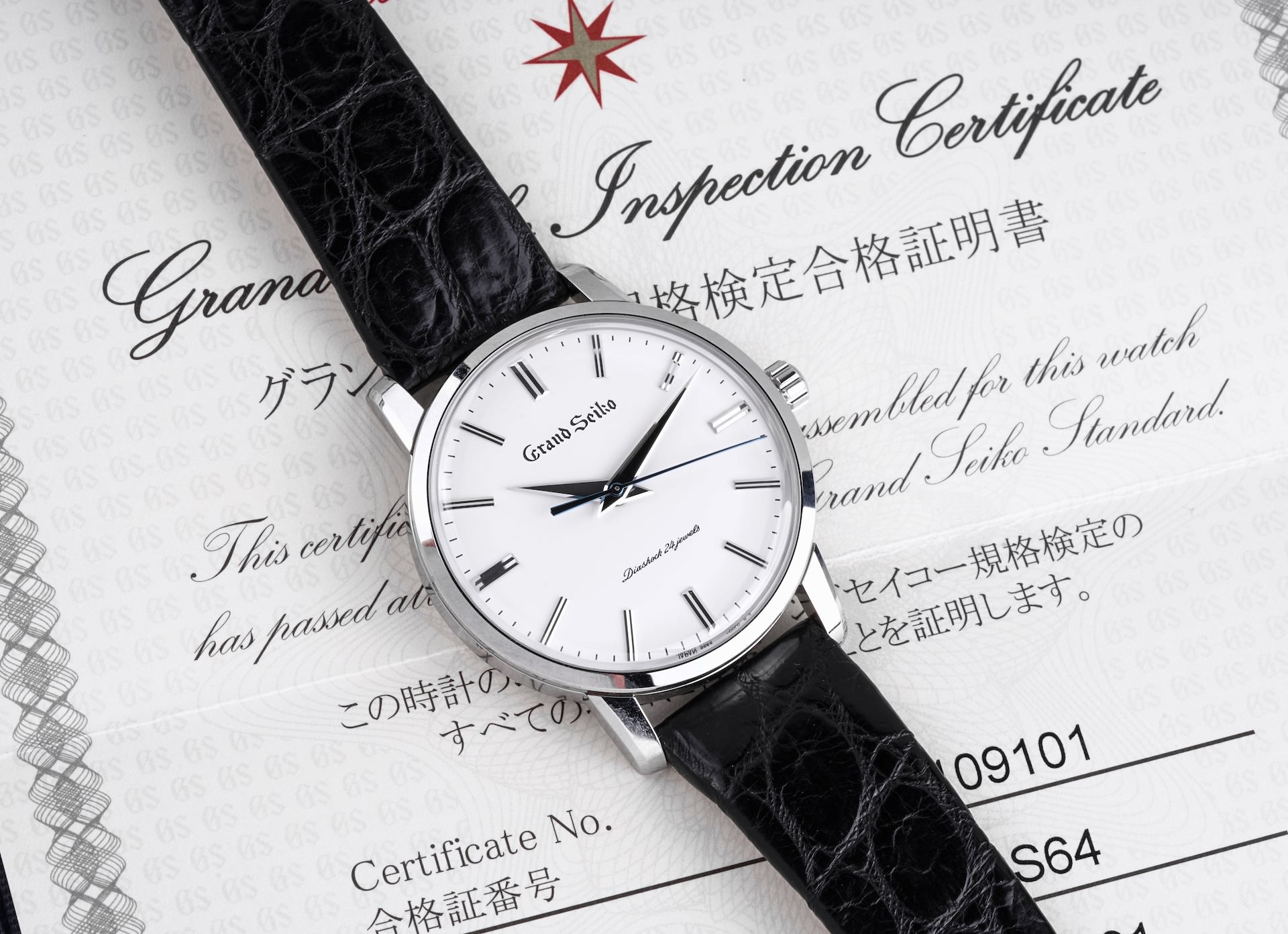 Being a Grand Seiko, the quality of finishing seen on its various components is nothing short of outstanding, which is plainly apparent upon handling the watch. This is the result of both GS' unique techniques, and a unique dedication to properly training watchmakers, as best demonstrated by the case's polished finish. Whereas some manufacturers would simply polish their cases, Grand Seiko uses a technique known as Zaratsu polishing to yield distortion-free, mirror-like surfaces. To perform this technique, three years of training are required at a minimum, in order to yield a timepiece that truly screams quality. If this isn't indicative of a manufacturer taking reissues to the next level, then I'm not sure what is.
Never miss a beat
Sign up for our newsletter to receive updates and exclusive offers