Staff Selects for November 2022
Surely if you've found yourself reading the C + T Journal, we don't need to point out the reality that the vintage watch world is one primarily fueled by passion. The truth is that everyone involved in the vintage watch space on both sides of the glass is a nerd on some level about these little mechanical marvels – and that includes every member of the C + T crew!
Everyone on staff here is a horology nerd and/or a vintage watch aficionado of some sort, and we get the same thrill handling the rare pieces, unique finds, and unexpected examples that hit our shop as you do! It's a big part of what makes the gig such fun. So we've decided to start sharing monthly staff picks from our current inventory. After all, you can't keep 'em all, and you can only wear two at a time (just ask Keith Richards) – so this is our way of taking ownership of the pieces we fall in love with without actually owning them. Sometimes, we hate to see them leave, but we love to watch them go.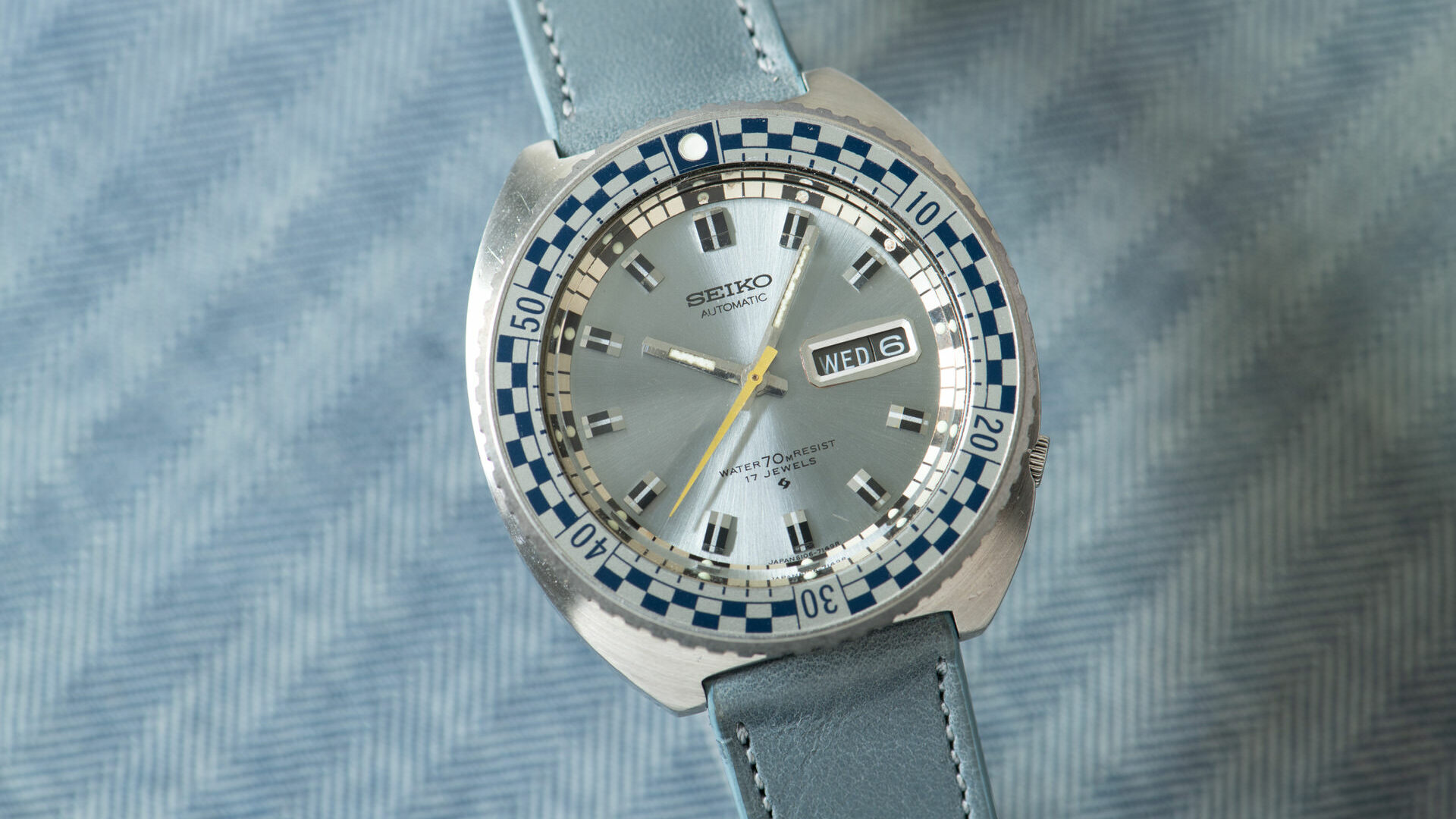 Cameron Barr
CEO/ Lead Barista
1970 Seiko Automatic (ref. 6106-7117)
My role as the CEO of C + T requires that I spend a lot of my time analyzing, experiencing, and handling the upper echelon of vintage watches. It's the only way you become an expert and it's a huge part of my life and ultimately my passion. But I happen to love affordable vintage and, like many vintage watch experts, I love old Seiko. This ref. 6106-7117 is a wonderfully cool and funky example of Seiko's '70s aesthetic; I love its tonneau-esque case and its handsome silver dial, but we all know that two-tone blue "roulette/rally" bezel insert is the star of the show here. I defy you to find a cooler or more wearable watch at a similar price point – you'll definitely be hunting for a bit.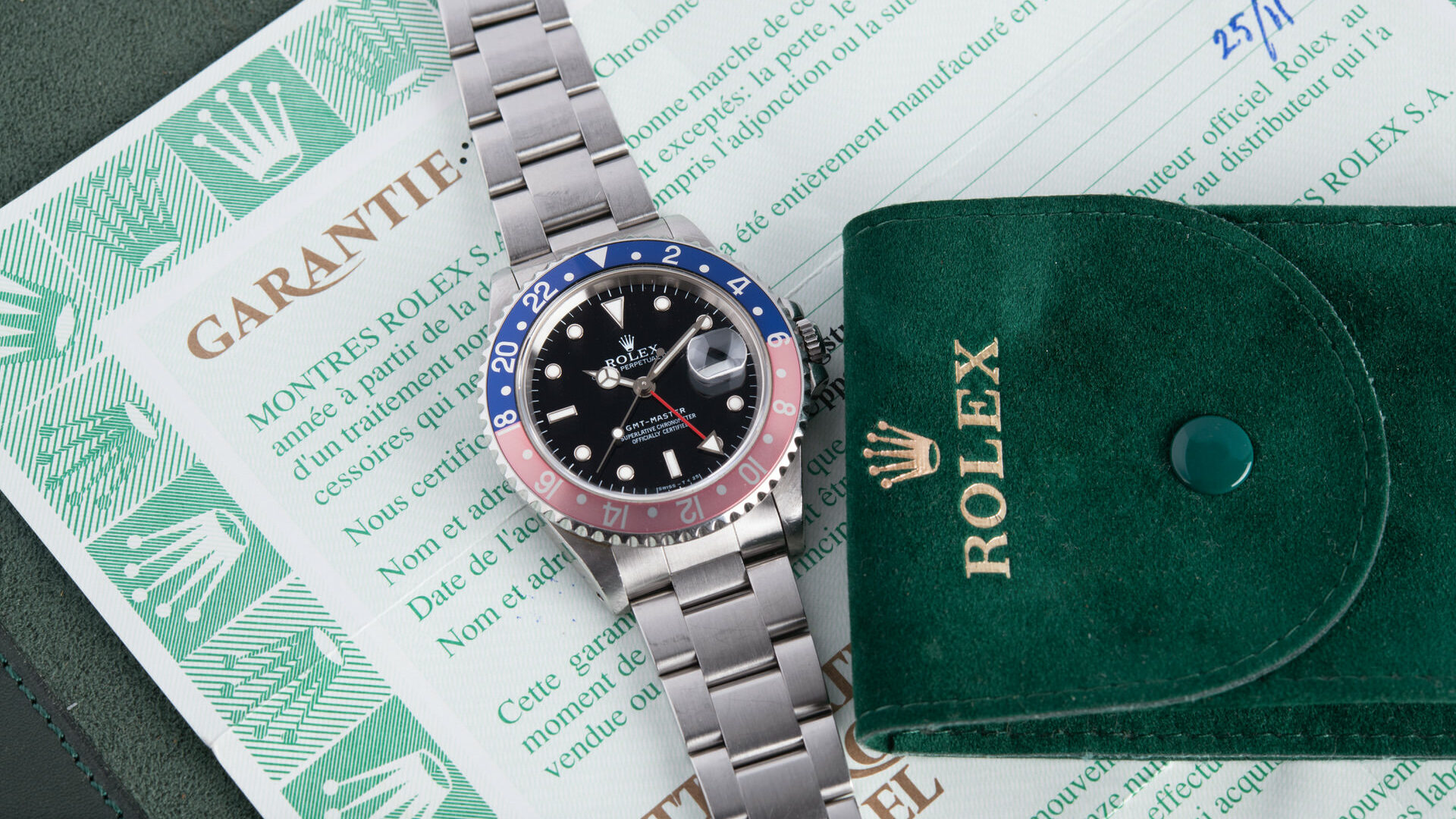 Tyler Vanes
Chief of Operations/Vintage BMW Lover/Hater
1998 Rolex GMT-Master (ref. 16700) "Pepsi" w/ Paper & Hangtag:
We have had a couple Rolex 16700s come through the office recently and, without fail, I always have to try them on and consider keeping them for myself. Even though this reference of GMT-Master is not the most extravagant vintage watch, it's perfectly proportioned and is one of the best daily driver sport Rolex watches out there. Usually these 16700s can be found with a cool bezel insert that's got some fade to it, which gives the watch a more vintage leaning/neo-vintage aesthetic, something I am very into.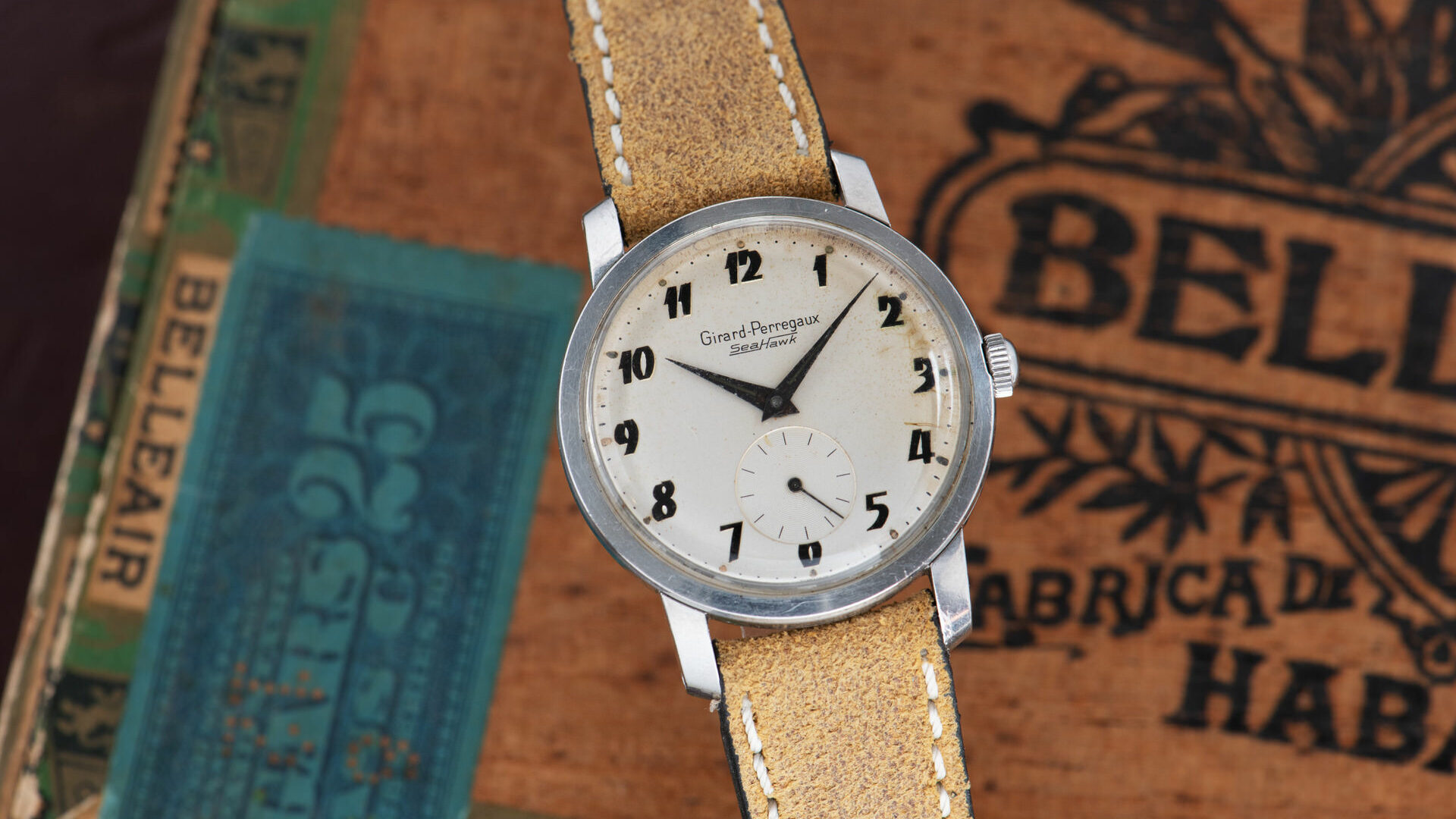 Chris Elkjar
Creative Director/Conceptual Punk Rock Icon
1950s Girard Perregaux Sea Hawk:
Is it wrong to like a watch purely for its typography? If so, I don't want to be right. The dial on this 1950s Sea Hawk has some magic in it; the black numerals give me a bit of a racing or motorsports feel and while this isn't a racing watch by any means, those numerals and their contrast with the watch's dial somehow make them fast looking! The look of those numerals paired with this watch's perfect patina  – a standard requirement for a Craft + Tailored piece – makes this the standout for me this month.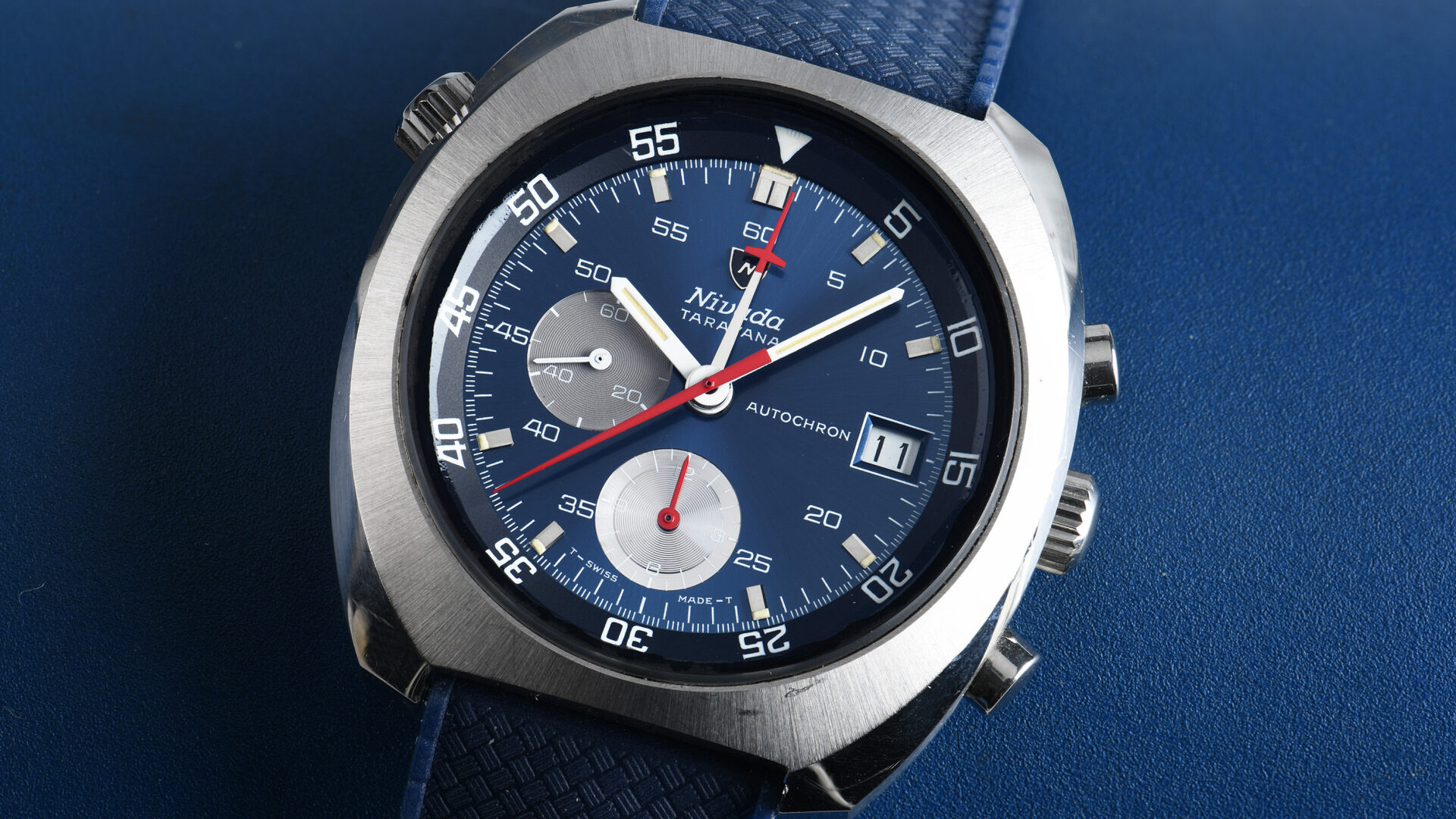 David Von Bader
Senior Editor/Best Guitarist on Staff
1970s Nivada Taravana Autochron (ref. 87024):
I personally think every watch collection needs a funky, chunky '70s chronograph in it. The aesthetic variety available in that category is really incredible and these watches typically offer a lot of bang-for-the-buck. This Nivada Taravana Autochron is a prime example! I love its offset sub-dials, the bright red "flight style" chrono seconds hand, and at 44mm, it's a rare example of a vintage piece that hits modern case sizes – perfect for those with large wrists or anyone seeking a piece with a modern wrist presence and vintage appointments.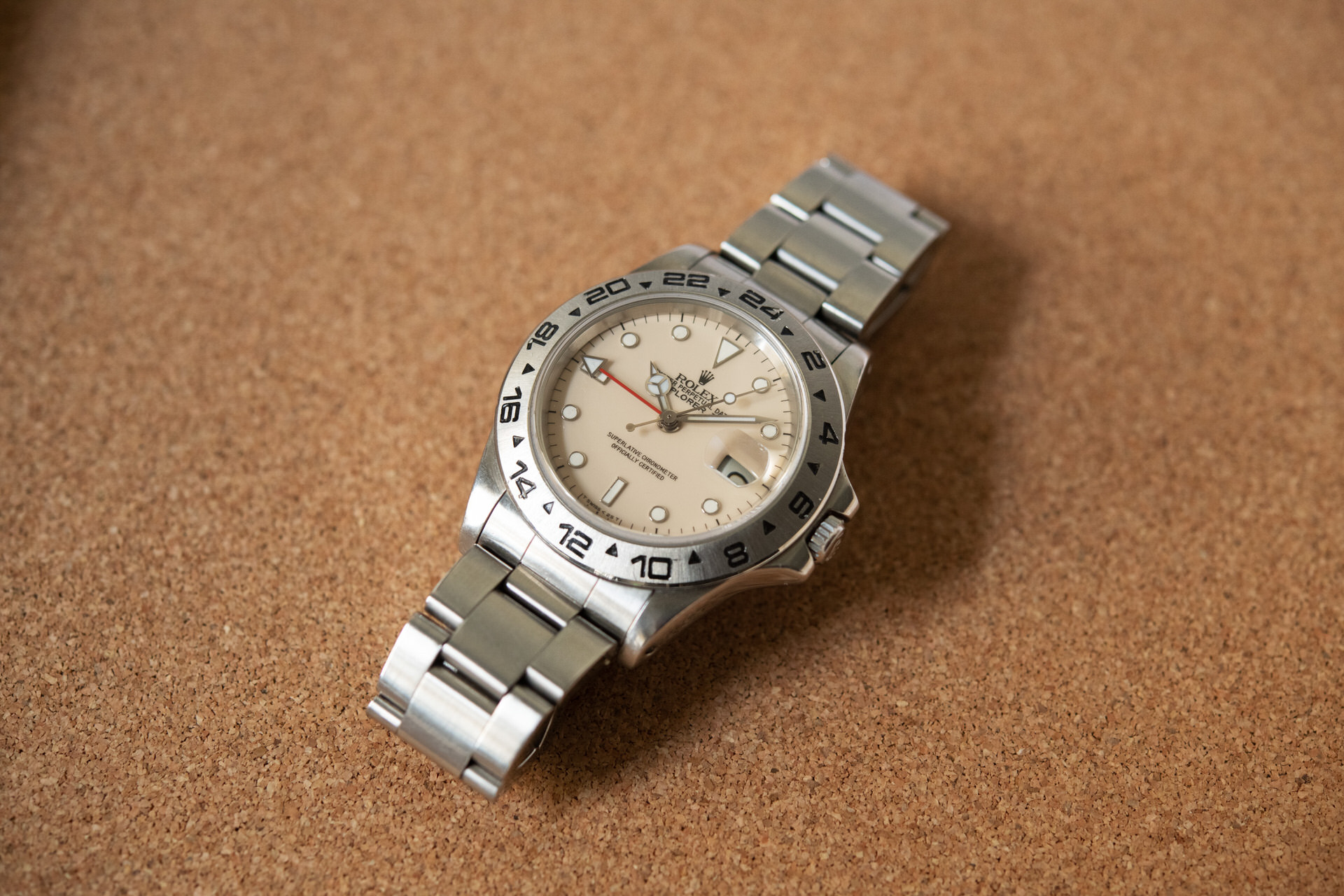 Brian Kim
Legal Department/Chief of Fashion Police
1984 Rolex Explorer II (ref. 16550) Cream "Peach" Dial:
This '84 ref. 16550 Explorer II has taken on a creamy peach patina due to a defect in the white lacquer used for the dial, and for my money, this piece exemplifies what I love more about vintage watches! There's something special and magical about how they can age into something truly unique and how a defect can lead to something aging in such a beautiful way. It really sets this period of Explorer II apart.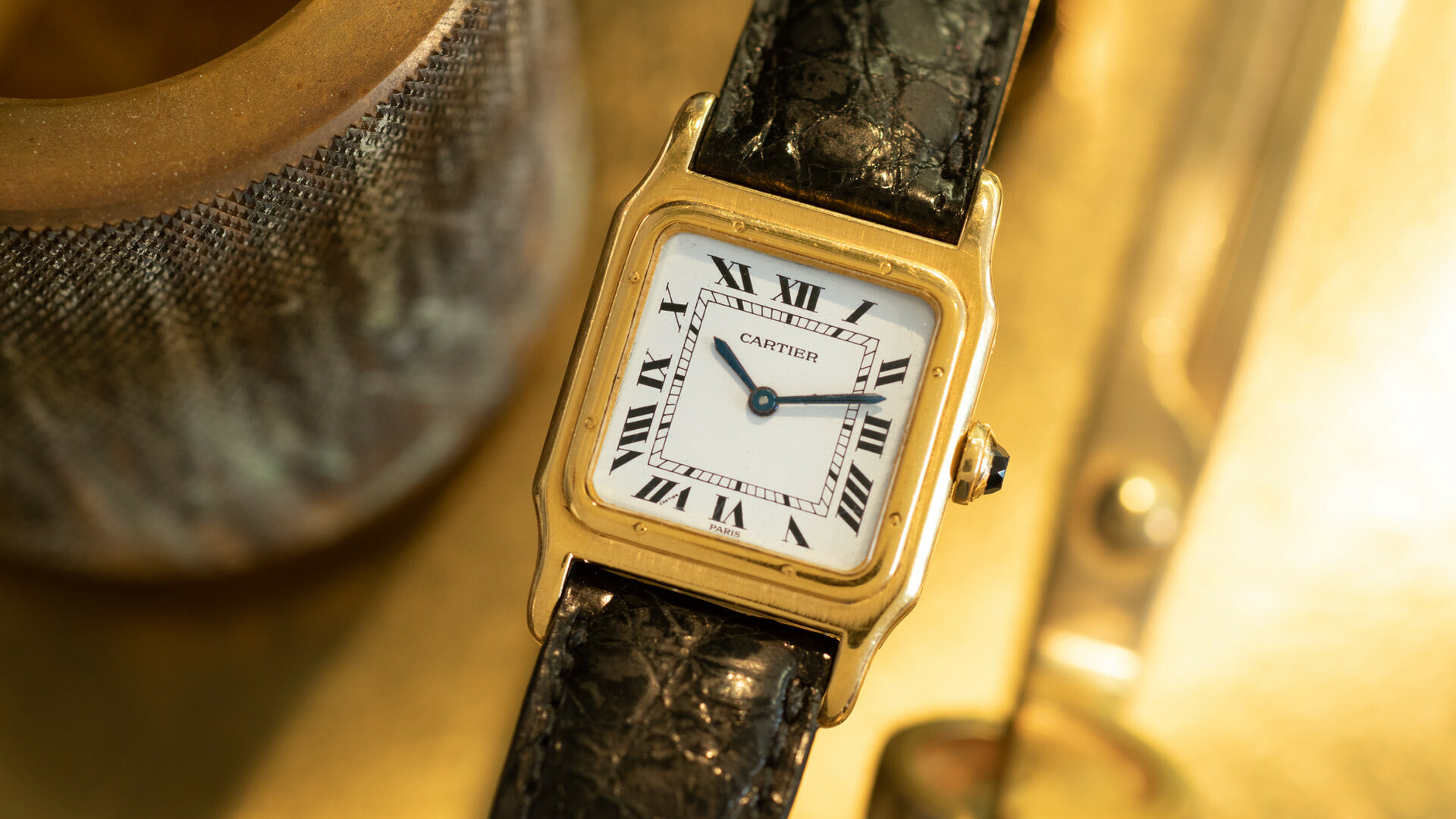 Claire Randolph
Social Media Manager/Deputy of Fashion Police
1970s Cartier Santos-Dumont Paris 18K YG:
This Cartier Santos-Dumont from the 1970s is such a cool piece and I love that its got a unisex feel to it. The white enamel Cartier "Paris" signed dial and its blued steel hands make this piece unique, but it's still the classic Cartier Santos in many ways – a versatile, timeless piece. I also love how the black alligator strap pairs with it to drive home the classic, upscale Cartier look. 
Never miss a beat
Sign up for our newsletter to receive updates and exclusive offers