The Allure of Vintage Oddities
For those outside the watch obsessed world, the ideal "collection" is not a collection at all, but instead a single watch that's fit for reliable and stylish wear on any given Sunday. With this in mind, versatility and timeless aesthetics rank high on the list of requirements when in search of a timepiece.
In contrast, those inside the watch obsessed world know all too well that owning several watches can be more fun than just one alone, and therefore celebrate the quirks and oddities of certain pieces which would be dealbreakers for many.
Seeing as it's the often eccentric intricacies that make this pursuit of passion so exciting,  today we focus on the less conventional curiosities of watchmaking history, exploring the perhaps puzzling details that define some of our favourite wristwatches.
Heuer Carrera Dato 45 Ref. 3147N
No discussion of unconventional timepieces would be complete without mention of what is undoubtedly one of the most uniquely configured Carrera to leave the factory doors of Heuer. The watch we're speaking of is of course the Ref. 3147N Dato 45, which embodies experimental design of the 1960s to the nth degree. Unlike its dual and triple register cousins, the Dato 45 features a single subdial found at the three o'clock position, which is further differentiated by its ability to track up to 45 elapsed minutes. This contrasted the bulk of chronographs on the market at the time, most of which were only capable of tracking up to 30 minutes.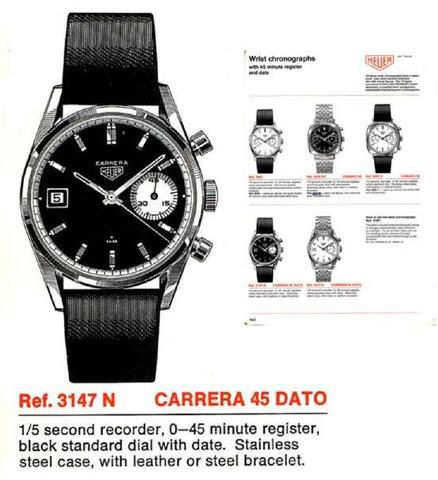 Also of note is the date window's position, which you'll find at the nine o'clock position. Apart from its seldom seen placement, the Dato 45's date function is also significant from an horological perspective. Upon its release, no other watchmaker had produced a chronograph equipped timepiece with a rotating date disc. This was made possible thanks to the Heuer-signed Landeron Cal. 189 found beneath the caseback. Though the individual dial layout is without question this Heuer's main attraction, its horological significance mustn't go unmentioned.
Omega Seamaster Chronograph Ref. 176.007
If there's one thing to be taken away from tracing the evolution of Omega's Seamaster chronograph line, it's the brand's acute attention to ever-changing aesthetic trends. In times characterized by stylistic restraint, the manufacture's offerings reflected exactly that, making them easily placeable within history. As the 60s came to the pass and the decidedly more bold tastes of the 70s emerged, Omega proved perfectly on trend through the production of watches like the Ref. 176.007.
With a borderline square-shaped, tonneau style case in stainless steel, there's no mistaking this watch as one of any other era. Though just as design progressed within the line, so too did mechanical functionality. Similarly to the aforementioned Heuer, this Omega has a unique subdial configuration, including one which operates as a 24 hour indicator, and another tracking hours. Before you jump to conclusions, note that the absence of a minute tracking subdial is no mistake, as elapsed minutes are in fact indicated using a central counting hand. This combination of complications proved especially useful to pilots, illuminating the potential of purpose building to yield compelling designs.
Doxa Sub 600T Sharkhunter
Those who've spent extended periods of time below the surface of the sea certainly know the overbearing importance of maximizing comfort and mobility at all costs. Whether your underwater activity is of a professional nature or for leisure, you simply don't want a single piece of equipment hindering your ability to move. Given that divers were more often than not involved in the design process of timepieces intended for underwater use, dive watch designs reflect an unabashed pursuit of pragmatism. One such reflection of this notion is the four o'clock crown placement seen on several divers throughout history. Through neatly tucking away this perhaps meddling though necessary piece of the puzzle, optimal dexterity was ensured while wearing an oversized timepiece.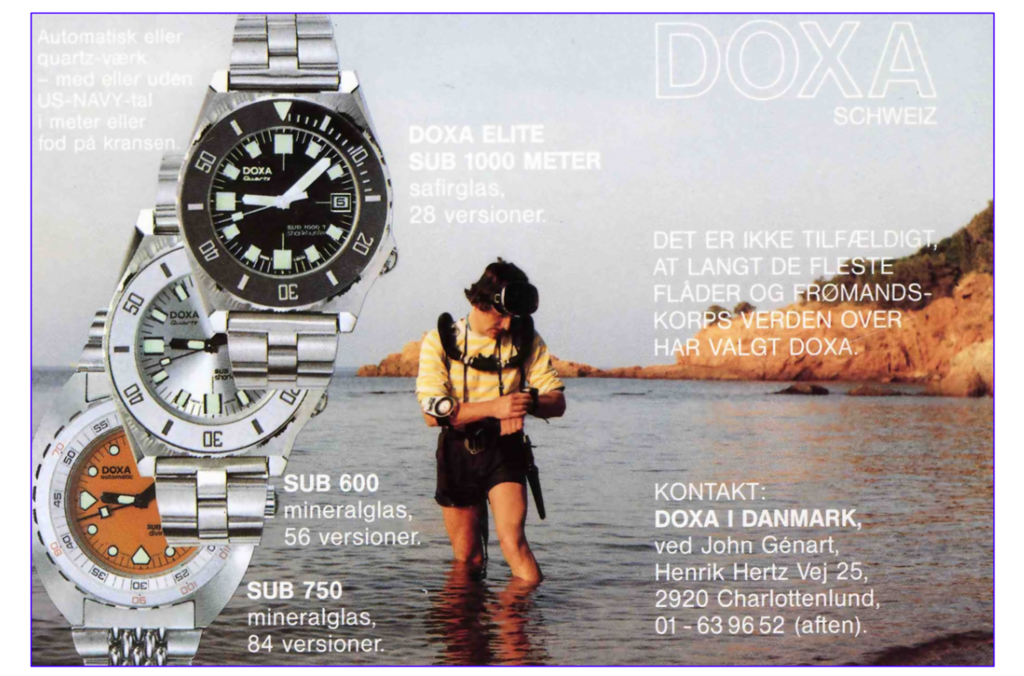 Doxa was by no means the first watch manufacturer to implement this trait, though through its addition to their already impressive designs, a new level of genius was achieved during the 1980s. Considering the brand's already storied history within the space, the Sub 600T represents a final attempt at taking functionality to the next level. The diver's desirability in today's market definitely indicates that this is known to collectors.
Never miss a beat
Sign up for our newsletter to receive updates and exclusive offers