Field Notes: The Alsta Motoscaphe
There's no shortage of watch reviews that focus almost entirely on the aesthetics of a piece, that waste ink waxing poetic about the design references pulled from the horological icons of yesteryear a watch evokes or, conversely, how forward-thinking its visual appointments are.
You can't really blame them; the reality is most modern watches aren't designed to do anything particularly unique. Even those designed in the tradition of classic tool watches rarely come close to being used for their intended purposes these days. That's just the nature of modernity and there's no fighting it.
However, the recently reanimated Alsta brand – a company that originally made its bones in the dive watch category – has made one thing abundantly clear since rebooting production in 2017: Their watches are designed with the romance of lifestyles in mind. It's an approach that's led the brand to start exploring watch designs outside of the heritage-inspired and robust divers they're best known for producing. With the Motoscaphe, Alsta has thrown its hat into the non-diver world by considering an enthusiast segment that's never truly had a watch designed with their needs in mind: Motorcyclists.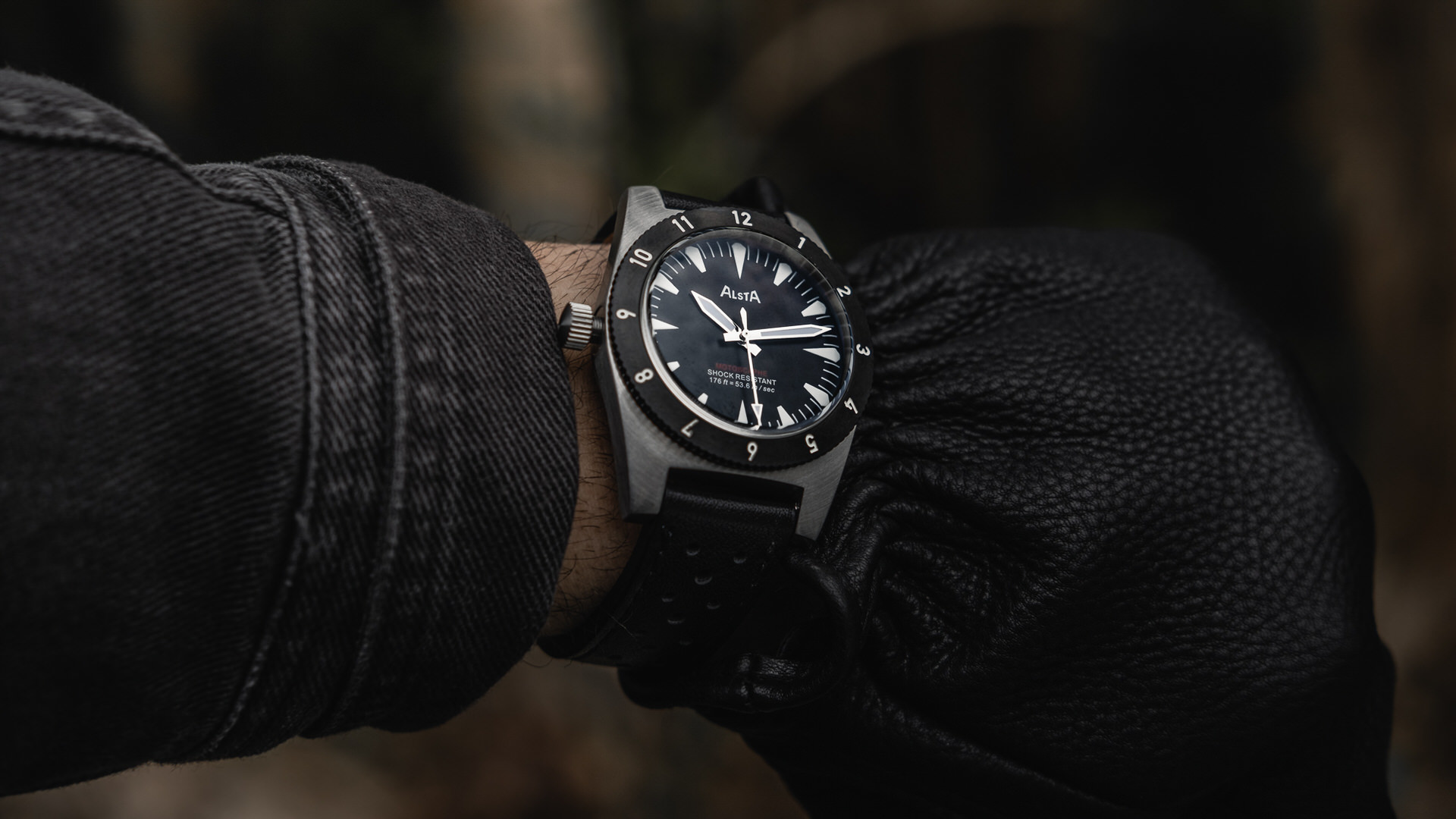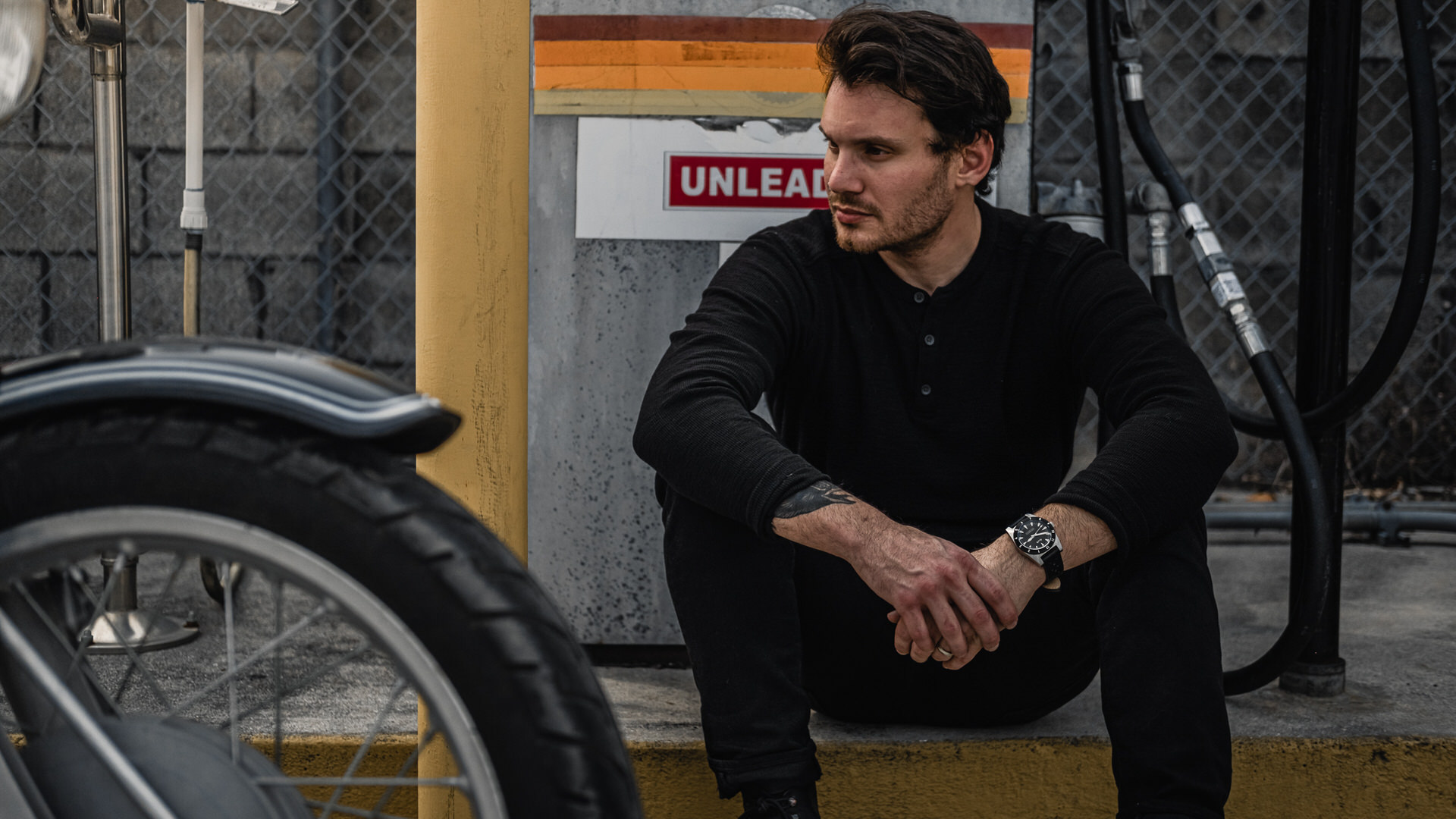 Born out of Alsta head honcho Angus MacFadyen's personal interest in the lifestyle of motorcycling and designed in collaboration with Beyond the Dial's Allen Farmelo – who is a serious motorcycle enthusiast in addition to being a professional horology head – the Motoscaphe was made to be more than just a watch that looks the part. In MacFadyen's own words, the Motoscaphe is "something that's more considered and designed for the lifestyle first and foremost" and the watch is built with the highest mechanical standards to back up its motorcycle-minded feature set.
That's all fine and good on paper, but nothing speaks louder than real world experience, and as someone that's dedicated most of my adult life to my passion for building and riding motorcycles, I've wanted to put the Motoscaphe through its paces with a proper riding shakedown and review since first reading about the watch. Craft + Tailored was happy to oblige by sending me one, which I wore throughout a few days of heavy riding around South Florida on my 1971 BMW R60/5. These are my field notes on the Alsta Motoscaphe.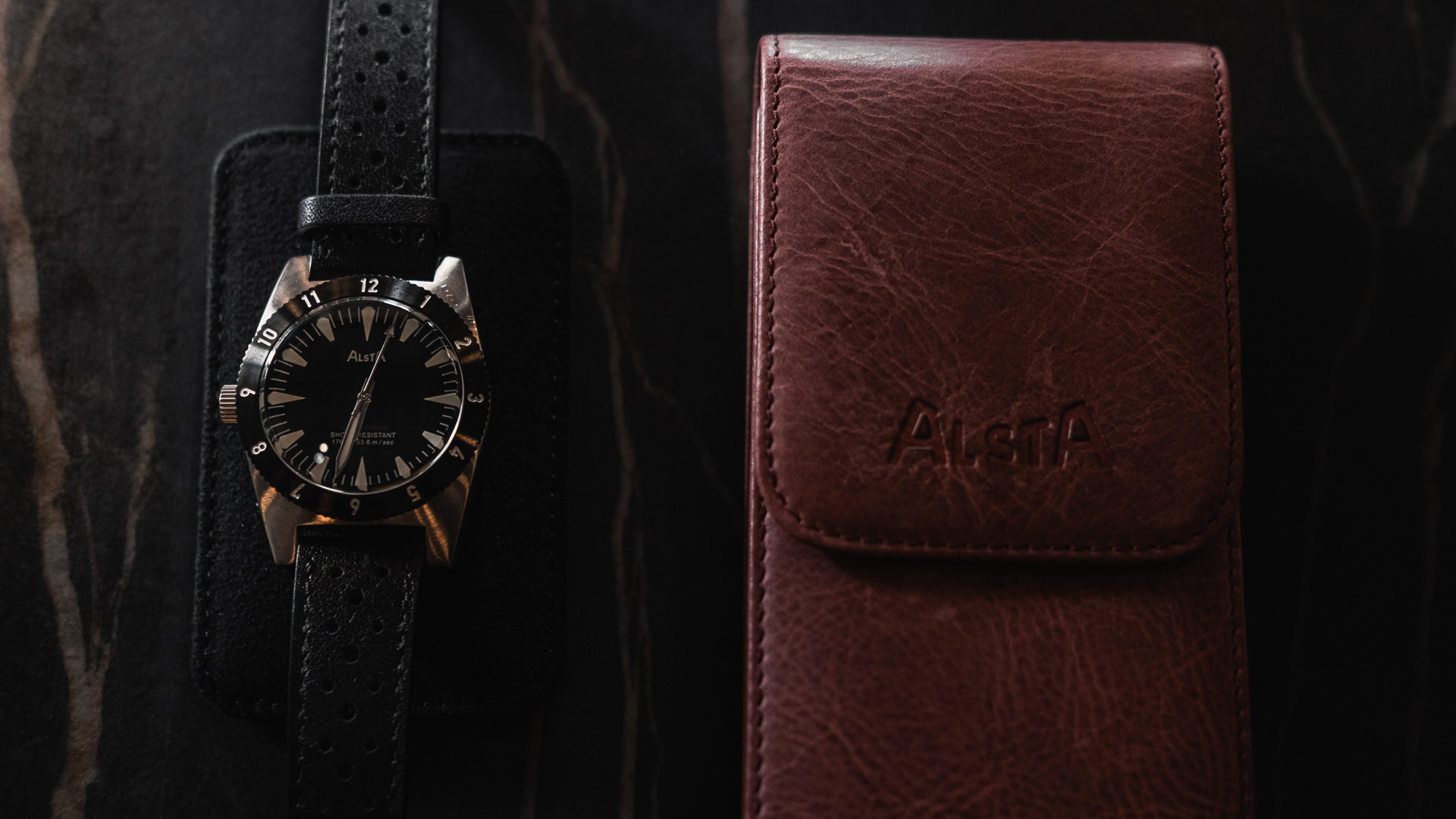 Packaging:
I happened to be riding my bike when I got the notification that the Motoscaphe had been delivered. I don't get my mail at home and was expecting the watch to ship in a typical bulky watch box. Given that the old Bimmer is only equipped with a leather parcel bag, I was pretty certain I was going to have to toss out some of the watch's packaging casing at the mail kiosk. However, the Motoscaphe ships in a clever snap-shut leather case (with a textile pad) that can double as a case for a pair of sunglasses. It's a brilliant way to package a watch, and the texture and finish of the leather – which is embossed with the Alsta logo – gives an immediate impression of quality well beyond the Motoscaphe's price point. Lurking inside the case is the Beyond the Dial logo — a nice nod to the watch's collaborative designer and BTD co-founder Allen Farmelo. Once I had the Motoscaphe on-wrist, the pouch nestled beautifully next to my sunglasses case in the low-profile saddle bag.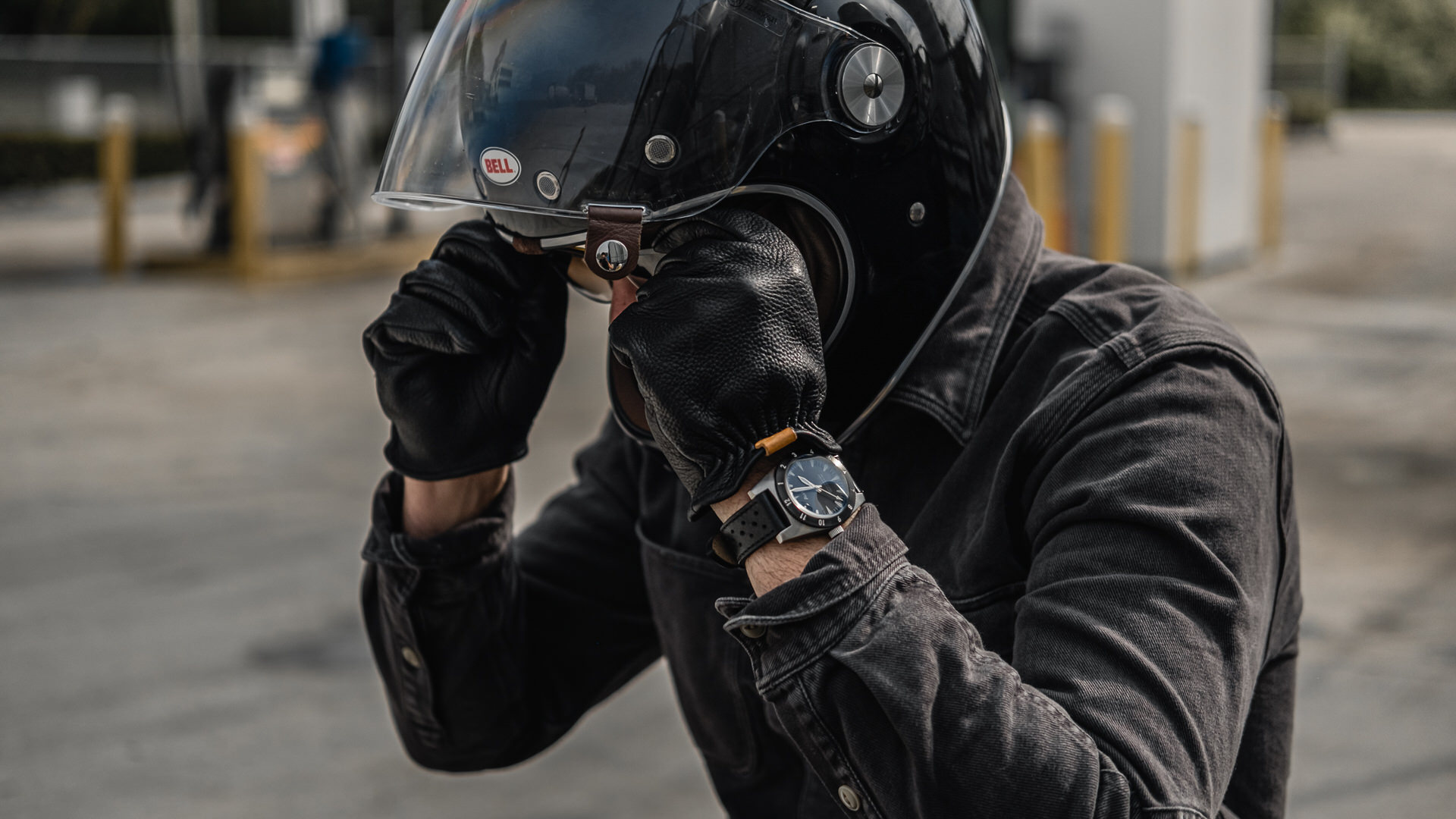 Initial Thoughts:
I have a tendency to be a bit cautious and precious with new things; no one wants to break something new that they're excited about. However, there is weightiness to the Motoscaphe and a palpable feeling of quality is immediately apparent. It's a watch that feels both robust and resilient, and the circular-brushed case finishing and matte bezel almost beg you to wear it without fear of scratching it, which is a very real concern when wrestling a bike onto or off of a clumsy center stand or fine tuning engine components that unwaveringly shift and need adjustment on long rides with high vibration vintage bikes.
Case Dimensions and Overall Design:
At 40mm and thick enough to accommodate an automatic movement, the Motoscaphe hits the sweet spot as the largest watch I would personally feel confident wearing as a man with a more meager build. It has a major wrist presence, but I was immensely surprised by how the Motoscaphe became one with my wrist – even with its domed crystal. It's a wildly comfortable watch to wear and I think that has a lot to do with the generous curvature of its lugs, which have an exaggerated and sculpted shape that mirrors the design language seen on the brand's heritage divers. The case slides neatly under a jacket cuff while simultaneously offering plenty of visibility between a riding glove and thermal layer.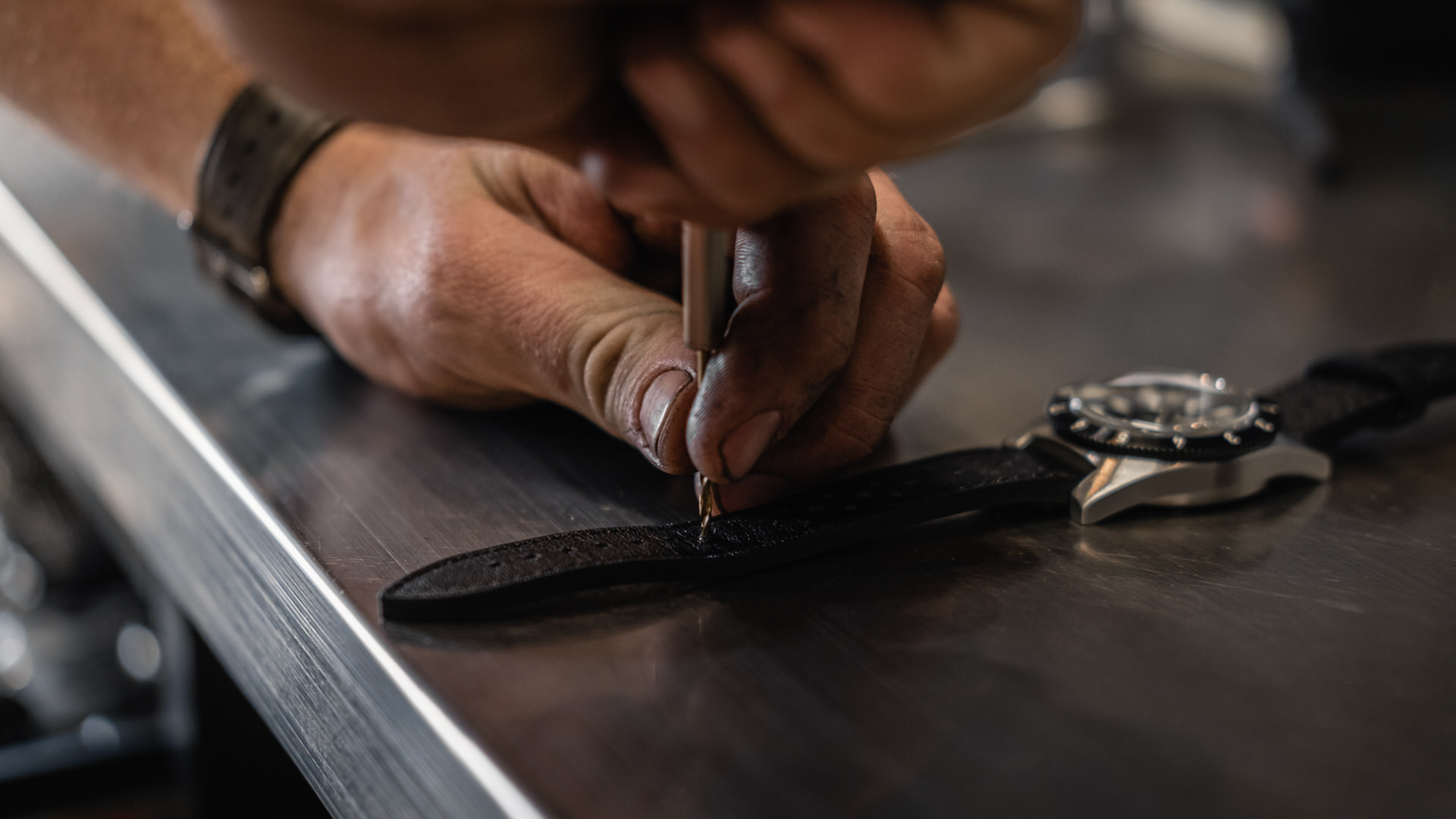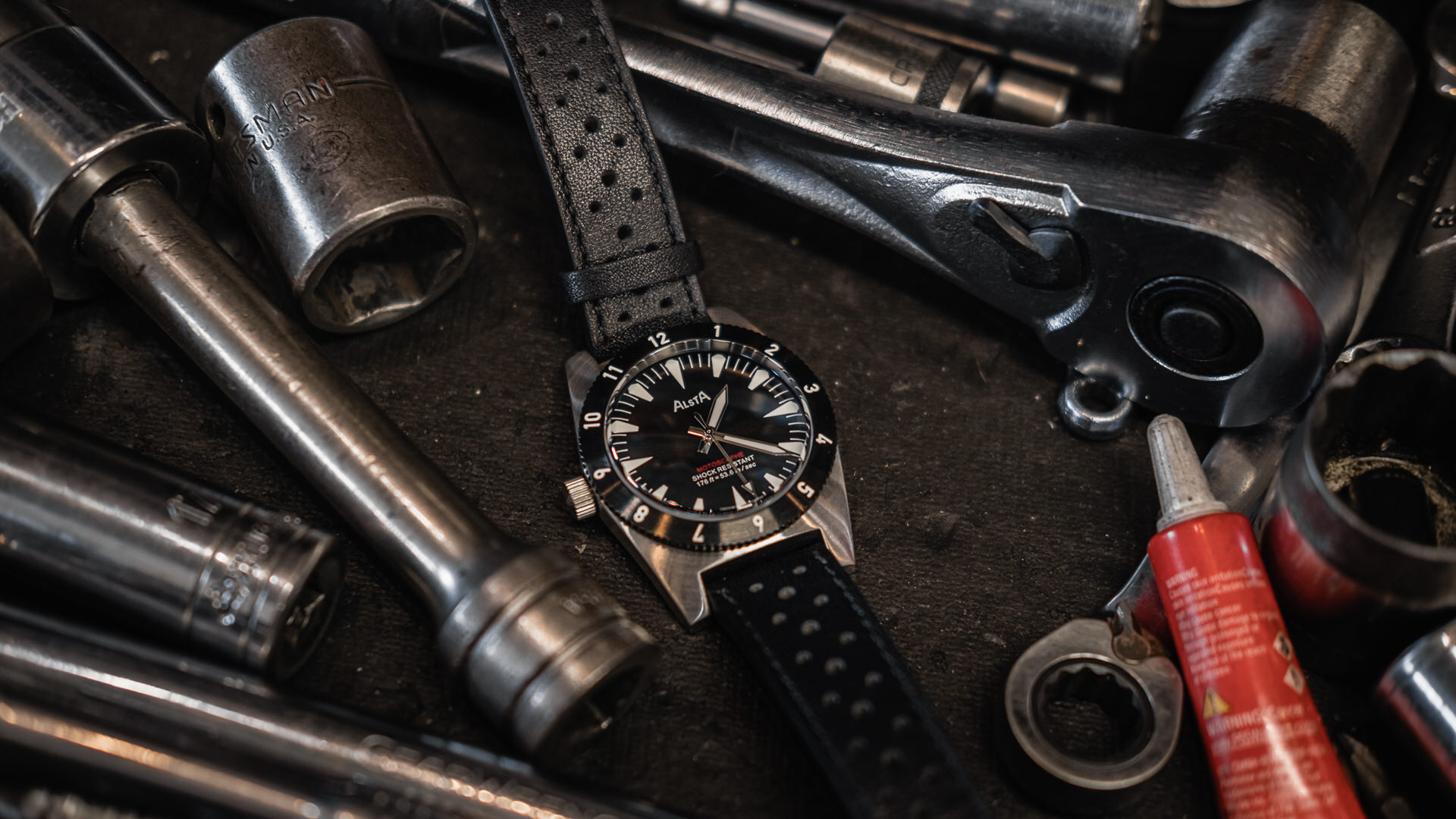 Features:
The watch's screw-down crown was a welcome surprise, and yet another confidence-inspiring design touch. Despite constant friction against my riding gear, I never doubted the watch's accuracy nor worried about the crown being open when I was caught in a periodic dousing of South Florida rain. The watch's lefthand crown placement is an inspired decision for riders, and the increased comfort relative to a standard crown placement is genuinely noticeable – especially when riding a bike like an R60/5 that requires you to shift your weight forward over the tank and has a decidedly tractor-like clutch lever to squeeze with less-than-ergonomic antique controls. 
I have always preferred the comfort and weight of perforated leather rally-style straps when riding. They look great and have a classic racing vibe, but they're also highly functional and including such a strap on the Motoscaphe is a clear indication that the rider's preferences were truly considered. Moreover, the Motoscaphe's strap is incredibly well made. As someone with a particularly slim wrist in the 6.75" range, I found the need to punch an extra hole in it for a snug fit – a job that ultimately required a drill due to how thick and taut the leather used on the Motoscaphe's strap is.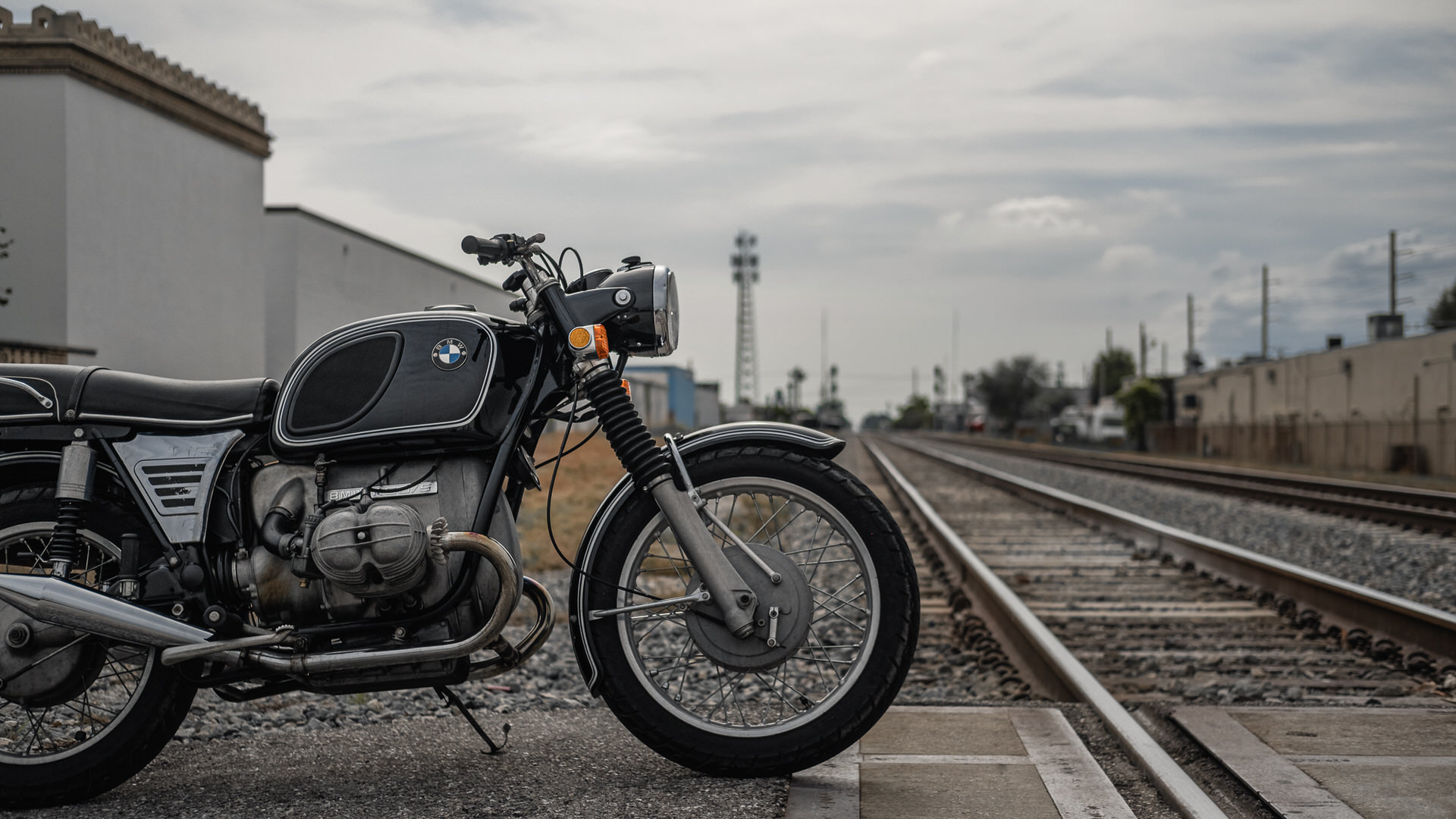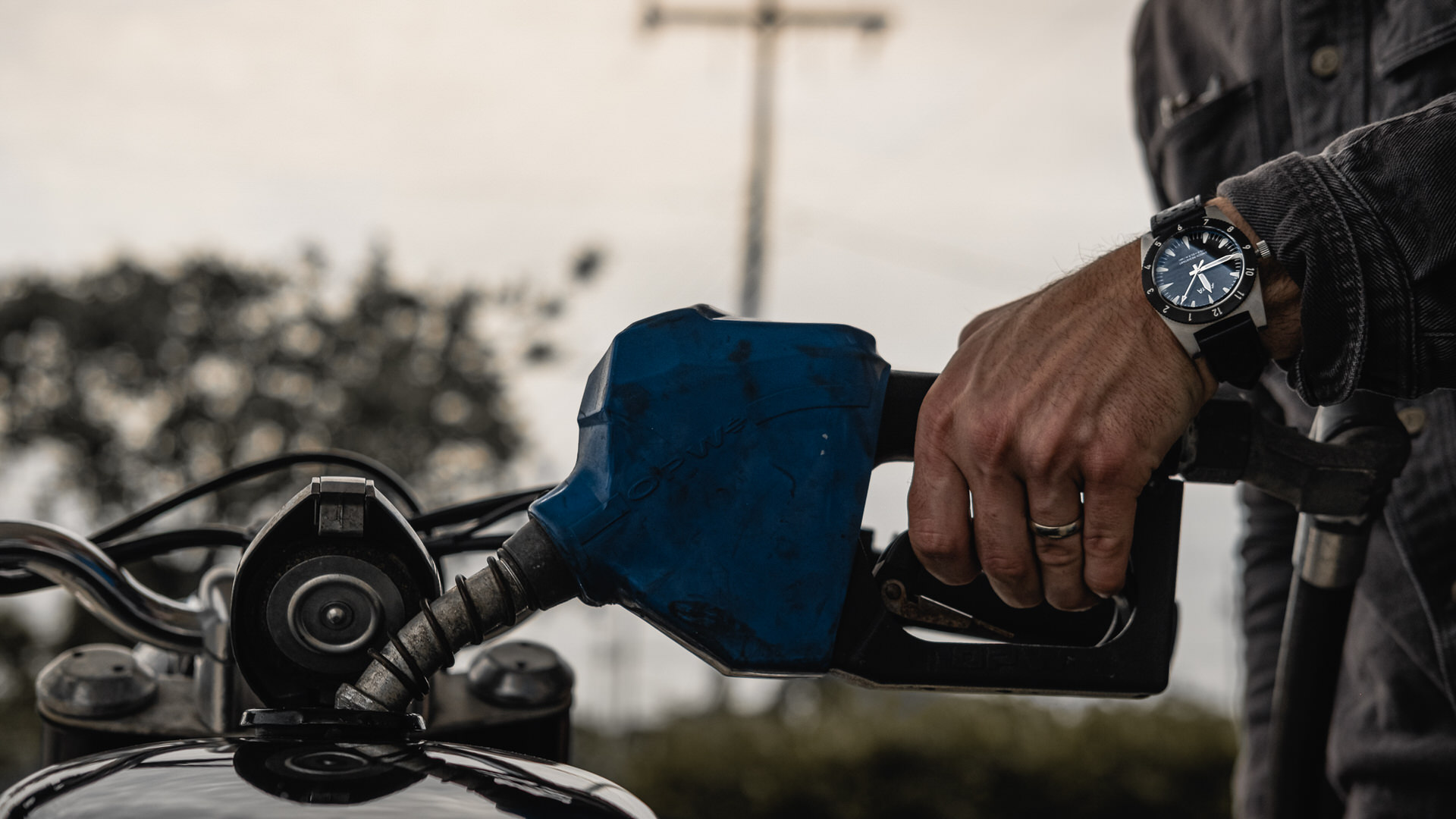 Ride Notes:
The vintage-styled domed crystal is as attractive as it is functional, and the anti-reflective coating Alsta has applied to the inside of the sapphire crystal worked brilliantly in all lighting circumstances. I wore the watch while riding through the milky fog of dawn and the oppressive heat and sun of South Florida at noon. I sat beneath the dim lights of retro atomic-style chandeliers in a US-1 diner for lunch, and rode the blues of twilight and the watch was incredibly legible in all scenarios. Between the sizable dial markers and hands, which were clearly designed for legibility above all else, and the domed crystal's magnification effect, it's undoubtedly the most instantly legible watch I've ever worn. Additionally, the Super-LumiNova is shockingly strong in the evening, rivaling the brightness of the antiquated bulbs of the BMW's neutral indicator light and backlit speedo.
I made a conscious effort to utilize the Motoscaphe's rotating bezel to keep track of the time elapsed between legs of trips as I don't always trust my short-term memory to recall when I started a trip and setting the Motoscaphe's bezel quickly became a satisfying ritual before each ride. With vintage bikes, the time between jaunts can be incredibly important and when it comes to my BMW, the 50-year-old air-cooled boxer motor gets increasingly temperamental with heat, so knowing when I started a ride and making sure I'm not pushing the bike too long in the wrong weather is imperative. In fact, my only real complaint with the Motoscaphe is that the bezel can feel a little crunchy when rotating, and is also a bit difficult to set accurately with riding gloves on. At any rate, I much prefer glancing down at the Motoscaphe to reaching down to relight and check my cell phone over and over again to gauge my rides. If the ultimate goal of riding a motorcycle is to be present and one with a machine, relying on a piece of mechanical kit like this watch instead of a phone does wonders to keep your head in the moment, which is what we all strive for as riders. 
The Motoscaphe is about the details:
While there are thankfully no garish or on-the-nose elements of motorcycle-specific branding, there is a sole hint to the watch's true nature and intended purpose.
An iconic nautical manufacturer, Alsta watches have always had their depth rating emblazoned at the bottom of the dial. However, the Motoscaphe has a curious alternative in the depth rating's place. The watch's dial reads 53.6 m / sec, a number that gets you very close to 120 mph when converted. Alsta's text on the Motoscaphe explains "120 mph often triggers spiritual experiences. Space curves, time collapses, and the mind quiets." The brand also references a  Hunter S. Thompson quote (a man whose essay on the Ducati 900SS will forever live in infamy)  that will be immediately recognizable to motorsports enthusiasts: "…with the throttle screwed on there is only the barest margin…and that's when the strange music starts, when you stretch your luck so far that fear becomes becomes exhilaration and vibrates along your arms. You can barely see at a hundred…"
Admittedly, the fastest I have pushed a motorcycle was a meager 115mph. It was a 40 year old 1100cc DOHC 4-cylinder Yamaha – the fastest production bike in its prime. I was 19 and motivated by the simple phrase, "do the ton up." I had the throttle fully pegged on a service road that led to an unvisited dyke on Lake Okeechobee, right past the unmarked mass grave for the victims of a hurricane that struck the area 100 years ago. The strap of the half-helmet I wore tugged at my throat and arteries. As Thompson describes with far more eloquence and accuracy, my eyes vibrated in my skull, my tears stung my ears, and the tree line blocked-out into brick walls. 
That memory and feeling is now evoked everytime my eyes catch that playful detail above the Motoscaphe's sharp 6 o'clock marker. I imagine most riders will have a different, yet similar recollection of their first time hitting an unknown speed stirred when they see it, too.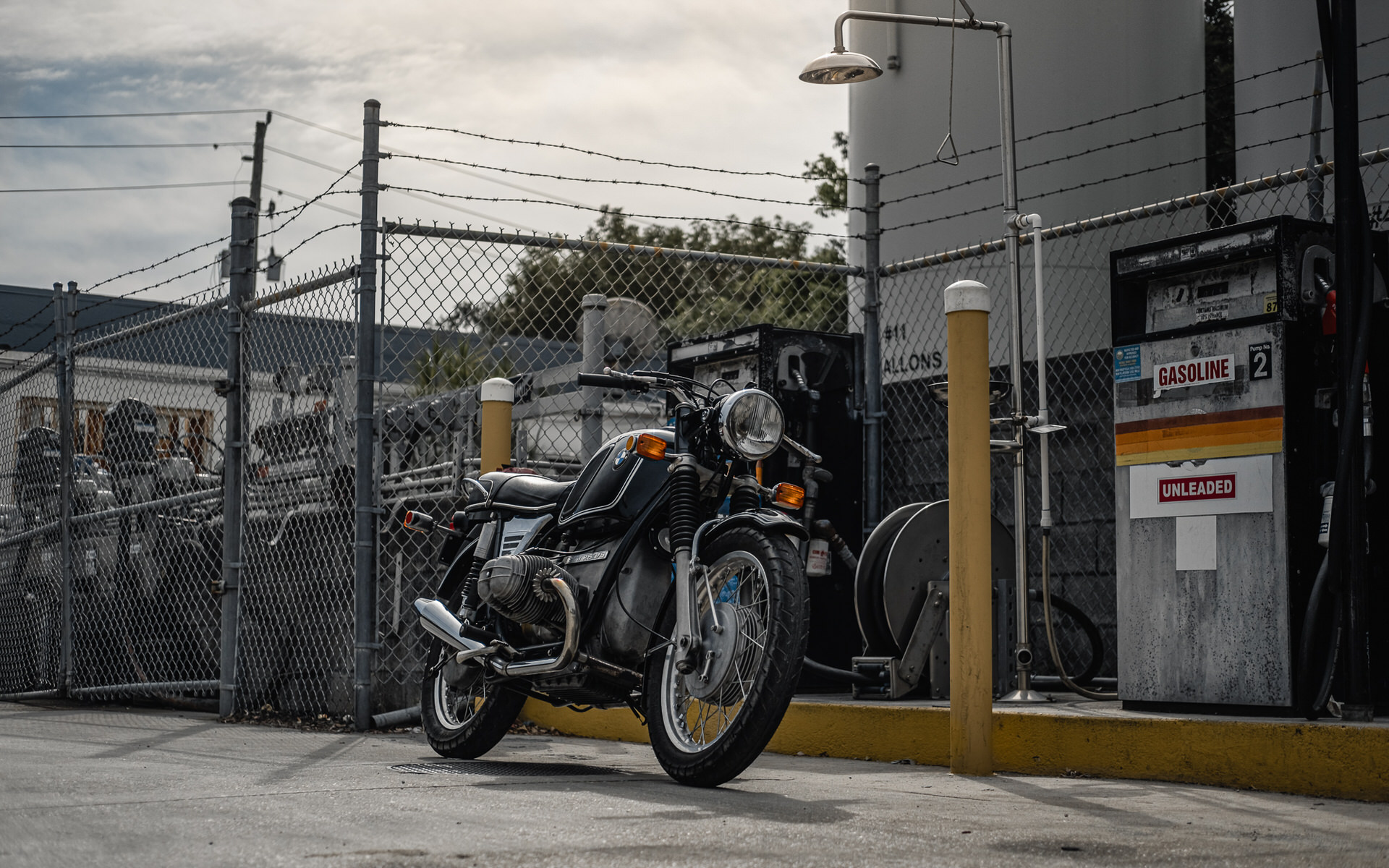 Watches are extremely personal items. They're points of self-expression that typically go unnoticed by the vast majority of the folks we encounter. But the way the little idiosyncrasies that go into the design of a watch can affect you, can ideally make you smile at a random point during the day, is worth the price of admission itself. For motorcycle enthusiasts, I can say the Alsta Motoscaphe is a win, and the watch will remain a mandatory piece of my kit on every riding day from now on.
Photos and words by Vincent Anthony Conti, follow him on IG after all why wouldn't you?
Never miss a beat
Sign up for our newsletter to receive updates and exclusive offers