How to Have Your Moonwatch Cake and Eat It Too
It is often said that every serious watch collector should (at least at one point or another) own an Omega Speedmaster. As one of the undisputed icons of horology, the Speedmaster's appeal reaches far beyond just the world of watches due to the prominent role that it played in early space exploration.
Given the countless different variations of the Speedmaster that have existed over the years, you'd be forgiven for thinking that buyers struggle with the decision of which model to purchase. However, the decision is simple: you get the classic Moonwatch.
Despite the insane variation that exists within the greater Speedmaster collection, the classic NASA-certified Omega Speedmaster Professional Moonwatch remains the go-to model for both new Speedmaster owners and seasoned collectors alike. Everyone wants the original Moonwatch, and although it is undeniably outdated by today's standards, its enduring design is precisely what has made it a favorite among collectors for decades. However, since Omega has more-or-less been producing the same watch for over half a century, is it possible to own the classic Speedy Pro without feeling like you have the exact same watch as everyone else?
Everyone wants the classic moonwatch
The old saying, "they don't make them like they used to" does not really apply to the Speedmaster. The NASA-certified version of the classic Moonwatch that Omega still sells today is largely identical to the models that were first worn on the moon more than a half-century ago. While this consistency in design virtually guarantees that anyone who wishes to own an example of Omega's legendary lunar chronograph has ample options to secure one, it also means that it is incredibly difficult to own a classic Moonwatch while still feeling like you have something unique.
Most collectors get around this dilemma by buying a vintage Speedmaster. Still incredibly similar to the current-production models, vintage Speedmaster references can often have small differences in their cases, dials, hands, bezels, bracelets, and movements that help separate them from the current-production models. More importantly, no two vintage watches will ever age in the exact same way. It is often details such as the patina that develops on an old tritium dial or the natural fading of a bezel insert that help set a particular vintage Speedmaster apart and make it feel special.
However, even with a vintage Speedmaster, the watch itself still follows an overall design that is almost identical to what someone could buy brand-new at the Omega boutique today. The watch may have aged in a truly unique manner – and this is something that can never be overlooked, as the right aging on a vintage timepiece can make it absolutely breathtaking. However, rather than hunting for that one particular example of a reference, some collectors may choose to seek out a Speedmaster reference that itself is unique from the rest of the other Moonwatch models out there.
A Classic Moonwatch with a Twist
So then what? Purchase one of the countless (yes, literally countless) limited-edition or special-edition Speedmaster models from Omega's history? If you find one that particularly resonates with you, then absolutely go for it, but there's a pretty good chance that you're really after the classic Omega Moonwatch and want something that is going to scratch that itch, rather than just another beautiful chronograph.
Between about 1987 and 2003, Omega offered a standard-production version of the Speedmaster that swapped out the watch's solid steel caseback for an exhibition-style one with a sapphire window. Up until this point, display casebacks had only been featured on limited-edition or numbered Speedmaster models, and while the brand currently offers a version of the Moonwatch with a sapphire caseback, that model is also fitted with a box-shaped sapphire crystal over its dial, which noticeably alters its overall appearance.
The reference 3592.50 was the first of two display caseback Speedmaster models to be produced during this time. On the wrist, the watch is entirely identical to the classic Moonwatch, complete with its matte black dial and domed Hesalite crystal. However, turn the timepiece around and you are greeted with the gilt-finished caliber 863 movement visible through a clear sapphire caseback.
Production of the ref. 3592.50 lasted until around 1996 when it was discontinued in favor of the reference 3572.50. Largely identical to its predecessor, the updated ref. 3572.50 was powered by the caliber 1863 movement, which featured rhodium-plated bridges instead of gold-finished ones like on the cal. 863.
In addition to the finishing on the movement, the dials and hands fitted to ref. 3592.50 and ref. 3572.50 Speedmaster watches are also slightly different in regards to the type of luminous material used on them. Given that production of the reference 3592.50 ended in 1996, virtually all examples originally left the factory with tritium dials and hands. Consequently, Omega had just about fully made the switch from tritium to LumiNova by 1998, so the vast majority of reference 3572.50 watches received dials and hands that are finished with photoreactive LumiNova rather than radioactive tritium.
More than just a Caseback
Arguably the most interesting thing about these sapphire caseback Omega Moonwatch references is that they are actually fitted with different movements than their standard solid caseback counterparts. While they all promise the same timekeeping and performance metrics, the movements fitted to the display back models feature a higher level of finishing due to the fact that they sit on full display through the sapphire caseback.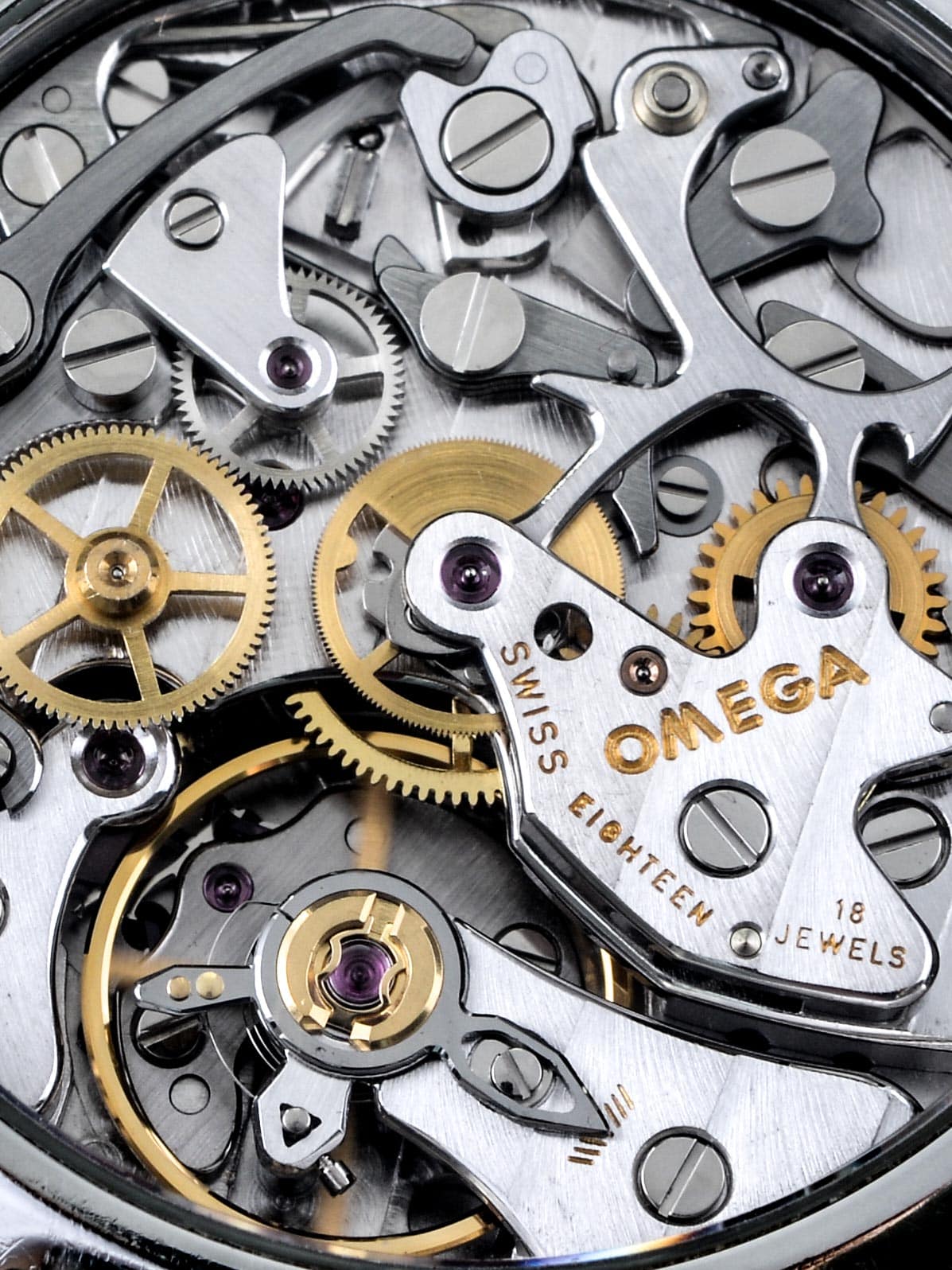 Featuring more detailed finishing techniques such as beveled edges and Geneva stripes on the bridges, the cal. 863 could be seen as the premium version of the cal. 861. Similarly, the cal. 1863 occupies a similar position in relation to the base cal. 1861. The caliber 861 features copper-finished bridges (like most vintage Omega movements); however the bridges on the cal. 863 are gold-plated for a more premium and luxurious appearance. 
Additionally, it's also worth noting that the chronograph brake on the cal. 863 and cal. 1863 is made from metal, instead of being crafted from delrin (a low-friction thermoplastic) like on both the cal. 861 and cal. 1861. Again, performance will be largely the same here; the upgrades to the movements in the display back models are strictly to do with their cosmetics.
The same but different
Often referred to as "Hesalite Sandwich" Speedmaster models, the ref. 3592.50 and ref. 3572.50 offer collectors a convenient way of owning the classic Moonwatch, while still being able to have something that is slightly different than the version that everyone else owns. On the wrist, these display back Speedmaster watches look and feel just like the original Moonwatch, complete with their obligatory NASA-approved Hesalite crystals. It isn't until you turn them over that you get to appreciate that they aren't the exact same watch that everyone else has in their collections.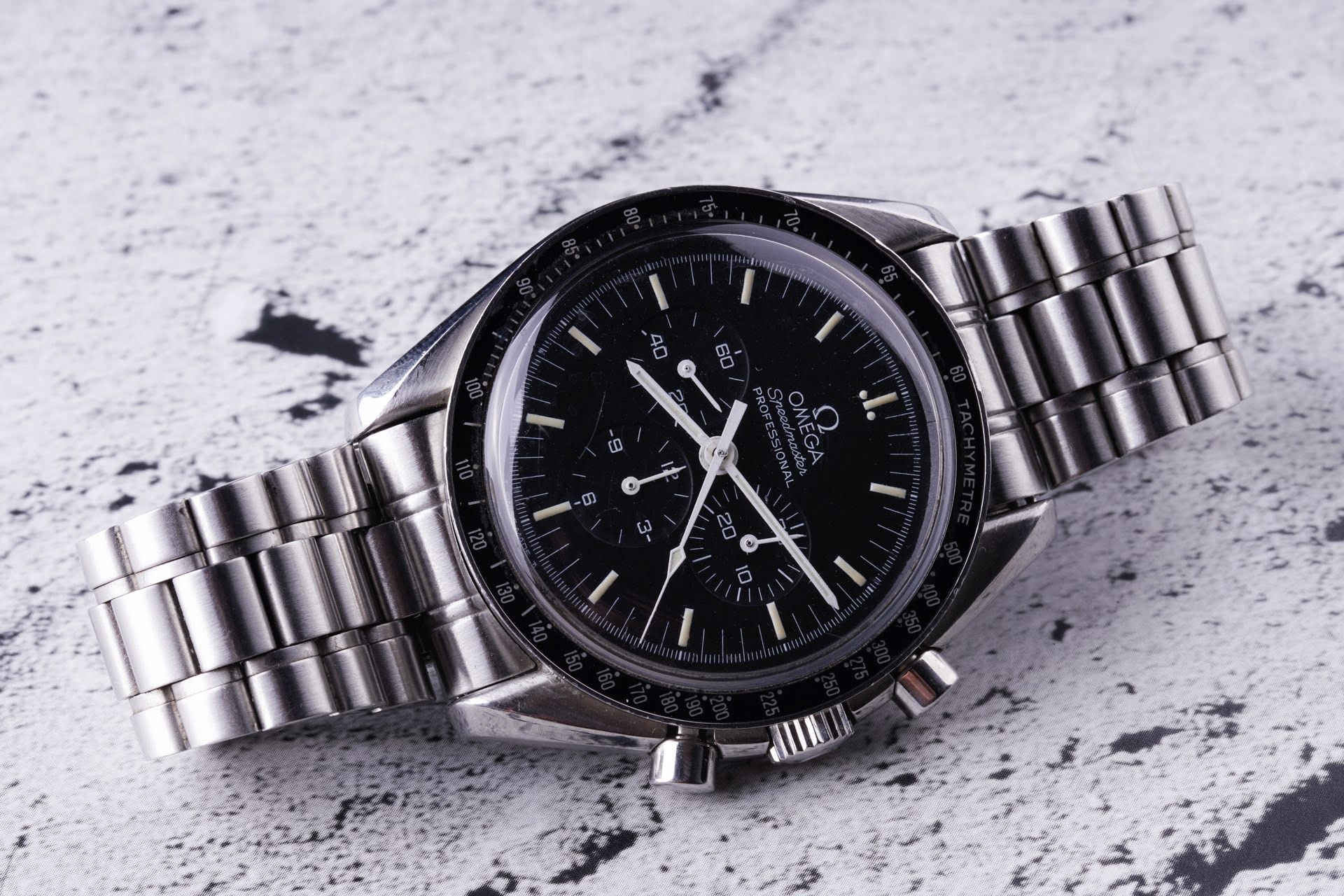 Recommended Reading:
A Brief History of the Omega Speedmaster
Read Article
Vintage Speedmaster references can often be quite a bit more expensive than their brand-new counterparts. While they do offer some unique differentiating features and one-of-a-kind patina, their premium price point can sometimes place them outside the reach of otherwise would-be buyers. The best part about the Hesalite Sandwich Speedmaster models is that they can typically be purchased for only a slight price premium above the classic Moonwatch. 
Discontinued since 2003, these display back Speedmaster watches are only going to get harder to find as time moves forward. However, for everyone that simultaneously both wants and does not want the classic Omega Speedmaster Professional, these Hesalite Sandwich models offer a great way for you to have your Moonwatch cake and eat it too.
Never miss a beat
Sign up for our newsletter to receive updates and exclusive offers