The Many Faces and Fast Fans of a Flagship
What's really in a name? Andretti, Siffert, Rindt, Jagger. No, we're not setting you up for the old "three racers and a rock star walk into a bar" joke. Surely you've already been regaled with that old knee slapper by a drunk uncle or a chatty dentist or somebody that works for Craft+Tailored at some point.
Actually, these four names are unified by the fact that in addition to being titans of their respective fields in the '60s and '70s (and well beyond, for the two that survived), they all prominently wore Heuer chronographs from the Autavia range. So, what's really in the name Autavia? For fans of the Heuer marque, this painfully cool portmanteau evokes a diverse world of wristwatches that includes some of the brand's most iconic designs — including many of the most collectible references to ever sport the Heuer shield. And while the many fantastic designs that have donned the Autavia name over the years stand on their own as beautiful and utility-packed watches, the most intoxicating thing the Autavia range ultimately offers is a tangible, direct, and historically relevant connection to the golden era of motorsport — an era when auto racing was often a life or death affair that could just as easily end in glory as it could in a grave. And if that doesn't get you off, there's even an Autavia reference that offers a direct and tangible connection to the golden era of cigarette advertising! More on that later.
The name Autavia (a snappy union of the words automotive and aviation) originally graced the dials of Heuer's Valjoux-powered, dash-mounted sports timers, which were manufactured from 1933 through 1958. The story goes that Jack Heuer was riding shotgun as a rally navigator in 1958 and misread an Autavia dash timer's busy dial in the heat of competition — costing his team valuable time and ultimately a race win. Heuer was incensed and immediately set about redesigning the dash timers with a focus on legibility under any circumstances. These improved models featured a prominent central minute hand and were called the Auto-Rallye — freeing up the Autavia name, with all of its racing heritage.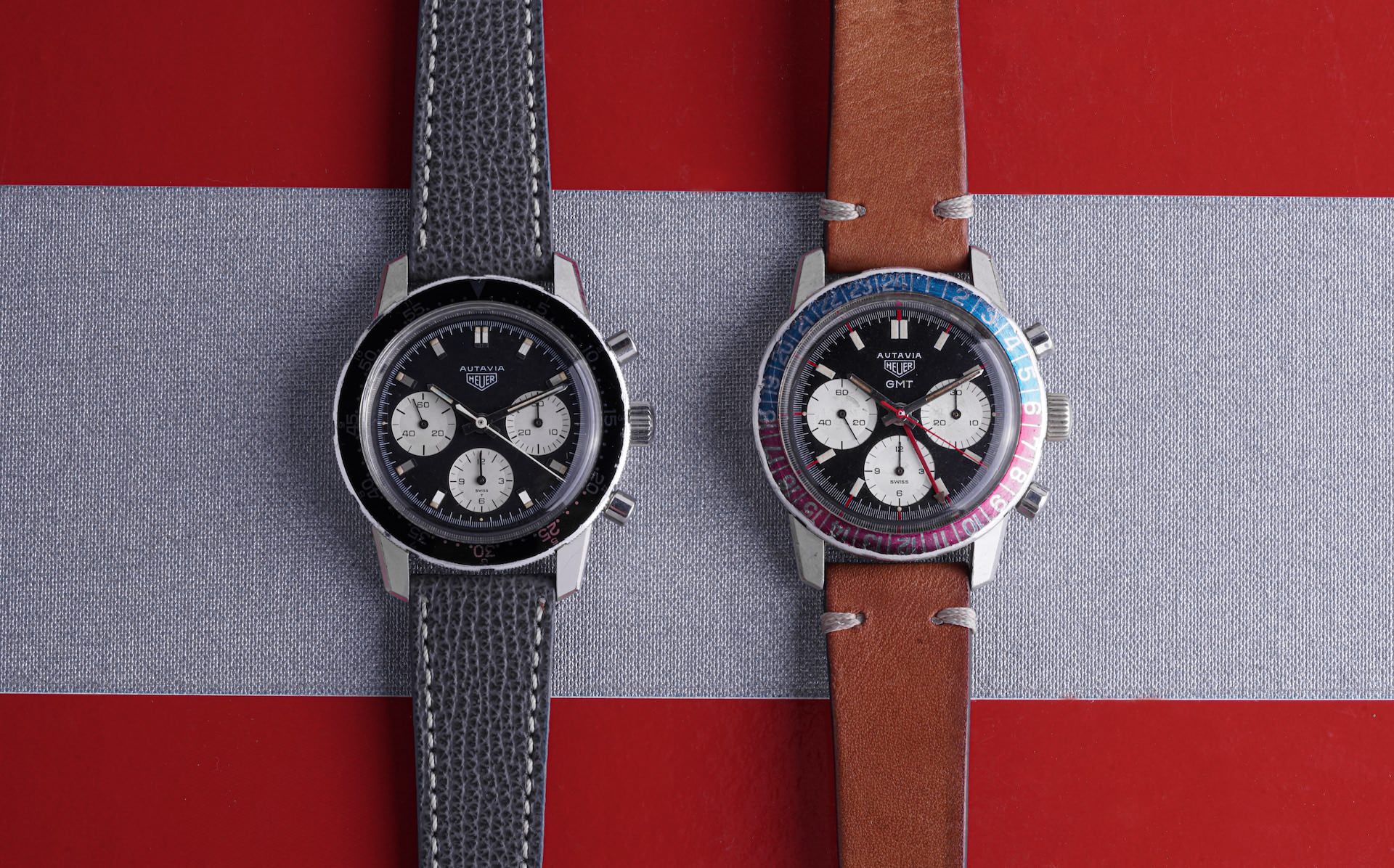 In 1962, Heuer introduced the 2 register ref. 3646H and the 3 register ref. 2446M: The first Heuer wristwatches to bear the Autavia name, and the first Heuer chronographs to feature rotating bezels. In Jack Heuer's autobiography, he describes the original wrist-worn Autavias as "the first real wristwatch products" he personally created for the company. Those first Autavia wristwatches would morph and evolve perpetually throughout many generations until 1985, totalling around 80 distinct Autavia variations over the range's original lifespan. Among those 80 watches are some of the absolute coolest chronographs ever made, dive-chronos, and even a handful of unique GMT references — all rendered in Heuer's unmistakable style and with no shortage of innovations.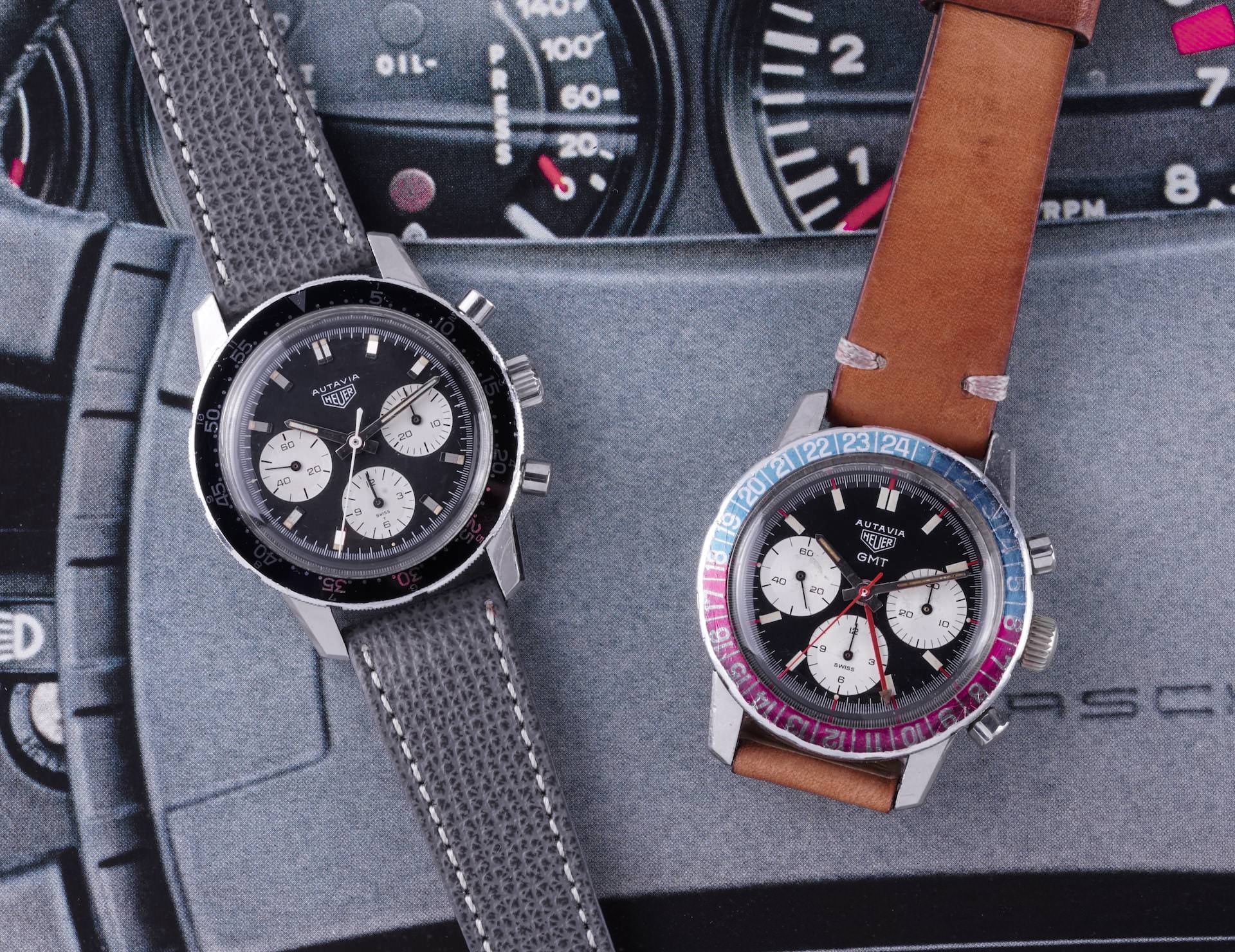 Shop Heuer
View our current collection of Vintage Heuer Timepieces.
Shop Now
Heuer's new-for-'62 "wrist chronographs" were marketed to "pilots, sportsmen, divers, and scientists," but were truly born from a passion for motorsport and had racing in their very DNA. While Jack Heuer was a brilliant designer, he was arguably an even sharper businessman and was one of the first to work directly with notable racers as a means of high profile passive advertising. Swiss driver Jo Siffert (who tragically died in a fiery wreck at Brands Hatch in 1971) was one of the first beneficiaries of Heuer's proto-ambassadorships and was rarely seen without his Autavia 1163T Chronomatic — which is why that particular reference (and all Autavias with a similar color scheme) are known to collectors as "Sifferts." Jo Siffert was something of a hustler himself and sold Heuer watches wholesale to his fellow drivers in order to make ends meet throughout his racing career, inadvertently becoming Jack Heuer's man inside the paddock and helping to ensure that virtually every driver on the Formula One grid in the late '60s had a Heuer on their wrist at one point or another.
The collectability of the Siffert references has exploded in recent years, benefitting from the molotov cocktail of scarcity, historical significance, and a striking visual. These watches feature rugged, but beautifully finished steel cases, high contrast "panda" dials, and eye-popping electric blue accents. While Siffert's 96 Formula One starts yielded but 2 wins, the charismatic driver became a bonafide racing hero as a lead driver for Porsche's factory-backed sportscar racing efforts. Siffert's racecraft helped Porsche to net some of its most important racing victories of all time, including driving a 907 to overall wins at the 24 Hours of Daytona and 12 Hours of Sebring in 1968 and bagging a fistful of major European victories behind the wheel of the legendary 917 in '69 and '70. Siffert's glory days with Porsche may have something to do with why part time comedians/full time Porsche influencers Jerry Seinfeld and Spike Feresten are frequently spotted wearing Siffert Autavias in interviews and public appearances.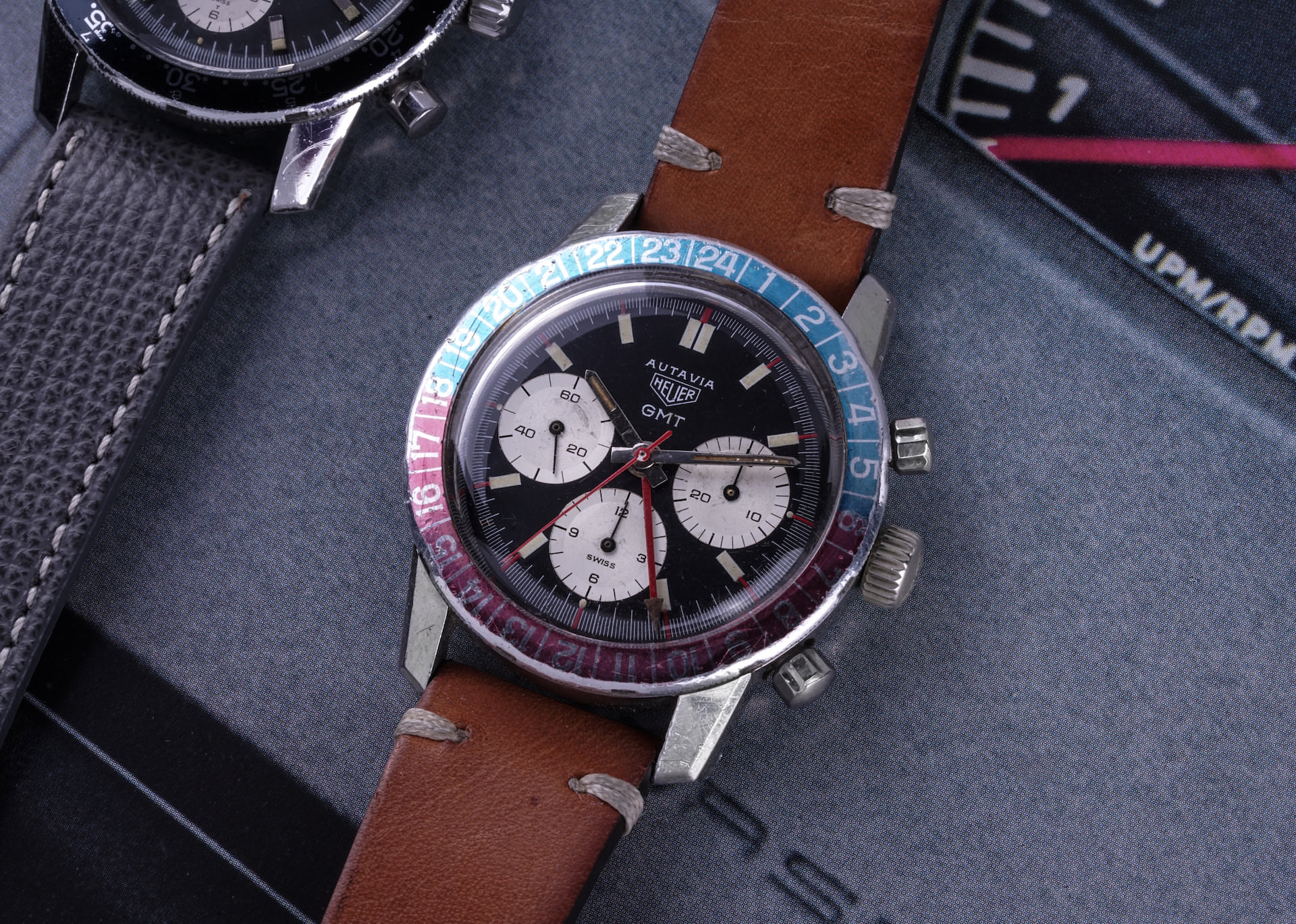 Despite Jo Siffert's undeniable importance in Heuer history, Autavias had been worn previously  by famous racers — namely the speedy deity known to mortals as Mario Andretti. The Italian-American racing hero was awarded a pair of nearly identical ref. 3646 Autavias by Motor Age magazine for submitting the fastest qualifying laps at the Indy 500 in both 1966 and 1967. Andretti's duo of Autavias are particularly unique as they feature Motor Age's logo emblazoned on their dials. And Andretti still owns his Autavia prizes (along with a grip of other killer vintage Heuers), but that's another article!
While the Autavia range contains some of the most collectible Heuers ever made, it also birthed a watch that has historically been the prime gateway drug into the world of vintage Heuer — a watch you might even call a smokin' deal. In 1972, Heuer produced and sold a large number of Autavia chronos with the reference 1163V; the V stood for Viceroy and these handsome watches were sold as part of a co-promotion campaign with the Viceroy cigarette brand (yes, the same stiff smokes Mac DeMarco sings about) which intended to boost both brands' waning US sales figures. The ref. 1163V is nearly identical to the ref. 1163 Heuer retailers sold at the time for $200, but the Viceroy reference could be had for an insanely affordable $88 (with proof of purchase of 10 packs of Viceroy Cigarettes).
The adverts (shown below) for the Autavia deal featured American racing great (and major Viceroy sponsorship partner) Parnelli Jones wearing an 1163V while stoically enjoying a Viceroy in his race gear. While the prices on Autavia Viceroys have risen with the rest of the Heuer tide in recent years, the red-accented chronos were once so plentiful and undervalued that Heuer guru and watch restoration master Abel Court used an 1163V as a guinea pig to hone and refine his now legendary case refinishing skills on as it was a watch he wouldn't be particularly upset to potentially destroy in the process of developing his chops.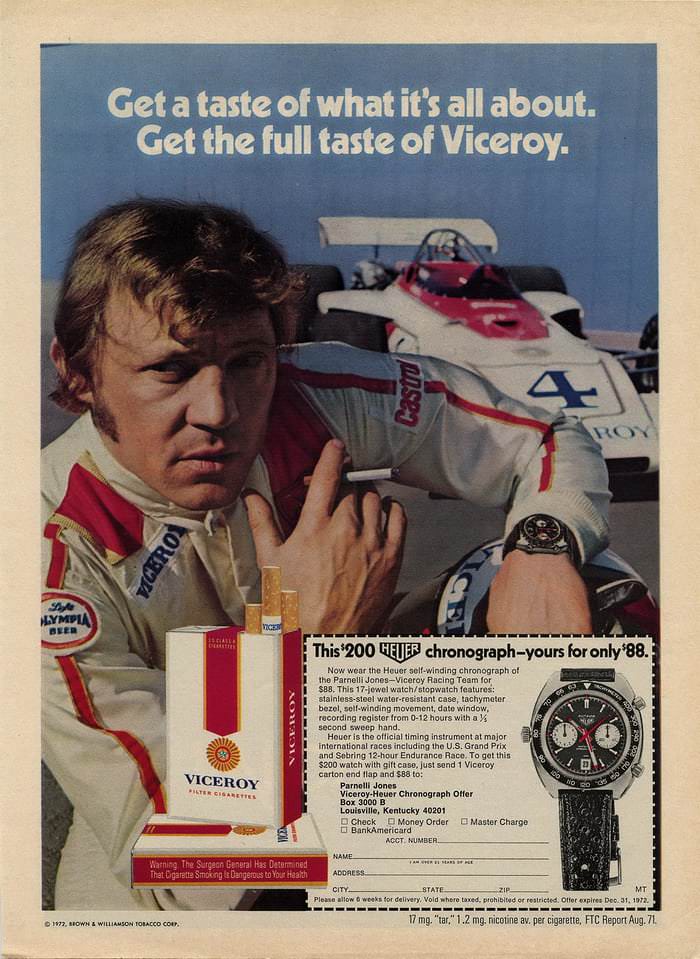 And what about legendary rocker (and well-documented Heuer man) Mick Jagger's connection to the Autavia? The "Jumpin' Jack Flash" singing, Freejack acting Brit frequently wore one of Jack Heuer's rare Autavia divers in the late '70s. Jagger's ref. 11630P featured a decompression bezel and bright orange dial accents, and seemingly replaced the Carrera ref. 1153N he was often photographed wearing in the early '70s. 
Tag Heuer has released several modern tribute models to pay homage to a few of the most iconic classic Autavia references over the years. However, none of the pseudo-reissues have truly captured the charm or utilitarian grace of Jack Heuer's original wrist-worn chronographs — arguably the purest expressions of a racing chronograph ever made. But as you know, vintage always takes the checkered first for us at Craft+Tailored.
Never miss a beat
Sign up for our newsletter to receive updates and exclusive offers